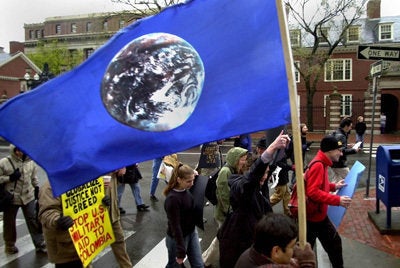 Earth Day is officially April 22 every year.
FIND EARTH DAY EVENTS NEAR YOU
THE BEGINNING OF EARTH DAY
John McConnell -- a peace activist whose interest in the planet grew from his experience working in a plastic factory -- proposed an Earth Day in 1969:
Mr. McConnell proposed an Earth Day -- to celebrate Earth's life and beauty and to alert earthlings to the need for preserving and renewing the threatened ecological balances upon which all life on Earth depends.
BIRTH OF THE EPA AND THE "REAL" EARTH DAY
President Nixon tried to gain some political capital -- hard to come by during the Vietnam war and a recession -- by announcing an "Environmental Quality Council" and a "Citizens' Advisory Committee on Environmental Quality." But people didn't buy it. They said it was just for show.
So Nixon signed legislation called the National Environmental Protection Act, which gave birth to the EPA as we know it now -- right before what most people consider the first Earth Day, which was April 22, 1970.
For a funny take on Earth Days since, check out Grist's list.
The huge amount of young activism in the United States in the 1960s caused leaders to choose April 22 for Earth Day. The story is that April 22 was chosen because college students would be likely to be available. It falls between spring break and final exams.
Each year, however, somebody brings up the fact that April 22 was Lenin's birthday. Senator Nelson's response is pretty good, so we'll leave it to him:
"On any given day, a lot of both good and bad people were born," he said. "A person many consider the world's first environmentalist, Saint Francis of Assisi, was born on April 22. So was Queen Isabella. More importantly, so was my Aunt Tillie."
Support HuffPost
The Stakes Have Never Been Higher
Related
Popular in the Community