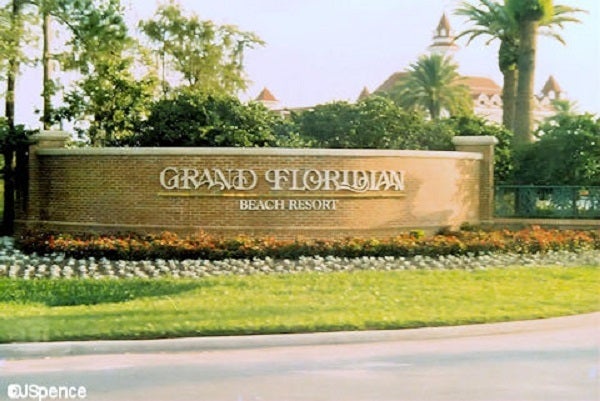 Part one of The History of the Grand Floridian Resort & Spa explored the original resort planned for the resort and the designing of the Grand Floridan. Now we'll look at the resort's design and its more recent history.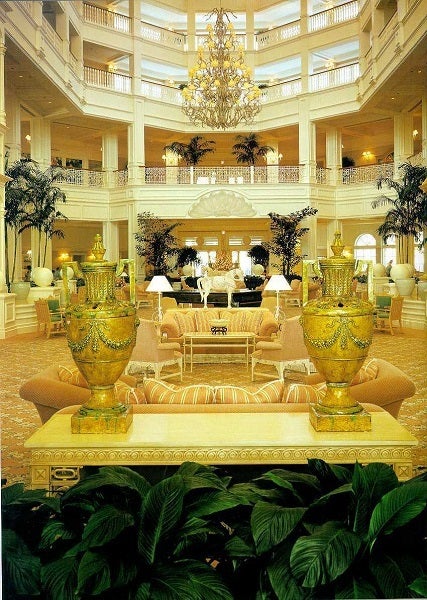 The magnificent architecture is just one of the many factors that contributes to the overall beauty of the Grand Floridian; another is the gorgeous, elegant, attention-to-detail interior design. James Isola (Senior Associate who passed away on February 14, 2007), Jennifer Burton (Partner) and their team at Intradesign, a Los Angeles interior design firm, were responsible for the resort's beautiful interiors.
"We had a good working relationship with them [Intradesign] and helped them to coordinate fire and life safety requirements," said Mike Chun of WATG. "We also helped them with the integration of mechanical, electrical and plumbing systems in an aesthetic manner that was 'historically correct' and in keeping with the appearance of the references that the design of the Grand Florida Resort was based on."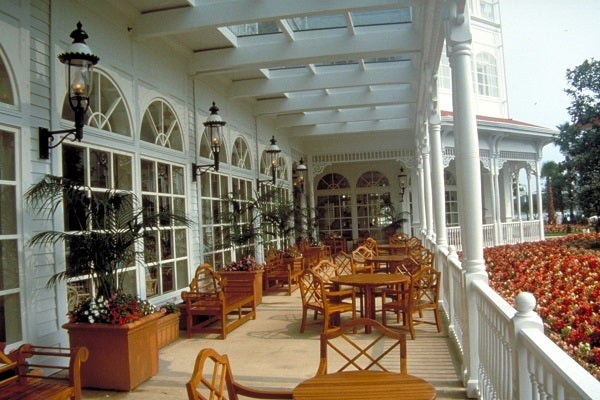 "We wanted to establish a feeling of fantasy and escapism, of beachfront hotels, wicker chairs and mint juleps," said Jerry Allison of Wimberly, Whisenand, Allison, Tong and Goo. "We wanted people to feel that once they entered the hotel's doors, they were in another, more peaceful and wonderful time."
"We decided not to take a historically correct, authentic approach to the design here," said Isola in a 1988 interview with the Orlando Sentinel. "It couldn't be done, and it wouldn't be the Disney approach. This is a fantasy."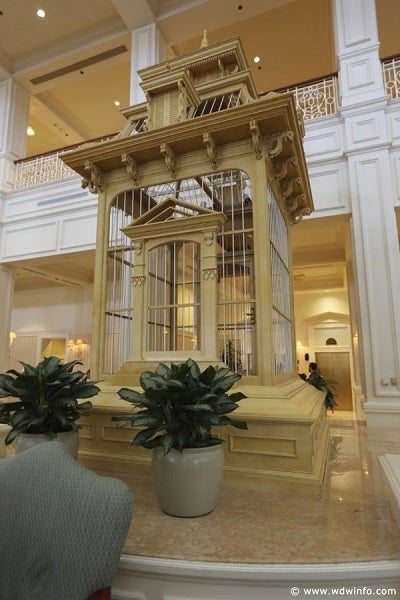 Many of the Grand Floridian's interiors including the extensive marble work, the cage elevator - which has become a focal point in the lobby, the multi-million dollar artwork, sofas, chairs and more, were selected or created by Intradesign.
This "happy, eclectic" Victorian style was inspired from a number sources including those found in San Francisco, Florida, the Bahamas, England and Australia. Laura Stewart, Senior Architecture Critic for the Orlando Sentinel, wrote in June 20, 1988 story, "When their team [Intradesign] first began work on the project 3 ½ years ago, they viewed the 900-room hotel as suitable for guests in gowns and black ties. But after they presented their ideas to top Disney management, they quickly decided to shift their focus to fun – and to guests in bathing suits."
"They liked everything, they told us," said Isola. "But said we needed to make it 10 percent less formal."
Victorian designs are known for their excessive ornamentation, heaviness and strong colors, however Intradesign's approach to the Grand Floridian's interiors were the opposite. They selected lighter colors and focused on animal subjects thereby giving the lobby and guest room interiors a more playful look. The predominant colors the design team chose to focus on were terra cotta, dark peach, mossy green and mint green. They also incorporated textures that would invoke the Victorian era.
"They eliminated the fussy look of the 19th-Century tasseled trim by substituting a simpler fringe in ecru hues for some chairs and draped, crisp, pastel-striped fabric over sheers on many of the hotel's arched or rectangular windows," writes Laura Stewart. "Burton and Isola chose ceramic tile in the four muted colors and had them laid in a loose, neo-Victorian checkerboard pattern … on the ground floor. Seen from close up, the tiles appear to be merely decorative areas of color, but from a high vantage point … the apparently random groupings form clear and delightfully nostalgic designs."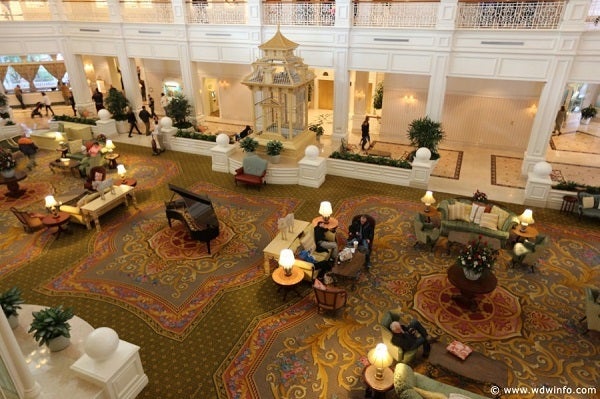 The designers were concerned that coming off the monorail and entering the massive main building of the Grand Floridian from the second floor would be a bit disorienting. To resolve that issue they included landmarks such as the cage-like elevator, a Chinese-styled bird cage, a grand staircase and "unifying elements as the restrained, subtly repeated colors."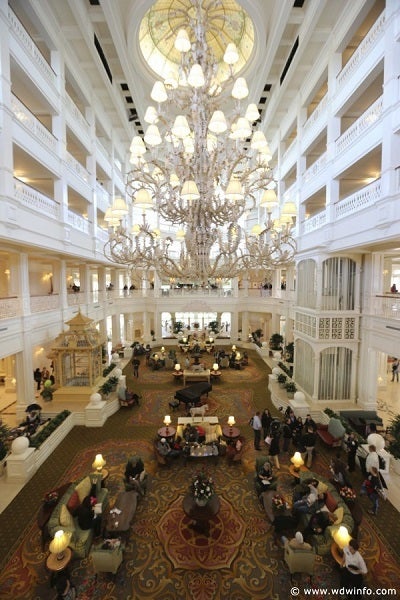 The [lobby] chandeliers were also designed by Intradesign. Each of the lobby's airy, fern-decorated chandeliers are 16 feet in height, hang 40 feet above the lobby floor and weight one ton each.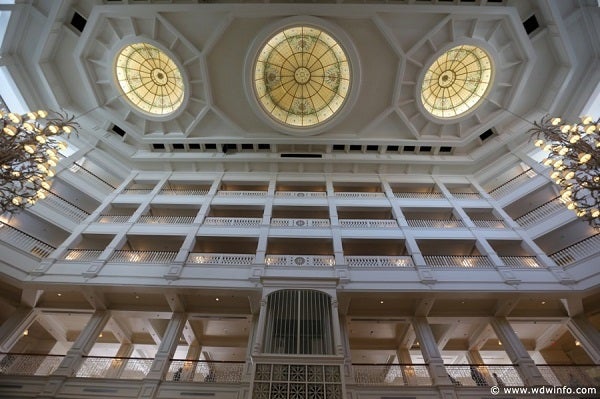 "We were involved with the design and fabrication of the three large stained glass domes in the lobby," said Chuck Corwin of WATG. "We helped to develop an alternative that would weigh substantially less. Considering their height, it was determined to utilize a synthetic product that would provide the qualities of stained glass at a greatly reduced cost and weight."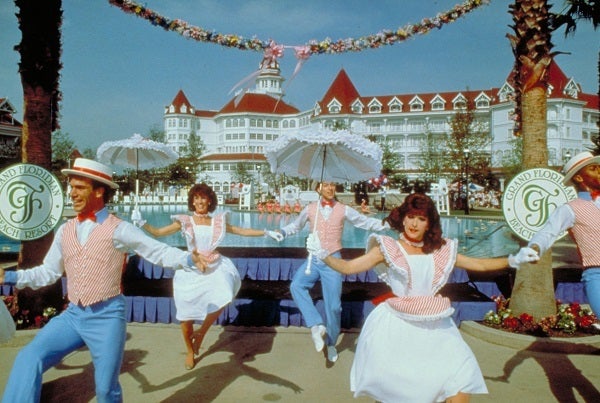 The Grand Floridian Beach Resort had its opening dedication ceremony on June 28, 1988. The opening of the resort was a big deal. This was the first new resort hotel to open at the Walt Disney World Resort since 1971. Burt Reynolds and Loni Anderson were the celebrity guests present to cut the ribbon, along with Michael Eisner and Frank Wells.
The evening's events, which included some NASA astronauts, Hollywood celebrities, Disney officials and other dignitaries, were all dressed in formal attire. "The main nighttime event was indoors," said Charlie Ridgway in his biography Spinning Disney's World. "We rented twenty-five hundred of them [tuxes] for the male half of our five thousand guests, including press. At the magic hour that evening, we gathered in the spectacular atrium of the new hotel, arrayed around balconies on all five floors above the crowded lobby, and raised champagne glasses to toast the occasion.
According to Jim Korkis, "An orchestra played the song "That's Entertainment". An aquatic ballet was performed in the 275,000 gallon pool. Singers and dancers performed a medley of turn-of-the-century tunes."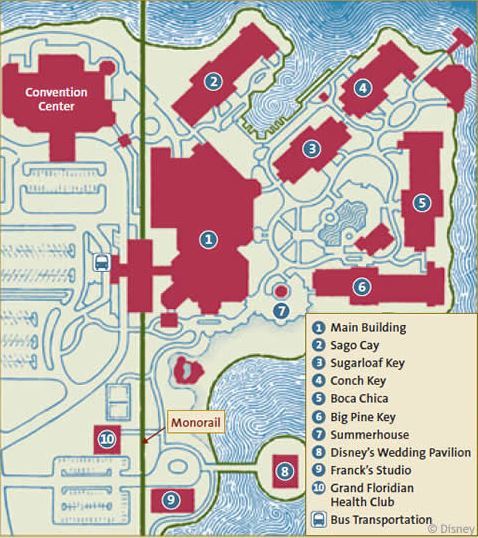 In addition to the resort's main building, there are five outer lodge buildings, which are named for islands in the Florida Keys: Sago Cay, Sugarloaf Key, Conch Key, Boca Chica and Big Pine Key.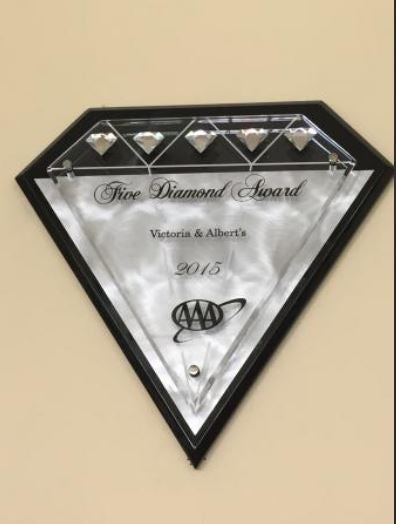 In 1989, the Grand Floridian Beach Resort received its first AAA Four Diamond Award rating and has consistently maintained that rating for the last 28 years. Additionally, Victoria & Albert's Restaurant has been a AAA Five Diamond Award winning restaurant for the last 17 years, as well as a Forbes Four Diamond Award winner. The Grand Floridian has also received designation in the Florida Green Lodging Program. The resort's other dining establishments include Citricos, Narcoossee's, 1900 Park Fare, Grand Floridian Café, Garden View Lounge, Mizner's Lounge, Gasparilla Island Grill, Beaches Pool Bar and Grill and the Courtyard Pool Bar.
In October 1997, Disney renamed the Grand Floridian Beach Resort to the Grand Floridian Resort & Spa. Then on December 8, 2011, at a DVC Board Meeting at the Contemporary Resort Hotel, Disney announced the expansion of the Grand Floridian to include a new 147-room DVC property. "We continually look for ways to expand Disney Vacation Club by creating resort experiences that our members will love," said Claire Bilby, senior vice president and general manager of Disney Vacation Club. "With the continued popularity of Bay Lake Tower at Disney's Contemporary Resort, we are thrilled to offer our members and guests a new resort option along the monorail system with easy access to the Magic Kingdom Park, as well as a variety of shopping, dining and recreational experiences."
Since 2007, the Grand Floridian has gone through a number of major renovations including all of their guest rooms, restaurants, retail shops and common areas. Then in 2011, Disney announced an 18 month renovation of the spa at the Grand Floridian. Now owning all their spas, Disney opened Senses in December 2013.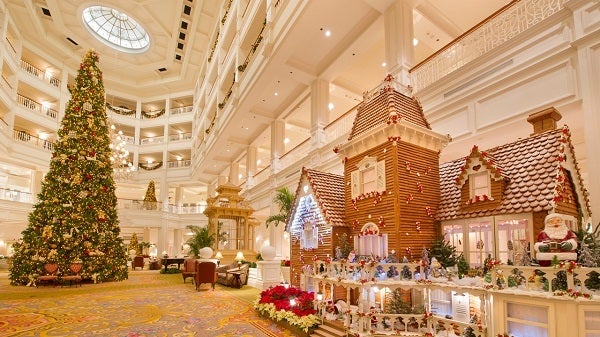 In addition to its beautiful grounds and spectacular location and views, the Grand Floridian Resort & Spa's lobby is a must-see during the Christmas holidays. It is there that a life-size gingerbread house resides. This classic gingerbread house, which has been gracing the lobby for 16 years, is made from a traditional Austrian recipe. This massive sweet house is 16 feet high and uses 1,050 pounds of honey, 800 pounds of flour – and it takes more than 400 hours just to bake the gingerbread. Elaborately decorated, guests can purchase all sorts of treats made from gingerbread including roofing shingles.
One day author Ray Bradbury was having a beer on the second floor of the Paris Disneyland Hotel when a stranger asked him if he could sit at his table. Unbeknownst to Bradbury that stranger was Jerry Allison. As they talked about EuroDisney, Allison commented that he thought the hotel was "very fine." "I know a hotel finer than this," said Bradbury. "The Grand Floridian at Disney World, Florida." Allison finally admitted to Bradbury that it was his firm that designed the hotel. Bradbury was stunned, shocked, and a little embarrassed. Allison laughed and told him not to stop.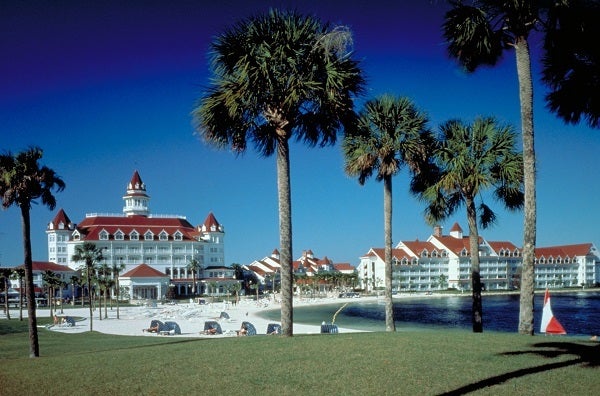 "Everything about it [The Grand Floridian] invites," said Bradbury. "The shape, the size, the colors, the restaurants. And the main lobby which rises at least six floors above the conversational area below … What a place! The Grand Floridian. Go there!"
Interview with Mike Chun and Chuck Corwin, WATG Architects
Kurtti, Jeff. Since The World Began: Walt Disney World The First 25 Years, 1st ed., Hyperion, 1996
Dunlop, Beth. Building A Dream: The Art of Disney Architecture, 1st ed., Disney Editions, 2011
Koenig, David. Realityland: True-Life Adventures at Walt Disney World, Bonaventure Press, 2007
Lapidus, Alan. Everything By Design: My Life As An Architect, 1st ed., St. Martin's Press, 2007
Ridgway, Charles. Spinning Disney's World, 1st ed., The Intrepid Traveler, 2007
Stewart, Laura. "Disney's Hotel Looks Elegant in Victoria Detail." Orlando Sentinel 20 June 1988, 22 June 2017
Popular in the Community