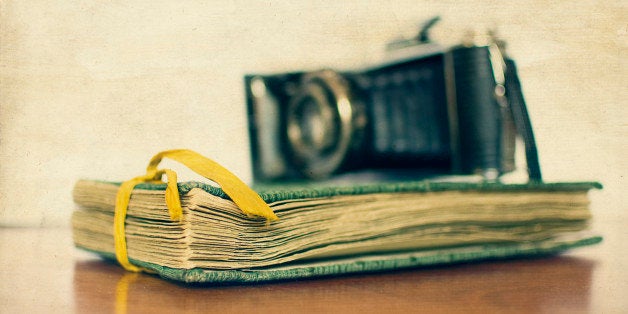 My parents tell me that when I was very young, I loved having my picture taken. While my dad was taking a photography course I was his best subject: cooperative, eager to please and more than happy to pose for shot after shot. Our family photo albums also tell the story of this little ham, her chin cupped angelically in her hands or a feather boa draped around her neck, her hand placed dramatically on her hip. I suppose it's no surprise, then, that this little girl went into the theatre.
These days, I'm happiest behind the camera, taking photos of my sons Trey and Trevor, ages 8 and 4. I've replaced my dad as the photographer in the family. When the boys were babies, relatives teased that my excessive clicking might damage their eyesight. I even overheard one saying, "Poor kid. He always has a camera in his face." I happily ignored them, though, because I didn't want to miss a thing. I aimed to capture every smile, yawn, goofy expression, even scowl. Now that they're older it isn't just their sweet faces that I photograph; it's everything from the holidays and milestones to the more mundane and everyday events. Friends and, notably, my husband, have wondered why I take so many pictures, why I spend so much time uploading and printing photos, putting them in albums, labeling them... It's simple, really. I see myself as my family's archivist. I'm preserving our history. And our history isn't made up of just special occasions. It's much more than that; we're much more than that. Hence, I keep my camera nearby and click away. It's a labor of love for me. And when friends suggest that I put the camera down and enjoy the moment, I'm happy to explain that I can enjoy the moment while capturing it. In fact, often the very reason that I choose to capture a moment is because I'm enjoying it and want to record it for posterity (every so often I hand the camera to my husband so I can be part of our recorded history).
Now that we've survived the diaper years and my youngest, Trevor, is headed to pre-K in the fall, time seems to be flying by. Indeed, as I've heard older and wiser mothers put it, "the days are long but the years are short." Trey is nearly halfway to high school graduation. Before I know it, I'll be missing the feel of a little hand in mine, mourning the loss of bedtime stories and art projects on the fridge and cuddles and the pitter patter of little feet, maybe even time-out. The mere thought of this nearly brings me to tears. I've always been a nostalgic person and quick to count my blessings even in the midst of a chaotic life, but a cancer scare a couple of years ago has made me even more aware of how precious life is and how blessed I am and how much I want to cherish this time with my boys. However, while I'd sometimes like to, I know I can't freeze time. What I can do is attempt to record just a fraction of our life together. And I don't mean digitally. There's something special about the intimate, tactile experience of sitting down with a loved one and looking through photos and reminiscing. Gathering around a computer screen or smart phone doesn't quite have the same effect.
Once in a while I like to imagine my boys looking through our family albums many years from now, both with me and after I'm gone. I hope that when they do they'll see more than just smiling faces; I hope they'll see how much fun we've had and how much joy I've found in this challenging yet amazing experience of motherhood, how much I've loved being their mom. I hope they'll see that their parents were far from perfect, but that we loved them like crazy. Maybe they'll see it in a photo of us all dressed as Toy Story characters for Halloween or at one of our picnics in the backyard. Or perhaps it'll come through in photos of us with our dog Cheyenne or riding bikes on the path near our house. Or maybe a shot of us at the dining room table playing "best/worst/funniest"will remind them of all that we shared and how much they were loved. This is what I see when I look at photos from my childhood, taken by my dad, inspired by my mom and for that I will be forever grateful to my parents.
I often find myself thinking "these are the moments," and my kids couldn't possibly remember them all. God knows when I'm old(er) and grey(er) and (more) forgetful, I'll need the reminders too. I want us to remember these moments. And if my taking photos all the time will help us to do it, then my kids will have to get used to having my camera in their faces for a little longer. I'd like to think that this is a small price to pay for having a record of the history of us.