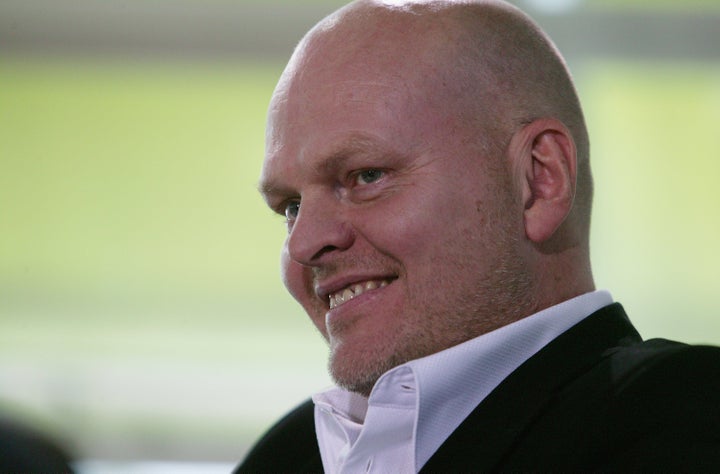 Author Hallgrimur Helgason might just be the best writer you've never heard of. That's all about to change, as the world's largest bookstore, Amazon, is plastering the Icelandic writer across its website.
Being a writer is like being a killer.
This is the gospel according to Hallgrimur Helgason, the off-beat author of The Hitman's Guide to Housecleaning, a crime thriller about a Croatian hitman living in New York City who mistakenly kills an FBI agent and winds up fleeing to Iceland, where he takes on the identity of a proselytizing preacher.
"You are killing people all the time," Helgason said. "As a writer, you have to be mean and vicious. Use the pen as your gun. Sometimes the people you write about get hurt."
Helgason's novels are cruel to Iceland. The prolific writer has a history of tearing his native country apart, and he craps on Iceland again in The Hitman's Guide. In an impossibly small nation of about 300,000 it means he often runs into the people he mocks.
"This comes with the job. You can't write my types of books without hurting someone."
The mercilessness he shows as a writer is what enabled Helgason to crawl into the mind of a killer and render a believable portrait of a character like Toxic, a killing machine with 66 hits under his belt. The author insisted he's no fan of violence in books or movies, but admitted that he enjoyed describing Toxic's murders.
"I was surprisingly drawn to the parts where Toxic talks about his victims. There was something clinical about writing it," Helgason said.
Violence permeates Helgason's novel, which might seem odd because Iceland is nearly devoid of crime. Helgason, though, explained that an absence of violence in Nordic countries is one reason why Scandinavian crime fiction thrives.
"Scandinavia, of course, lost its innocence with the Anders Breivik murders in Norway. Still, we don't have much crime. In the Nordic countries, there are hardly any societal problems, but we writers are bloodthirsty people like anyone else so we have to quench this thirst with literature. If you live in a mafia state with lots of violence on the streets, you tend to write beautiful poetry," Helgason argued.
"Life is always searching for balance."
In The Hitman's Guide, Helgason balances violence with his signature comedic sytle. He is a novelist who has mastered the art of dark comedy, because he has the somewhat warped sensibility to laugh at what others find deplorable.
In his forth-coming novel, The Woman at 1,000° (the title stems from the temperature of ovens used to cremate bodies), his main character, an Icelandic woman in her 80s who lives in a garage trying to escape her father's Nazi past, calls the local crematorium to make an imminent appointment to be cremated. The owner of the crematorium says, "Normally, we only make appointments for dead people."
The old woman replies, "Don't worry. I'll be dead when I get there."
"I like to blend humor with heavy drama. You see it all the time in Shakespeare's plays. People get killed, and then others joke about it the next minute," Helgason said.
"What I like about literature is that you can do both: be cruel and funny."
The Hitman's Guide, which when published quickly knocked Stieg Larsson's The Girl with the Dragoon Tattoo from its No.1 spot on Amazon's Kindle Best Sellers list for thrillers, is the classic tale of a fish out of water, which Helgason mastered in his novel 101 Reykjavik.
While the stranger in a strange land might be an overused plot device, a quirky twist to The Hitman's Guide is that Helgason wrote it in English, rather than his native Icelandic.
"I was worried about how people would respond to it. My English is only at 80 percent, so I thought it might sound strange," Helgason said.
The Hitman's Guide has been called an "outrageously funny page-turner, crackling with suspense." Partially responsible for the novel's success is the fact that Helgason's rough and incomparable use of English is the perfect voice for a Croatian hitman whose mother tongue is not English.
"The novel is a first-person narrative about a killer seeing Iceland for the first time, so I had to imagine Iceland as if I had never been here before. This was a welcomed challenge." Helgason said.
"Writing in English made me become a foreigner in my own country. It helped me create the necessary distance to my homeland."
The juxtaposition of Toxic, a cold-blooded killer, escaping to Iceland, a peaceful country where the police don't even carry guns, is the space in which the novel exists. Helgason is most at home when he's writing in this space, playing with opposites as he explores the pitfalls of Icelandic society through the eyes of a foreigner, who just happens to be a hitman, while the novelist himself tries to discover if an evil person can transform into a good person.
"It's a serious novel as well as a funny one. I was trying to balance all those things. Humor. Seriousness. Killing and compassion. What it's like to be a foreigner living in Iceland," Helgason said.
"And myself shitting on Iceland but loving it at the same time."
Calling all HuffPost superfans!
Sign up for membership to become a founding member and help shape HuffPost's next chapter