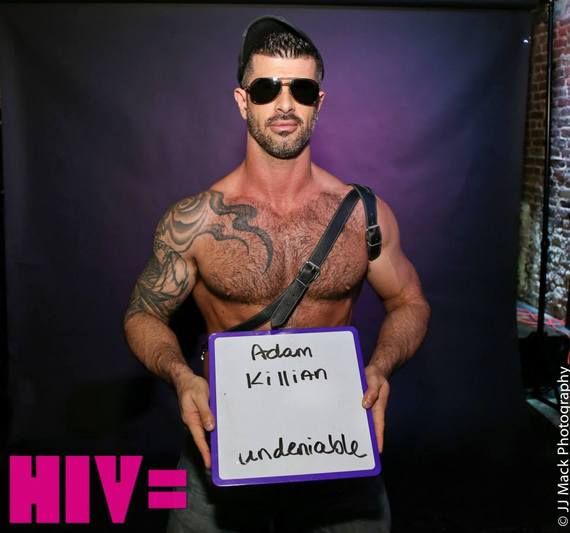 You wouldn't have known that an HIV test awaited you from the red carpet entrance and the group of photographers perched outside, waiting for Sandra Bernhard and the next someone to arrive at Bar Tini on 10th Avenue in Hell's Kitchen. Organizer Jack Mackenroth and porn mogul Michael Lucas were in front, too, kissing friends and laughing, lighthearted, on one of those Manhattan summer nights so perfectly temperatured and crisp you only see silver-lined dreams. I figured Negative Lucas was smooching his new Positive lover who he's written about having condom-less sex with, and they looked as optimistic as the evening.
And you wouldn't have known that questions of a lifetime of medical choices and fear and stigma and the healthy unknown awaited for you after that test showed its result in a mere 20 minutes, when you spotted Chi Chi LaRue playing DJ and adjusting his wig and sexy muscle volunteers sporting matching tees, and Ari Gold suddenly next to you, sublimely understated with a small entourage, and hot as porn ice Adam Killian posing happily for the cameras while trying to decide what tagline to put on his portrait -- he had time still; the testing part hadn't been completed -- the one that would resemble the black-and-purple posters dominating the bar's dark walls.
And I wouldn't have known, some 25 years ago, when I showed up for the results of my very first HIV test at some obscure doctor's office in Chelsea, also on a crisp, silver-lined summer day, bringing along my friend John to be there in case the city of my dreams turned into my life as a nightmare, that I'd be here too, being counseled by a cute kid about that same age, asking me things like "You were born as a male. Do you still consider yourself male?" And how I'd react if the test came back "reactive." "Positive" sounds so negative.
When I told him I didn't know what my reaction would be, he changed the question to "Will you go out and kill yourself"? ... "Good." He then pleasantly moved on to the test, which involved swabbing my mouth with what looked like some sort of plastic pregnancy test/nail file-thingy, which he then stuck in some liquid container as we mused over Truvada and STD dangers and the state of sex -- I always say "no bare-backing," he said, "but if I'm really high I'll do it and then regret it the next day" -- before sending me off to get my photo taken for the campaign. "Just find one of the guys afterward; they'll have your test results. Nice to meet you!"
The Great Gay Party Crasher has been kicked out of the New York Party Scene, and taking part in the HIV Equal Campaign made it clear that sensible fun and the illness that very recently defined us can co-exist in our lives on this newly formed annex of equal rights, Planet Gay.
For men of my generation, who often seem at odds with the younger crowd about the importance of HIV and identity, or, in my case, admitted flat-out at times irrational fear of death by a horrible disease, it's still a sobering affair. The last time a man came inside of me without a condom was when I was 17 years old; I'm 50 now, and that man is dead. He was 19. Before that, I was 16 and the man was 22. I lost touch with him and have no idea if he's alive or dead. That's just how it is with the gay men of my youth.
Don was my first, and he told me, nonchalantly one evening as his mustached roommate was sitting next to us, that he'd been tested for venereal diseases and, just to be on the safe side, I should do the same. They both laughed, the roommate, the one I really wanted, seconded the notion, and I panicked and fled the apartment and him, this sudden adult world of gay sex and syphilis and gonorrhea so seemingly uncertain. The year was 1981 and I lived in the suburbs of San Francisco, where my gay friends, all older, hung out, free.
At the event, my 20-something friend who came along with me took the testing thing in bored stride, wishing the line could move along more quickly, as he had dinner plans. People were still buzzing about Seth Fornea's appearance, which I missed, and regretted, as I've interviewed and met him before, and would loved to have gotten another photo with gay's Ginger List poster boy -- my friends go nuts when that happens, and I'm not immune to the pleasures and perks of being part of the press.
By the time they were ready to take my photo, my friend left (I remembered to check him in on Facebook), and they plastered HIV=stickers on my arms and asked for my tagline -- I chose "dreamer" -- before quickly taking a couple of shots and poses. I didn't like either look -- one made my arms look skinny, one made me look as if I had a double chin -- and I asked for a retake. The photographer, Thomas Evans, agreed, reluctantly, and wouldn't show me the new one. Vanity kicked in and momentarily made me wish I'd skipped the whole thing. I get so frustrated when I can't control my image.
Up above, in comparison, stared the poster of Greg Louganis, looking perfectly posed and natural, and the night's one clear bridge from HIV as death sentence -- I don't think any of us thought we'd see much more of him after he told Barbara Walters he had HIV way back when -- to the disease as chronic and livable -- he's not only quite alive, he's become the former superstar Olympic athlete, with a marriage and a wedding in People magazine and a political platform to replace the diving sort, once denied gay men of any professional sport.
When my results came back negative from that first HIV test half a century ago, after a two-week waiting period in which I did nothing but drink beer and smoke cigarettes and, ironically, loose ten pounds, I wasn't quite as afraid to look at the all-male Chelsea Gym's bulletin board, which listed almost daily death updates and memorial services. The horror movie premise of finding my name pinned up there lifted, like my certainty that there was a red ribbon waiting to be tied for me, or a place on the quilt. John took me to Limelight to celebrate (last a mall; soon to become a David Barton Gym!) but the sexy go-go boys seemed oddly wrong for the occasion. As did people saying "congratulations" for something I'd not won, but somehow missed while friends went to war. It wasn't a contest; it was the lottery. And I still had a whole lifetime for it to pick me.
A few months back, I hooked up with a younger guy, maybe late 20s, all beef and all blond, and what started out as an oral affair took a quick turn of events when he asked me to go anal. I said yes, and he slipped on me without hesitation, as simple as a kiss. After I came inside of him, hard, and after he told me he loved bareback and wanted me to drop by again, soon, and before the guilt and shame and fear took over, he talked of PrEP and his boyfriend who would love me too, and wanted to know if I needed an umbrella for the rainy walk home. He was packing for a red-eye trip to L.A. and needed to rush off.
He contacted me about a month later, via Grindr, and said he'd tested positive for Gonorrhea and that I should do the same. I thanked him for being responsible, made a note to call my doctor, and asked him if there was anything else I should know.
"Yes," he LOL'd. "I'm a vegetarian." Smiley face.
I fled him too, in a different age, by blocking his profile. He kept sending me more photos and wanting to know when the three of us could bareback together. His partner, he said, was the one who really deserved my load. The trigger was the photo of both of them, from behind, naked. I know my weaknesses.
I swore off risky behavior, again, and much later safely hooked up with a 23-year-old guy I kind of knew who had, admitted, Daddy desires. "Who's the youngest guy you've ever slept with?" he taunted, before heading off to meet his boyfriend for dinner. I didn't know -- maybe him, which increased the gulf -- and switched the topic to The Normal Heart, which he was indifferent to and I didn't like, the play not much, the movie less so. But it had just aired and weren't we supposed to make it, this, mean something?
My test results were in, finally -- mine seem always to be delayed -- and a sexy bearded guy took me into the tiny room, pulled out a piece of what looked like scrap paper, and said "you're non-reactive, which means 'negative.' Any questions?"
When too many questions fill your head you usually have nothing to say, so I checked my phone to find out that another friend had also left, this one to hang out with his AA buddies, and that no one from Grindr or Scruff had showed any interest. Jack'd would be useless. Adam Killian was still there, laughing it up with more admirers and wearing even less clothing, and I felt the urge to go find him on one of Michael Lucas's new bareback videos that I'd read about. Hot! But it was getting dark outside, and I had a dog at home, and I'd been fighting one of those lingering summer colds, the kind that used to make my fingers freeze up and tell me the end was near.
I remembered the bearded guy's final words and left the building. "No questions? Okay. Go out and drink. Looks like a great crowd."
To find out more about the HIV Equal Campaign, visit the Facebook Page.
Photo of Adam Killian, courtesy of JJ Mack.
Popular in the Community