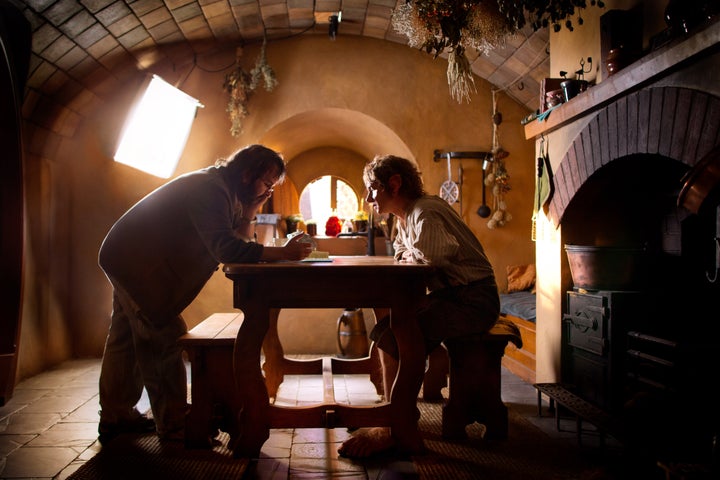 Peter Jackson isn't the only one who thinks that audiences need some time to digest 48 frames-per-second technology. In a somewhat surprising bit of news, Variety reports that Warner Bros. will not widely release "The Hobbit: An Unexpected Journey" in 48 fps 3D this December.
He's not kidding: When Jackson screened "Hobbit" footage to journalists and film theater owners at CinemaCon in April, the reaction was decidedly mixed. "The footage I saw looked terrible … completely non-cinematic," wrote Devin Faraci at Badass Digest. "The sets looked like sets … sets don't even look like sets when you're on them live, but these looked like sets. The magical illusion of cinema is stripped away completely."
Following the tepid CinemaCon response, Warner Bros. and Jackson decided against screening "The Hobbit" in 48 fps 3D at Comic-Con because of worries that the assembled fanboys would revolt.
"There is a huge audience waiting to see 'The Hobbit,' and any positive press from Comic-Con will truthfully have little impact on that," Jackson told the Los Angeles Times before the event. "However, as we saw at CinemaCon earlier this year, with our 48 frames per second presentation, negative bloggers are the ones the mainstream press runs with and quotes from."
Despite the back-away from mass release 48 FPS, Warner Bros. is still fully onboard with the technological revolution. Per Variety, the 48 fps footage from "The Hobbit" has improved since CinemaCon, and the studio is hoping to "test the marketplace" with a limited run at theaters with high-frame rate capabilities. If the audience enjoys what it sees, expect both the second and third "Hobbit" films to get a much larger release in 48 fps 3D.
For his part, Jackson was not that concerned when discussing 48 fps at Comic-Con. "I'm not worried about, because when this movie comes out and people see it at 48 frames, they're actually going to get the experience that I've had for the last 18 months," he said to HuffPost. "I'm a film guy. I've grown up all my life going to the movies, and I think 48 frames is great. So I've got to believe I'm not stupid. I have to believe it."
For more on the decision, including why preparing "The Hobbit" for regular theatrical consumption isn't going to be easy, head over to Variety.
Popular in the Community