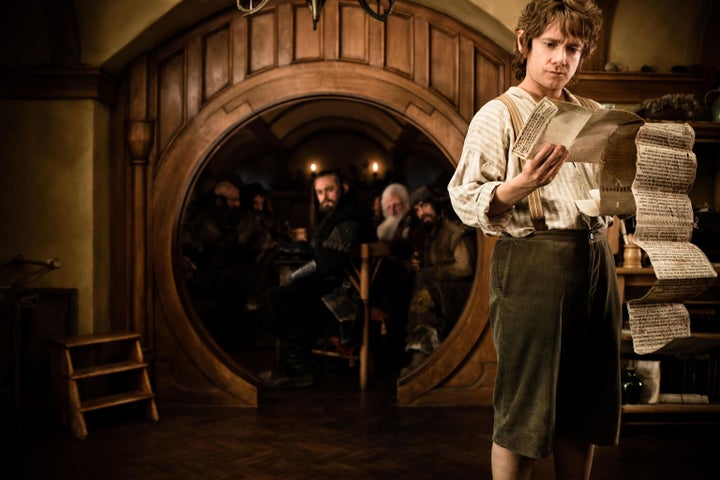 Yesterday afternoon I arrived in Wellington, New Zealand's capital city, to stand on the red carpet for The Hobbit: An Unexpected Journey premiere (covering for Entertainment Weekly). It was a beautiful day -- upper 60s, light breeze, nary a cloud in the sky, but the 100,000 people lining the 500-meter long red carpet made it feel quite a bit warmer. I've covered at least a dozen red carpets and have never seen anything this long (nearly a third of a mile) -- not at Harry Potter or Twilight. I spoke with director Sir Peter Jackson, stars including Martin Freeman (Bilbo) and a very handsome Richard Armitage (Thorin Oakenshield), and a witty James Nesbitt (Bofur), who told me about his love of New Zealand, notably the relaxed way of life and the fine wines including Sauvignon Blanc from Marlborough and Syrah from Hawkes Bay (I couldn't agree more). What the cast and crew weren't divulging, however, was how the beloved JRR Tolkien novel will be split up into three stories. Mum's the word from fellow members of the press as well when it comes to reviewing the first installment. There's an embargo on reviews until December 5th, but cast members who saw the movie raved about how amazing it is, beyond expectations. They unanimously praised Jackson for his directorial skills and vision.
There are three things that I am confident The Hobbit will do: First, it will change Martin Freeman's life. I knew this actor from one of my favorite films, Love Actually, where he plays a sweet, soft-spoken stand-in on a porn set. Although many other big names were considered for the role (Tobey Maguire, James McAvoy, Shia LaBeouf, Daniel Radcliffe), he was the chosen one and filming was rearranged to cater to Freeman's schedule. Yesterday, he was the one the ladies wanted to see. When he passed throngs of fans, the girls squealed and screamed his name and adoration for the British star. The second thing this movie will do is change the way we watch movies. Currently, movies are shot with a 24 second speed; this one is shot at a rate of 48 frames per second (fps), which gives it an intensified clarity, that may make you feel like you're watching a soap opera, but is likely the future of film making. James Cameron, who was also at the premiere, is also a proponent of this new technique, so expect The Hobbit to be the first in a long line of movies to be filmed in 48 fps. Thirdly, this movie will bring attention to New Zealand in the same way The Lord of the Rings trilogy did. There's currently a huge marketing push happening -- Air New Zealand has a 777 emblazoned with The Hobbit poster and enlisted Sir Peter Jackson and other cast members to appear in the safety video. (The previous video had All Black rugby players and coaches in honor of last year's Rugby World Cup, which also injected a tourism boost into the country.) But it deserves positive attention because it's an absolute gem of a nation. Even Elijah Wood (Frodo) told reporters he's still hoping he'll be granted citizenship at some point.
REAL LIFE. REAL NEWS. REAL VOICES.
Help us tell more of the stories that matter from voices that too often remain unheard.