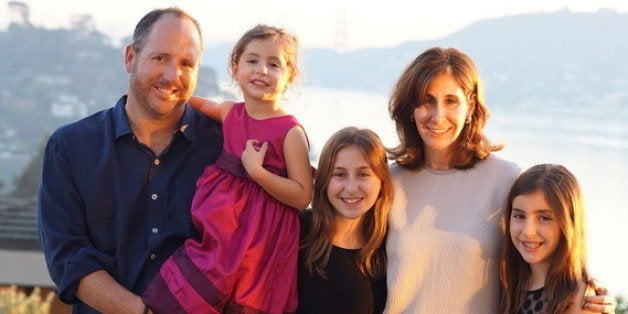 I remember our very first family holiday card: my sister snapped a photo of me, my husband and our six-month-old baby girl in my parents' St. Louis backyard over Thanksgiving. We posed and rearranged ourselves around our precious babe. We wore subtly matching hats and scarves. We smiled and smiled and smiled some more. My sister showed me the contact sheet, we picked the best one and printed out 150 photos. I glued the photos to gold card stock, hand wrote a holiday message on each one and mailed them out in early December.
Twelve years later, we are a family of five plus a dog. I still love sending out a holiday card, but can barely stomach the stress and craziness of pulling us all together for the photo. Many years, it's just the kids and the dog. Sometimes I take the photos myself; some years a friend manages to pin us all down for a few minutes of shutter time. I always try to present our best selves for these cards -- just like I post the best, happiest, most tender photos of our lives on Facebook and Instagram. I carefully choose just the right picture with just the right smiles, selecting just the right moments to share about the year -- the highlights. It's what people want to see, right?
But last night, as I licked closed the envelopes for our very late holiday card, I wondered why we're so reluctant to share the low lights. Everyone struggles from highlight to highlight, but we're determined not to show it. I'm not saying we need to use the holiday card to broadcast the year's less than thrilling experiences or feelings, but what's the point of pretending life is perfect? My life is full of awesome, but not all of the time. Just like everyone else, I have plenty of mess to deal with, so in the spirit of letting you know you're not alone I'm going to share a little of mine. Here's what you won't get from our holiday card this year:
I'm having a hard time raising a 3-year-old on one end and a 12-year-old on the other with the occasional rough pull from my almost-10-year-old. I feel like the rope in a mean match of Tug-of-War. It's exhausting.
Now that my husband and I are solidly in our 40s, we can just barely see the end of the road. Figuring out what we want the rest of the journey to look like is overwhelming.
I still don't know what I want to be when I grow up. This used to feel thrilling. Now it feels a little depressing.
I'm obsessed with my neck. I'm afraid it's getting crinkly, which makes me a little vain. I don't like vain.
My two older daughters don't have the sibling relationship I wish they had. I wonder what went wrong where. I feel guilty and sad about it and at a loss as to how to help them now.
Even though I'm a seasoned parent, I still wonder if I'm doing a good job with my 3-year-old. I mean, sometimes she doesn't get a bath or a vegetable for days.
This past year, all three kids suffered innumerable bumps and bruises; one sprained ankle; one case of hand, foot and mouth; unfair social slights and bouts of emotional turmoil. Hearts were battered; tears were shed.
I'm frightened about what this world holds for my kids. With ISIS and Ferguson and everything in between, I basically want to crawl into a cave and take them with me. I have to figure out how to put more light out into the world and teach my children to do the same.
I'm having a challenging time coming up with goals for 2015. It's looking like more of the same, which truly isn't the worst thing in the world, but I was hoping to find a little more intention.
We did manage to eke out a nice photo of the five of us for this year's card, but not before enduring 52 other photos where the 3-year-old is trying to dive bomb out of my husband's arms or the 12-year-old has her eyes closed or the 10-year-old is doing something weird with her face or I look like I'm about to sneeze or my husband is frowning. Six minutes in, all I wanted was a hunk of brie and a stiff drink.
Then, suddenly, we're all looking at the camera with a gorgeous view behind us. The sun peeks out to shine its heavenly light at just the right moment. The camera clicks, capturing our beautiful life. It's a sweet reminder that even in the chaos and stress there are moments when we're all smiling, holding on to one another, soaking up the sun.