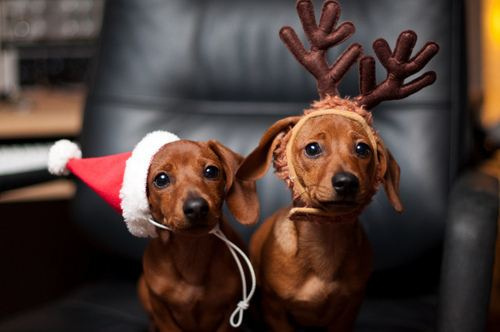 Whoever wrote The Twelve Days of Christmas must have loved animals (turtle doves, French hens) and live entertainment (ladies dancing, lords-a-leaping). And that person's "true love" came up with twelve thoughtful gifts of performance art and wildlife.
But most of us don't experience twelve days of Christmas and thank goodness. The Christmas season is sparkly and effervescent and exciting but it is also stressful and exhausting. So many decorations and lights to put up, so many gifts to buy and wrap. So many meals to plan, prepare, cook and clean-up after. And we all hope that we don't disappoint anyone.
The media makes it all look effortless and magical. You never see the homeowner falling off the ladder trying to drape the house in lights. You never see the cook swearing as smoke pours out of the oven containing the roast beast that is now charred beyond recognition. Children never impale each other with their light swords.
But at my house on Christmas, we are not all festooned in identical flannel pajamas. The dog is not sleeping peacefully in front of the fire. If there is any fire in my house, the fire department is on their way, hopefully. We are happy, albeit disheveled, on Christmas morning and it is a great Christmas if everyone has some fun and the dog doesn't ingest any wrapping paper.
Despite not measuring up to the image of holiday perfection portrayed in the media, I cling to my belief that the season is all about hope. We hope that the relatives leave their differences at home when they arrive for the holidays. We hope all of the adults enjoy the special eggnog or punch that we made from Grandma's recipe and we hope the crazy uncle doesn't enjoy it too much. We also hope the dog fails in his repeated attempts to grab the hors d'oeuvre out of the elderly aunt's hands before she gets it into her mouth.
Let's be honest: the holidays are a minefield of unexploded ordnance.

So Merry Christmas to all, including non-Christians, agnostics and atheists. I hope you hear this version of The Twelve Days of Christmas in your head whenever The Twelve Days of Christmas is played this holiday season:

On the Twelfth day of Christmas my true love sent to me:
Twelve family members
Eleven total strangers
Ten arguments
Nine tired santas
Eight criticisms
Seven kids a screaming
Six strong martinis
Five expletives
Four meltdowns
Three burned meals
Two broken gifts
And a throbbing horrific headache.
In the event that the stress of the holiday begins to dampen your festive spirit, there's always hope that New Year's Eve will brighten your mood and dim your memory of the holiday imperfections. So let the ladies dance and the lords leap right into the New Year!
REAL LIFE. REAL NEWS. REAL VOICES.
Help us tell more of the stories that matter from voices that too often remain unheard.