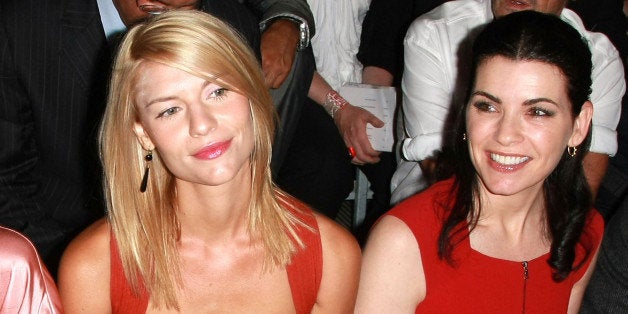 While Hollywood's woman problem -- on both the big and small screens -- is alive and well, some of TV's top leading ladies say TV is the place to be for women right now.
In a roundtable discussion for The Hollywood Reporter's May issue, "Homeland's" Claire Danes, "The Good Wife's" Julianna Margulies, "Mad Men's" Jessica Pare, "American Horror Story: Coven's" Sarah Paulson, "Bates Motel's" Vera Farmiga and "The Americans'" Keri Russell talked about the complexity of women's characters on TV and how much fun it is to play them.
After getting her start playing a naïve teenager on the TV show "My So-Called Life," Danes said it was difficult to find more dynamic roles that involved more than just the character's love life:
I went through a period in my mid- to late-20s when I was transitioning out of that ingenue period, which I was very grateful to be doing. But I was playing a lot of roles where I was defined by my love for some guy, and that got really tedious. I mean, I love love and falling in love, but it can get pretty flat real fast. Then I did "Temple Grandin," which was such a blessing because it was so antithetical to any ingenue role. I felt stretched, inspired and robust. Then there was just nothing again, and that was almost harder. I really didn't have any tolerance for a limited kind of secondary role. I had to wait for Carrie on "Homeland." She was the first character who could match Temple's dynamism. It was the first time I was scared into action, and that felt great.
As the discussion turned towards the actress' current work, Paulson described feeling as though she's "atrophying" when she doesn't have any upcoming work because there's no creative outlet to look forward to. "But [women are] so lucky," Margulies said to Paulson. "First of all, roles written for women are so much more complex on television. The film world is becoming quite flimsy for women. It's so lovely having been doing this since I was quite young, and now to see all these movie stars wanting to do TV."
While women make up only 37 percent of prime-time TV characters, the presence of strong women characters seems to correlate with critical acclaim. From "Mad Men" to "The Good Wife," badass female protagonists make for good TV. (See "Game Of Thrones'" Daenerys Targaryen.)
Farmiga put it perfectly when she said, "There's just a deeper level of sophistication in the writing of female characters on TV."
Calling all HuffPost superfans!
Sign up for membership to become a founding member and help shape HuffPost's next chapter
BEFORE YOU GO
PHOTO GALLERY
Women in Film: Where Are They?