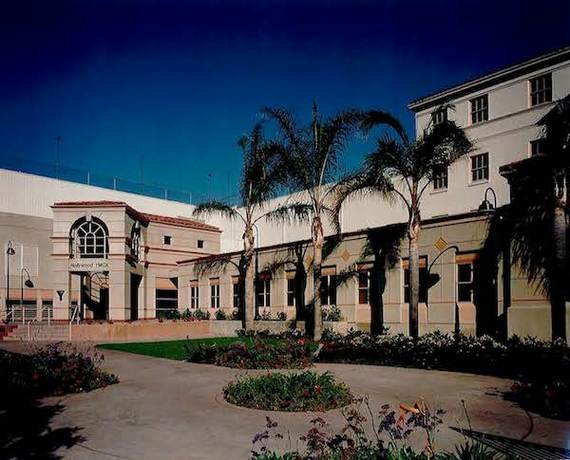 The infamous (gangster Bugsy Siegel), the famous (Denzel Washington and Tim Allen), and just regular peeps have always rubbed shoulders at the Hollywood YMCA, which celebrates its 100th anniversary on June 1 with a "Run to the Hollywood Sign" event in Griffith Park.
Listed on the National Register of Historic Places, when the Hollywood Y used to be strictly a "men's" hangout, gangster Siegel worked the punching bag, enjoyed the steamroom, and sometimes held private meetings with other shady characters in the 1930s. Even through the early 1990s, the Y had an exclusive men's Fitness Club within its ranks. Today, "democratic" membership rules okay, there are no VIP rooms, just general great service for everybody.
On any given day, at 1553 N. Schrader Boulevard, the likes of Ryan Gosling, Sandra Oh and Molly Shannon are working out. Or jaunty octogenarian writer and award winning novelist Andrew J. Fenady, who previously wrote Chisum starring John Wayne and most recently The Range Wolf novel, loves to tell tales of old Hollywood to industry newbies. Meanwhile, girls and boys, who are part of the Y's Junior Lakers basketball program, play on the same court as Flea (Red Hot Chili Peppers bassist) and retired NFL player Don Wilson who also won four CFL Grey Cup championships. Adam Sandler, who stars alongside Drew Barrymore in a new romantic comedy Blended (May 23), also recently threw down some balls on the same court for a video skit for the Conan Show on TBS.
These days, with its gorgeous front entrance and combo of Mediterranean style inner courtyard, classic tiled swimming pools and state-of-the-art workout equipment, the refurbished Hollywood Y has expanded beyond being just a gym. It now offers a veritable plethora of adult and youth programs and services -- from various spinning, Pilates, yoga and swim programs to child care services and day camps, along with family movie nights on the front lawn, so appropriate for being located right in the heart of Hollywood.
"Now, being a member has become a way of life," says Operations Director, Annie Dyess, who began working at the Hollywood branch in the late 1990s. She was a single adult, which was the prime demographic back then with 95% of total membership. By 2014, that "single adult" share has dropped to 65%, mostly replaced by the fastest growing demographic of Y -- the family membership, and not just married male/female, but also domestic partners with kids.
Dyess, who is now married with children herself, heads up the leading light of Los Angeles' 26-branch YMCA operations:
Financially, the Y is a great deal for two people, and if you have kids, family membership is a steal of a deal. All classes are free, from yoga to spinning and aquatics. And child watch is also free. Our Y has become a family attraction, a community within the community, and a way of life for our members. When you walk in the door, you're part of our family. It doesn't matter what your label is -- box office star, rock legend or recession-hurting person -- you're part of something bigger, a community of individuals and families who've come together to make Hollywood a better place. Along with all our programs and services, we also have fun things like birthday pool parties for kids and 'date night' where parents drop off their kids and actually enjoy a night out together. Our growth has been helped by the immediate area changing over the last decade. There are more schools and more residential areas for families nearby in Hollywood and the Hollywood hills, and residents are increasingly becoming part of the Y experience, from the cradle through retirement.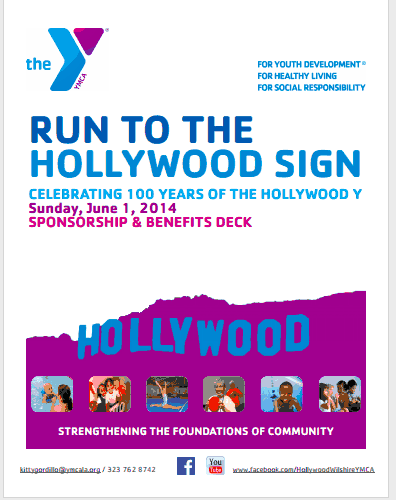 To celebrate its 100th anniversary, the Y got permission to have its "Run to the Hollywood Sign" event on trails leading close to the historic Hollywood sign. Michelle Handegard along with her husband A.J. and their three sons have been long-time Y members, first back in New York and now in Hollywood. She's an active runner who's been helping organize the "Run" whose proceeds will benefit Y programs that support kids, teens, families and seniors in the community. Handegard says, "The Y is like a second home for us. Our boys have grown up through child watch, through Junior Lakers, and various swim and taekwondo programs. The whole 'Run' event and post-race festival is a win-win for all involved."
Dyess, who admits to being a huggy-feely type of person and executive, says she wants the Y to feel like a happy place to visit: "We're like an oasis in Hollywood. Come in for a free visit and tour. We welcome everyone, and you can leave other issues aside for awhile. For me, the Y is still the best kept secret in Hollywood."
Check out the Hollywood YMCA on Facebook.
Calling all HuffPost superfans!
Sign up for membership to become a founding member and help shape HuffPost's next chapter