In her native Dallas she's one of the city's most stylish entrepreneurs, and now the rest of the world is discovering Kathy Fielder. Her Design Life Style brand is a favorite of retailers from Neiman Marcus to The Horchow Collection to One Kings Lane to Rue La La. Earlier this month, the Kathy Fielder Collection for Atlantic, a ready-to-assemble home furniture line was announced, and will hit retailers nationwide in Summer 2017. Her luxury linens and bedding collections are both sophisticated and user-friendly, a combo that is at the heart of Fielder's business philosophy. Despite her burgeoning empire, Fielder is an all-American devoted wife and mother of two who remains as downhome as Texas toast. Her genuine warmth explains her broad appeal with a fan base that includes Hollywood's elite, Fortune 500 C.E.O.s, and the folks next door.
Kathy Fielder (Photo courtesy of AEFPR):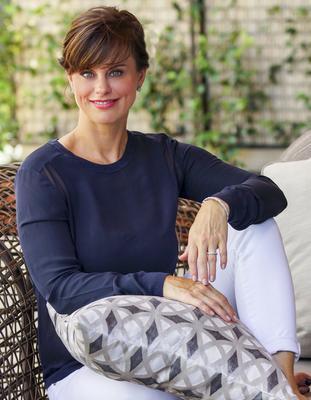 With the holidays upon us, I wanted to spotlight this impressive woman, who since the age of 22, has crafted a name for herself the old-fashioned, grassroots way. Proof that hard work and being honest and good pays off. Kathy Fielder's innovative designs embody elegance, style, and a unique sense of fun.
Xaque Gruber: Do you entertain for the holidays?
Kathy Fielder: I do entertain, in fact I'm throwing the holiday party for my husband's company in our 106 year old house in Dallas. Our home was built in 1910 and we're actually only the fourth family to live in it. This old house is a labor of love.
XG: How do you prepare your home for a spectacular holiday party?
KF: The best way is to know who you are and what you want your home to feel like. Little things like decorative throws, pillows, and dishware are details that will make it cozy and lovely. Putting together what I call a "table-scape," think a landscape for your table, whether for Thanksgiving or Hanukkah or Christmas is a great place to start, and you can build your home décor from there because the table is a easy, fast update. What's the color theme going to be? Will it be sparkly metallics? Will you use pine clippings and natural elements?
XG: Are you recognized in Dallas when you go out and about?
KF: Yes, we have a lot of exposure here in Dallas. When I first started developing the company, we focused on Dallas because it's my home base. Everything is custom done and shipped out of Dallas.
Kathy Fielder's Isabella collection of luxury bedding (photo courtesy of AEFPR)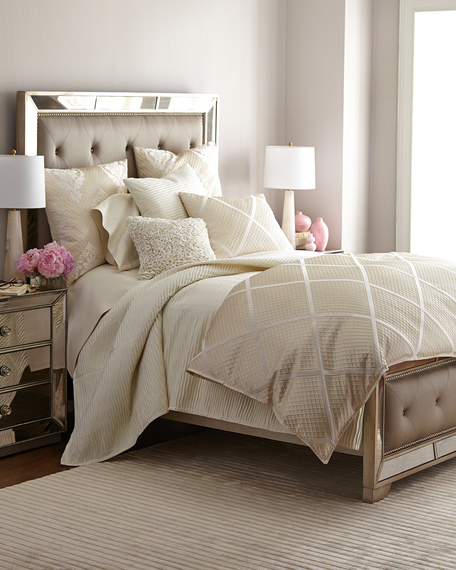 XG: Where do you turn for inspiration?
KF: Really I'm informed by everything. I can't walk into a building without being inspired. From antique to contemporary, it's a continual willingness to look around and be inspired by the little things I see. I have a great love of mixing the past with the modern. Taking older things and reinventing them for today's audience. My parents are from the heartland, Kansas and Missouri. I have a very strong Native American heritage because my grandmother was half Cherokee. I want to take my children to the reservation to help them understand where they come from.
XG: I think of the Cherokee riding on horseback, and here you are, part Cherokee, and a lot of people may not know this, but you're a ribbon-winning equestrian. And you're so involved with horse therapy. Maybe it's in your genes.
KF: I think you're onto something. Maybe my love for horses is in my Cherokee genes and my blood. I've been dreaming of horses ever since I was a young girl. My daughter started riding pretty actively at five years old. Horses are the smartest creatures, and give you a wonderful connection with nature and being in the moment. You can't have your cell phone with horses. You have to put the cell phone down. My horse is named Castille, and he has the best disposition - he's like a Golden Retriever.
XG: Can you talk about your work with Equest?
KF: I'm a first year Board member for Equest, an organization that uses horse therapy for veterans with PTSD and children with disabilities. I'm chairing an Equest gala in April 2017. It will be a grand, upscale party at the Texas Horse Park.
XG: Do you use any horse motifs in your designs?
KF: Not as of yet, but actually I've begun working with my thirteen year-old daughter on a line of saddle covers. She started her own little business last summer doing monogrammed T shirts, and I'm working with her to develop her creative and business endeavors.
XG: Keeping it in the family.
KF: And that's a beautiful thing. Design to me is real and it comes from inside. Every day I'm picking up the kids from school. I'm a real mom. I don't have a full time nanny. Life is short, and I want my children to be around and watch what I'm doing. I want them to be engaged in how their mother is growing her company from the ground up. I want them to learn how I've built this business.
Kathy Fielder Clutch Collection (Photo courtesy of AEFPR)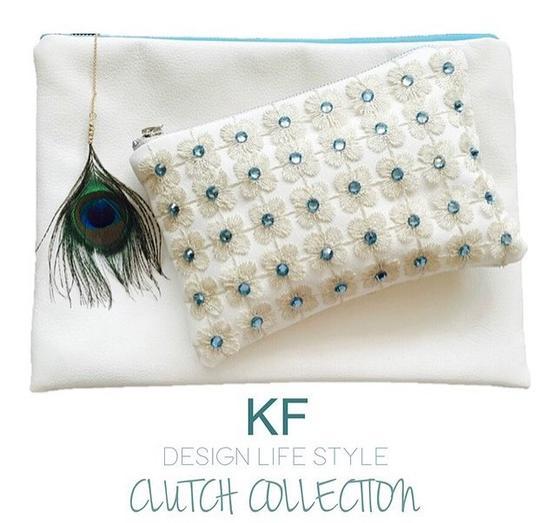 XG: Do you take private design clients?
KF: I take very limited design projects. I am doing a design job at the Residence at The Ritz here in Dallas. I am also currently working with QVC on launching a product line next May, and that's very exciting. I want to keep the manufacturing here in the U.S.A. It's important to me to keep commerce here in the United States.
XG: Let's talk about your new furniture line.
KF: I've partnered with Atlantic Furniture, a 35 year old company based out of Los Angeles. We're working on a lifestyle line where we elevate furniture for the next level. It's a gracious collection with lots of personality. We're premiering it next year in Vegas. I've been doing so many drawings and the whole process has been really exhilarating. There may be a couple pieces available in January.
XG: Your brand and the look of your home décor collections manage to balance sophistication with everyday life.
KF: For me design should be attainable and accessible while making life very beautiful. It's also so important for me to keep things fun.
Support HuffPost
A No-B.S. Guide To Life
Related
Popular in the Community