Recap of a day-in-the-life profile of Keith Davis, director of Griffin-Peters Funeral Home.
"Wait on the Lord and be of good courage and he shall strengthen thine heart," the Rev. Dr. Calvin O. Butts, III read from Psalm 27 as Milton C. Hill's family enters the historic Abyssinian Baptist Church in Harlem to pay respects.

Hill's body lay in a simple cherry wood casket covered by cascading white and yellow mums and carnations. As mourners file into the sanctuary, funeral director Keith Davis stands between the coffin and the first row of pews, one hand outstretched, slowly ushering family into the first few reserved rows.
He'll offer any word of comfort or answer any request from the family -- it is, after all, the final hour for Hill, whose body arrived at Griffin-Peters funeral home the day before, a long day that involved, among other things, funeral preparations, phone calls and endless paperwork for Davis.
Friday afternoon: At Griffin-Peters, just four blocks south of Abyssinian, Davis sits at his desk in a small, wood-paneled office where pictures of his wife, three children and grandchild are taped to the wall. He opens mail under the soft glow of a small lamp, listening to the latest album from gospel duo BeBe and CeCe Winans. Davis taps his fingers on the desk. "I love this CD," he says. For a few minutes, the business is quiet.
An elderly man with a Yankee cap and cane stops by to check on the programs for a funeral tonight. Davis shows him to the leather couch in the waiting area. A sister from Alabama can't come tonight but requests a program. Although family members sometimes use programs to be excused from work, Davis doubts that's the case here. He calls the printer and assures the man the programs will be ready for the evening service. They banter for 10 minutes before Davis helps the elderly man with his coat and wishes him a good day.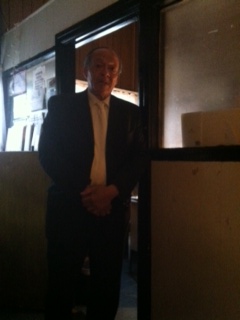 Davis calls himself a people person, the most important skill for staying in business almost 40 years. His wife, Valerie, a funeral make-up artist, agrees. What he's not is a back-room funeral director. In other words, Davis knows how to embalm and supervises the process but "it's not my thing," he says. He remembers his first embalming (the process of removing body fluids and replacing them with a preservative solution that prevents the onset of bacteria); using a scalpel felt "almost like I was desecrating human remains." Afterwards, he realized he was performing a service. But he leaves that service now to two embalmers he uses as needed.
Davis continues the legacy of his grandmother, Plugenia Griffin, who opened this funeral home in the 1930s. "The lady was sharp," says Davis about Plugenia, who lacked formal education yet, as one of Harlem's first female funeral directors, ran a successful business for years. Funeral parlors were among the first businesses blacks established as they moved north after abolition. Griffin operated the funeral home with her husband, John R. Peters until 1981, when Peters became ill. Davis, a Wesleyan University graduate interested in law school, took over the family business. "It was in my blood," says Davis, who's 61.
About an hour before the Friday wake, Davis dresses in a black suit, a white shirt, white silk tie and a black overcoat. A hectic morning has left him with a good amount of paperwork to complete and file: insurance papers, death certificates, a pre-arrangement in which money is placed in a bond for future funeral expenses. Processing paperwork can take five to six weeks before the funeral home gets paid; in the meantime, the director pays the expenses. You're busy and broke, comments Davis.
Many similar small Harlem businesses have closed. As a kid, raised between Yonkers and Harlem, Davis recalls four funeral homes on the next block. Today, there's only one. The number of black residents is shrinking, and "people coming into the neighborhood don't avail themselves of the professionals that are here," Davis says. The key to his survival is families repeatedly using his services. He also allows several colleagues who no longer have establishments to operate out of his funeral home and pay him rent. "It's good for me and it's good for them."
The wake will begin soon. Davis moves to the funeral home's sanctuary to supervise embalmer William Alderman, who adjusts Hill's mouth for Saturday's funeral. First, Alderman uses tweezers to remove some white cotton-like material then gently applies pressure and lowers the upper lip, giving the deceased a peaceful expression. Alderman and Davis are pleased.
The funeral this evening will take place in this very sanctuary, which seats approximately 75 in crème folding chairs. A waiting area separates the office and the sanctuary with a large framed painting of a white Jesus; it's hung there since his grandparents managed the home. But Davis plans to modernize and expand by next year with the help of a local architect. He hopes the updates draw a diverse clientele as Harlem gentrifies.
"Takes a lot of dedication and patience," says Alderman about the funeral business -- a business that comes with challenges and rewards. For example, "I don't care how long you've been around this business, nobody likes to bury a child," says Davis. Another challenge -- dealing with families who can't afford a proper funeral. "You end up giving back a lot of the business. In central Harlem, you have to if you have any sort of heart," Davis says. "The amount of work we do and the amount of money we make don't coincide."
Davis conducts about 150 funerals a year with temporary employees and charges $2,000, a modest service fee compared to funeral costs further downtown, he notes. Although he's not a rich man, Davis says the reactions of family members, when they're pleased with how their loved one looks, is the most gratifying part of the job.
Colleague Isaiah Owens, who has owned the successful Owens Funeral Home in Harlem since 1968, agrees. "You have to have a passion for the deceased and for the survivors," says Owens. A funeral director, he continues, must turn a family's sorrowful time into an uplifting experience.
The evening funeral ends at 9:15 and Davis begins preparations for tomorrow's. Milton Hill's family comes by to view their beloved patriarch, dressed pristinely in a light gray suit. Hill's body arrived Friday morning already embalmed. "It's a good embalming job," says Davis. Still, he and Alderman and team enhanced Hill's facial features to leave no evidence of the haggardness he suffered in his illness. Hill was in the final stages of Alzheimer's at the time of his death and had stopped eating.
"He was very expeditious in having the body removed from our home," Eleanor Evans, Milton Hill's wife of 31 years, says about Davis. Though Evans had never previously used Griffin-Peters Funeral Home, it oversaw her brother-in-law's funeral. She praises the way the Davises have handled her husband's arrangements and appreciates Keith Davis's attention to paperwork and insurance claims. "I would recommend them to anybody. They take care of business," says Evans.
Saturday: Davis's day starts at 8:30 as he drives to the church while Valerie and a reporter squeeze, hip to hip, into the front seat of a black Sayers and Scovill hearse driven by Bill Smith, another funeral director and Davis's friend. In less than five minutes, he's parking in front of Abyssinian Baptist Church.
Davis and Alderman carefully move the brown coffin into the sanctuary on a wheeled platform, guiding it through the stain-glassed vestibule down a side aisle -- church custom a funeral director is expected to know. "If you get it wrong, somebody in church will tell you," says Davis.
Once the coffin is in front of the altar, Davis, Alderman and Smith check the body and white interior padding to make sure everything looks presentable before the family arrives. Davis surveys every detail from flowers to programs, moving constantly and intently. "He creates his own stress," his wife says.
As family and guests arrive and approach the coffin, the Davises greet them. The family seems pleased with how their loved one looks. Deacons stand guard by the coffin, switching every couple of minutes. Davis, however, circles often between the family clustered in the front of the sanctuary and church officials gathered in the rear. He doesn't want to sit down. Yesterday's late service and this morning's early start is catching up to him, but he won't let weariness affect his work.
Soon, the family takes its seats up front as a slideshow of the deceased begins. At 10:40, more family members arrive and Davis greets them, offering sympathy. "It's very unnatural for a parent to bury a child," he says with compassion to a relative who lost her husband and son several years ago. An elderly woman using a walker needs assistance; Davis guides her slowly down the aisle to view the body.
Almost 20 minutes later, Davis and team tuck in the white cloth overlaying the casket and slowly close the lid. A deacon passes out programs while Davis gathers the family and the organist plays "Swing Low, Sweet Chariot." Another 20 minutes pass - they're waiting for the pastor to arrive and start the service -- and it's getting warm in the vestibule, "My only problem is, I'm hungry," says Davis. Finally Butts proceeds down the same aisle that the coffin traveled, followed by associate pastors and family under Davis's watchful guidance.
The funeral lasts an hour. Back at his funeral home, Davis waits for relatives who have not yet viewed Milton Hill to come and see him. No one does and by 1:30, Oakhill Crematory arrives.
Davis gets a brief respite after the funeral before meeting his wife at Prince Hall Masonic Temple to support her Eastern Star fish fry, a fundraiser for its summer camp serving inner city youth. A few of Davis's friends and fellow Masons join him there. He eats sparingly and tries to keep his eyes open. The Davises return home by 9:00.
Sunday: "It's a seven-day-a-week job," says Davis. Two families just called; one, a returning family. They asked Davis to pick up relatives' remains from hospitals. "I was trying to get a quiet day," he says, tired but ready to do what he says he's called to do.
REAL LIFE. REAL NEWS. REAL VOICES.
Help us tell more of the stories that matter from voices that too often remain unheard.