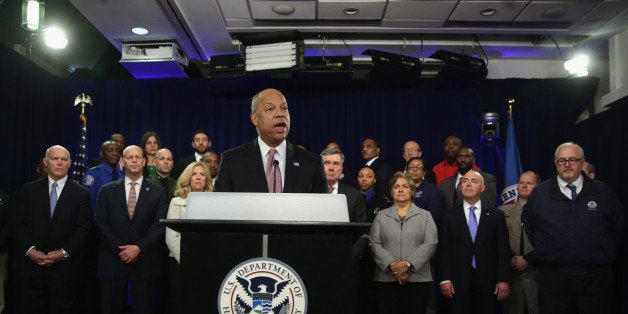 Minnesota's Mall of America was named this past weekend as a possible target of a terrorist attack in a one-hour video released by the militant Somali group al-Shabaab. Concern about such an attack could not be higher, especially following on the heels of terrorist attacks in France and Denmark. But that has not deterred congressional Republicans from playing games with America's security.
Republicans promised things would get better if they were put in charge of Congress. Yet, due to a lack of leadership and seemingly irresolvable differences among their members, they are holding up funding for the Department of Homeland Security, which is set to run out this Friday.
What kind of game is this? Well, House Republicans, unhappy with President Barack Obama's executive order on immigration, have attached an amendment to the DHS funding bill that would stop the president's immigration action, which they consider illegal. The strategy was to have the DHS funding bill pass with the immigration amendment attached. If the president subsequently vetoed the measure he would be attacked for failing to protect the nation.
But the Republican measure has not been able to clear the Senate because Republicans do not have enough votes to avoid a filibuster. Democrats in Congress want a "clean bill" to fund DHS, one without any amendments. Meanwhile, the clock is ticking. If DHS funding runs out thousands of its employees will be furloughed, while 170,000 essential personal will have to work without pay. "We need to fund the Department of Homeland Security," Senator John McCain (R-AZ) said Monday evening, "We cannot shut down the Department of Homeland Security."
With Republicans facing increased criticism and blame for the impasse, Senate Majority Leader Mitch McConnell (R-KY) proposed an alternative strategy. He would allow a clean vote on the DHS funding bill, which is for one year, and then have a separate vote on a bill that would stop President Obama's executive actions on immigration. His goal would be to make Democrats, who did not favor the president's executive action, have to vote on the record.
But Senate Minority Leader Harry Reid (D-NV) was more concerned that House Republicans would not go along with the proposal. This is because House Speaker John Boehner (R-OH) cannot control his own caucus. And, sure enough, with McConnell's proposal only hours old, conservative House members spoke out against the gambit. Rep. Matt Salmon (R-AZ) issued a statement saying, "The Senate Majority Leader's plan to divorce the funding bill from the unlawful actions it is restricting is tantamount to surrender, and won't meet with support in the People's House."
Meanwhile, Senator Ted Cruz (R-TX), the man responsible for the 2013 government shutdown, issued a statement of his own. "Leadership's current plan -- to pass clean DHS funding and separate legislation barring executive amnesty -- is a mistake," Cruz said. "Congress is obliged to use every constitutional check and balance we have to rein in President Obama's lawlessness, and that includes both our confirmation authority over nominees and the power of the purse."
Last week a Texas federal judge halted implementation of the president's executive order on immigration. The case is likely to take some time to work its way through the courts. This has led many observers to wonder why Republicans just don't go ahead with a clean DHS funding bill and let the courts deal with the legality of the president's action on immigration.
That would seem like common sense, especially considering the increased terrorist threats. But common sense does not apply in Washington, least of all for congressional Republicans.
REAL LIFE. REAL NEWS. REAL VOICES.
Help us tell more of the stories that matter from voices that too often remain unheard.