A strange thing is happening the bowels of Seattle's Pike Place Market, and I thoroughly enjoyed being part of the experience last Sunday morning when I attended The Horse In Motion's latest show BrechtFest. The show consists of a highly talented cast working as both actors, singers and breakfast servers while performing three of Brecht's stories interwoven into a seamless performance. Here's how The Horse In Motion describes the production.

Weaving together three classic stories by Bertolt Brecht, dinner theatre is turned on its head as we tackle income inequality, gender dynamics, and the essential question of how to survive in a society where the game is rigged. Using Brecht's groundbreaking principles of epic theatre, reimagined by the Millennials of today, the production invites the audience into an experience that is at once playful and unsettling, informed by history and totally new.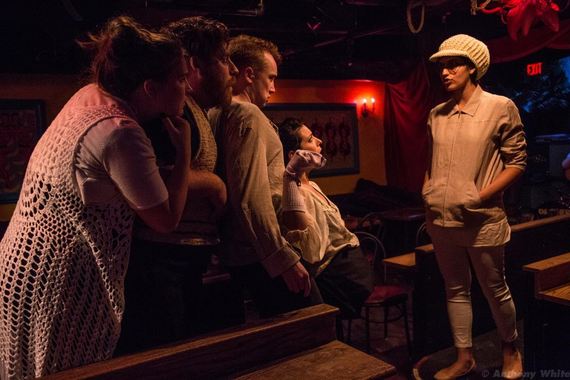 What's most amazing is that this seemingly enormous undertaking worked so well for the sold out audience of about fifty people. Even though the actors were literally in our faces within the small Can Can venue, the entire performance was believable and kept the entire audience enthralled and involved. Moreover, BrechtFest was perfectly timed with courses of the meal coming during "intermissions" and being served with a precision and grace difficult to achieve in such a small venue.
I tend to get confused when several stories are portrayed simultaneously with one actor playing many characters, especially if the costume changes when shifting characters are minimal. During BrechtFest, however, everything made perfect sense and the storylines of the show carried through to conclusion with a real sense of grace and logic. No doubt, this was due to great writing and a highly talented cast that seemed to go full out for the entire three-hour experience.
All in all, BrechtFest is a noble undertaking performed with great skill and verve that provides the audience with some unique morning entertainment and an excellent meal. BrechtFest continues through October 4 at the Can Can in Pike Place Market.
Popular in the Community