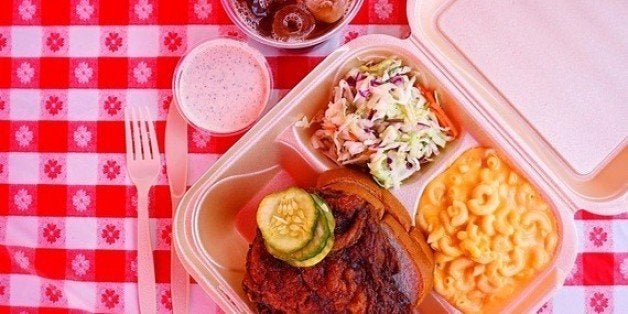 "I'm in the mood for some bonafide, honest-to-goodness, makes-you-wanna-cry-it's-so-good, hot, fried chicken. I think I'll go to Columbus, Ohio," said no one, ever. Right?
Because one man, ten hours a week, and four varieties of authentic, juicy, hot chicken resolved to change all of that and bring this traditional southern cuisine to the Midwest. And from a small egg of an idea during a trip with his wife in November 2013 to Nashville, owner Joe DeLoss hatched what is quickly being deemed the "best pop-up on the planet" -- Hot Chicken Takeover.
And taking over is exactly what they're doing.
Last month, Joe and HCT launched a KickStarter campaign to help sustain the momentum their barely six-month-old restaurant had going. The project resolved to raise $40,000 to launch Hot Chicken Takeover to the next level, and after a mere 30 days and some very loyal supporters, that goal was beyond achieved.
As of Saturday, October 11, the campaign has raked in over $53,000. And with the project closing on Wednesday, October 16, HCT will be fully funded to continue frying, serving and taking hot chicken to spicy and delicious infinity and beyond.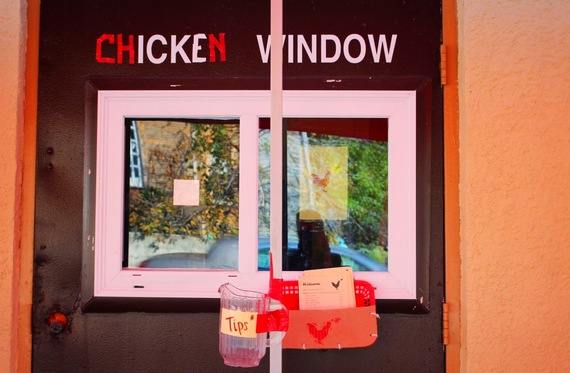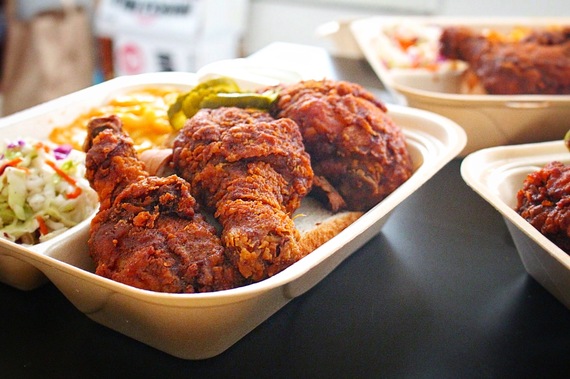 The mission of this unconventional hometown eatery is not only to create and serve the greatest hot chicken north of the Mason Dixon, but also to innovatively bring together a community in a family style atmosphere. And after spending a morning with Joe, the staff and (most importantly) the chicken, I entirely and resolutely understand why exactly this restaurant is taking over.
One underlying unique peg of Hot Chicken Takeover's mission is to provide employment support for those in need. Joe resolved to provide jobs to those re-entering the workforce from the corrections system, a poor work history, or a general inabilty to obtain employment.
"We provide a work environment that is really focused around accountability and support," said Joe. "It allows our employees to empower one and other."
Joe strives to support both the values of community and family through his hot chicken, and his own family is no exception. When asked whether he will feed his infant daughter, Finn, fried chicken, he answered with no hesitiation.
"Absolutely," he said. "She just started eating protein so it won't be long before we give her some chicken."
Gotta instill the family business early, right?
Although this pop-up restaurant is only open for 10 hours a week, HCT serves anywhere from 1000 to 1200 meals each weekend--a number most traditional restaurants hit over a 7-day schedule.
So what justifies Hot Chicken Takeover so noteworthy? What is it about THIS chicken that renders tourists, families and loyal locals alike so deliciously drawn in?
For Joe the answer isn't just the chicken. It's the experience -- the home cooked, genuine atmosphere combined with the congenial, welcoming staff.
"It's a very different concept. The experience for our guests is about our customer service, our atmosphere and the people they meet in line," said Joe. "The chicken is important but it's the experience too."
Well Joe, I see your point, but allow me to be frank. After experiencing an HCT meal for myself, the atmosphere could very well be a rancid garbage dump engulfed with malicious tigers and terrible elevator music and I would be too enthralled by the fried piece of heaven in my hand to care. And if that doesn't tell you how incredible this chicken is, I'm not sure what will.
Let me be clear. This is not your run of the mill, fast food fried chicken. Although the menu is simple, the recipe and the process meticulously optimize the production of this incredible meal. HCT chicken is brined for 15 hours, double deep fried, and dry rubbed with a spicy cayenne paste -- a culminating procedure that breathes life to this amazingly hot cuisine.
With only a four item menu, HCT places emphasis on quality over quantity. Hey, if you've perfected your specialty, why rock the boat? Customers first choose from white, dark or boneless, then they choose their heat from cold, warm, hot or holy -- cold being spicy for an average human and holy being the hottest spices to ever graze your taste buds.
"Only about 5% or less of our customers go Holy," Joe admitted. "It's like the hottest thing you'd get a an authentic Thai or Indian restaurant. It's crazy hot."
Challenge accepted. As a proper journalist, how could I possibly review and inform the public of this chicken eatery without properly experiencing each flavor for myself? So Joe and his team hooked me up to Hot Chicken heaven with a fried and spicy spread fit for a king, or a 5 foot girl.
Each flavor was just as he described. Perfectly juicy on the inside and delightfully smokey and crispy on the outside. Allow me to confess I never envisioned myself speaking so poetically about fried chicken, but the culmination of fresh ingredients and careful production render this chicken a positively epic review.
Not to mention, add Ma's delicious mac and cheese, coleslaw, house-made ranch and endless sweet tea and you have a complete and perfect afternoon of food worth waiting the lines around the block for.
When asked about the future of HCT, Joe said that plans are definitely in the works, but that the intent is to remain in Columbus.
"Columbus has so much talent scaling food concepts," said Joe. "It's the kind of talent pool that we can draw from and learn from. We couldn't be in a better community."
And after experiencing this incredible place for myself, I have to admit I couldn't be happier to hear Hot Chicken Takeover won't be leaving the Central Ohio anytime soon.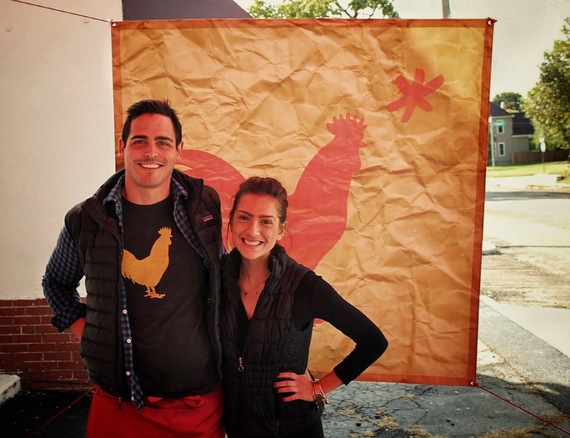 But whatever the future may hold, this experience rendered one important take-away (besides a chicken coma) and that is the knowledge that if I were a chicken, it would be my honor and privilege to be served up by Joe DeLoss and Hot Chicken Takeover.
Related