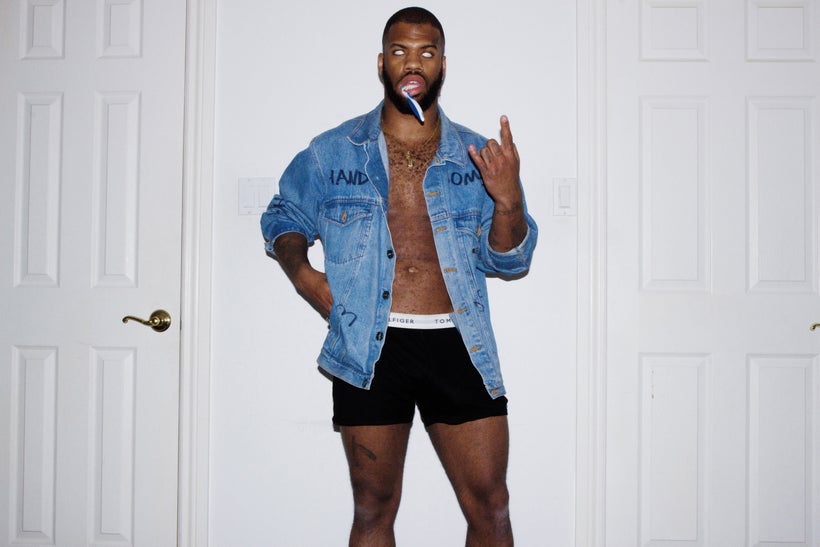 Not long ago, I was driving down California's I-5 late at night, making what I refer to as the Drive of Dreams—cruising the long stretch of highway from San Francisco to Los Angeles. It was during the tail end of my drive between the two iconic cities when I became bored of my usual concoction of music playlists and decided to explore the real estate of my Apple Music subscription a little more fully. With my beautiful wife sleeping peacefully in the passenger seat and feeling contemplative behind the glow of headlights, I began sorting through the "Chill" category and finally settled on a playlist fittingly entitled "Mood." A song called "The Juice" by an artist named HERO began playing and a dark 80's synth beat with a smooth R&B voice filled the car. It was the type of song that perfectly matched the vibe of nighttime reveries. I immediately grabbed my phone to add the song and the EP from which it came—VHS POP—to my library. I played the song on repeat for the rest of the weekend and it has remained a solid fixture in my aux cord decisions ever since.
Soon after discovering HERO and his incredibly swaggy/sultry EP VHS POP, I sought to follow the artist on social media in order to stay up to date on new music, as one does in our digital age. I had a surprisingly difficult time finding his accounts at first, and when I did I was even more surprised to find a Twitter and Instagram account each with less than 1000 followers. It was then that I realized just how unknown the Canadian R&B artist has confusingly remained, even with a song like "The Juice" that currently has over half a million plays on Spotify, 300,000 plays on Soundcloud, and recognition from the playlist editors at Apple Music.
In an effort to inform the world of the irresistibly good music of HERO and his unique fusion of self-produced R&B/retro pop, I reached out to the artist from Calgary, Alberta and asked him a few questions.
Let's talk about the hit track from VHS POP that a lot of people have streamed online. "The Juice" currently has over half a million plays on Spotify and 314,000 on Soundcloud. Did you anticipate it would be such a hit?
I had a hunch that the song would do well based off reactions I would get when I played it for people, especially girls. I had no idea it would be the biggest track off the EP though.
In our social media age, there have been a lot of unknowns like Chief Keef, Bobby Shmurda, Desiigner, and Rich Chigga who have come out of nowhere with a fire track and because it goes viral they are able to establish a huge platform of loyal followers and have a career pretty much overnight. With you, your music seems to have made the rounds online as well, but your own social media presence has remained small. Why do you think that is?
That's the thing I don't think my music has really "made the rounds online." It's weird, there's been a lot of love from Spotify and Apple Music, but most of the major blogs and publications want nothing to do with me. Even getting a premiere for VHS POP was a nightmare; no one wanted to cover it.
You also have to remember that the genre those other artists are operating within is one of the biggest on the planet—[rap and hip hop] are already a huge part of the cultural lexicon. It doesn't hurt to have a celebrity cosign as well. I'm not trying to take anything away from them, but it's worth mentioning.
Now, when you consider what I do—this sort of weird mash-up of various genres such as disco, retro pop, dance and R&B—it can take a bit for people to warm up to it. I make songs built off pop structures and arrangements but they're just not as straightforward genre-wise, which I think might turn some people off. I usually notice one of three reactions people have to my music, they either: A) Love it B) Don't f*** with it at all C) Don't really like it, but then a month later it's all they listen to.
There's a lot of Canadian artists that have been popping off for a while now—Drake, Justin Bieber, The Weeknd, Tory Lanez, PARTYNEXTDOOR to name a few—but they all have one thing in common: they're all from Ontario. What is it like being an artist trying to make it from Alberta?
I love the city where I grew up but it can be uninspiring at times. It's a great place if you want to be stable or comfortable but not much else. It's not really a place to take risks. It's been changing for the better over the years but it still has some ways to go.
Your music and your overall aesthetic have a real retro vibe. Where do you get a lot of your creative inspiration from?
In terms of writing, just real life situations, whether it's stuff I've experienced in the past or things I'm currently living through. It's hard for me to talk about anything else. VHS POP was all about what was going on the last two years of my life up until that point.  Outside of that, frustration, horror films and rock & roll.
What are you working on right now?
The new EP and designing/composing the live show.
What's the dream you're working toward?
Where do you see yourself in three years?
Alive and hopefully still sober.
Robbie Tripp is a writer, public speaker, and creative activist. He is the author of Create Rebellion, an abstract manifesto for disruptive creativity. He lives and creates in San Francisco with his beautiful wife Sarah. Learn more at www.robbietripp.com.
REAL LIFE. REAL NEWS. REAL VOICES.
Help us tell more of the stories that matter from voices that too often remain unheard.
This post was published on the now-closed HuffPost Contributor platform. Contributors control their own work and posted freely to our site. If you need to flag this entry as abusive,
send us an email
.