On "Game of Thrones," all men must die ... except for The Mountain. He has to wait until The Hound can get his hands on him.
The "Game of Thrones" Season 7 finale delivered a moment fans have long been waiting for as Sandor Clegane, The Hound (Rory McCann), confronted Gregor Clegane, The Mountain (Hafþór Júlíus Björnsson), during the dragon pit council. Fans have theorized for a while that the two brothers will square off before the show is over, and this moment felt like a pre-fight stare-down.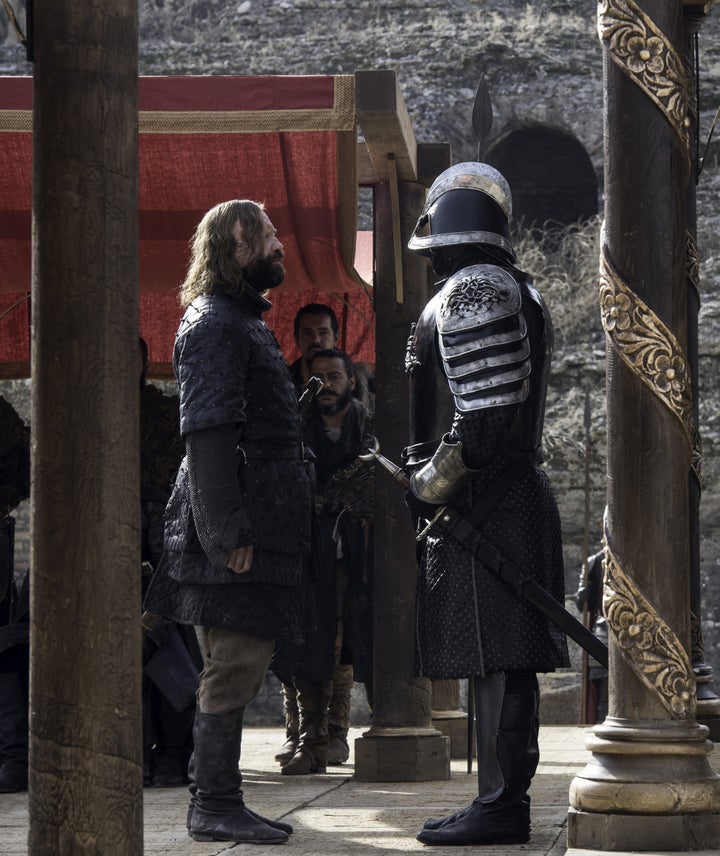 McCann recalled the experience to HuffPost, first telling us the two actors went out to dinner the night before the big scene for a "fancy meal," aka they ate at a place "where you don't get served much." However, the chef got word Björnsson would be there and he ended up with "half a town" on his plate.
"He devoured that quite happily. It was quite worrying. The guy is absolutely massive. He's fed every hour and a half or he'll go crazy," joked McCann.
The actor says working with Björnsson was great and stressed how big the moment was for The Hound ― going up to The Mountain despite actually being there to prove the army of the dead existed.
"He puts it all aside just to go and have a word with his brother," McCann said. "It just shows you it's still very important to him. It's still burning away at him, and he hates him."
McCann enjoys the excitement surrounding the potential fight, dubbed the Cleganebowl by fans, and he's ready for it.
"If it happens, fantastic. Listen, I've started training already," he said, claiming that training involves raising a punching bag three feet higher and bashing it with "a very large stick."
Björnsson told Entertainment Weekly that The Mountain would win in a fight against The Hound, but McCann is here to correct him.
"There's absolutely no chance he'll win. It's 100 percent that I will win," McCann said. "The Hound will win."
On Björnsson's stance on the outcome, McCann said, "That's ring talk. I've seen that all before. He knows I can still move pretty fast and I'll be the little Jack Russell around his feet, kicking him in the balls and slapping him on the head."
He assured us, "Don't you worry, I've got my ways."
The Hound actor hasn't actually seen the Season 7 finale himself, since he doesn't have a television and spends most of his time on a boat. McCann is glad all the episodes are finally out, though, if only to be honest about why he's had ice on his knees "for a year."
"In reality, it was because of a bloody dragon. I was at the back of that dragon riding it, and I'm no Jean-Claude Van Damme. I can't do the splits and it's got one big ass ... at least I can tell the truth about that now."
(Drogon's got junk in the trunk. Confirmed.)
The actor is actually back on land for just a short time to get supplies and pick up Beric Dondarrion, aka actor Richard Dormer, for a fishing trip before possibly heading back to Westeros.
But before he returned to the water, McCann opened up about other moments from the finale, where he'd like to see The Hound end up in Season 8, and shared a specific phrase fans ask him to repeat.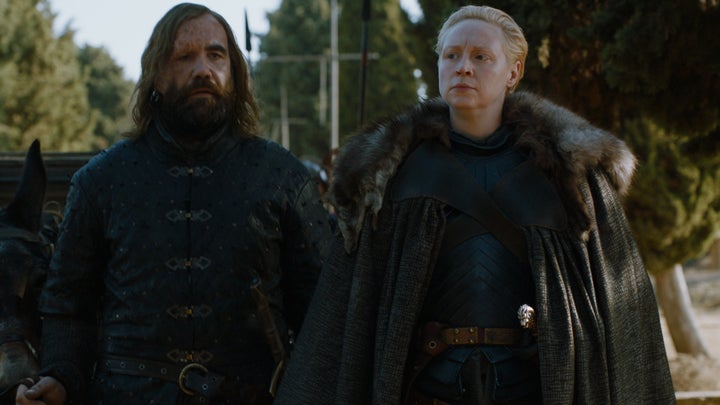 You have a big moment in the finale when you talk with Brienne (Gwendoline Christie) about Arya.
That was wonderful to connect again. Not too sure about what Brienne's character has gone through over the years, but The Hound has had a lot of time to think by himself and almost slightly come to peace with himself, and thinks about how he was spared by Arya and he sees something out of that. And then meeting Brienne going toward the dragon pit almost felt that it was a joint sort of paternal feeling for Arya, that we were just doing our duties, but she's turned out all right. She's turned out more than all right and I think The Hound is proud of her, really ... it was a lovely scene. I loved working with Gwendoline. She's just incredible.
What do you think Arya's (Maisie Williams) learned from The Hound?
Trust no one. Be a good fighter. Keep your eyes and ears open. Don't talk too much, you can learn from everybody just by listening, and I think The Hound made her a nice little killer.
OK, so why did The Hound throw that rock in "Beyond the Wall"?
[Laugh] He's not too clever. I think he gets bored easily. Maybe he's not a great talker like the rest of them, so he makes his own entertainment. It was a really, really silly thing to do.
You mentioned your friend Richard Dormer, but how about another of your buddies. Is Tormund OK at the Wall?
I only know from the script. He was on the Wall, wasn't he? And shit kicked off with that dead dragon. I don't know. I hope he's all right because he was a bloody good laugh.
My sister showed me that today. I couldn't believe it.
I think it's actually pretty funny. It's quite funny. It shows you two actors going slightly crazy. Ninety percent of the time we're sitting in the trailers waiting for something to happen. There's so much hanging about. I was just hiding from a storm in my trailer, and he caught me strumming my guitar trying to get some air.
You'll find that on the "Game of Thrones" set everybody brings all their own toys and after a few hours of boredom, hanging about, we'll usually go into someone's trailer and just have a little jam.
This is the thing, in the past few years I've been a bit of a loner and been very quiet, and it's the first time I've been working with all that cast together, and we're all in one hotel and we all get on. We all love each other, and I just embraced it instead of hiding this time. I just said enjoy it.
The Hound has changed so much since the beginning of the show. What's it been like for you going from where he was in Season 1 to now?
I still can hardly believe it. I remember the first series or second series I was meant to do a big speech about how I got my face burned and we decided to not do it, and David [Benioff] and Dan [Weiss] ended up coming in my trailer and said, "Don't worry. We're still gonna use this speech. We're still gonna tell your story, but we've got so much going on. We're just going to bring it in slowly." I didn't realize they were going to bring me slowly [in] for the next six years, but it's just been a wonderful thing. I feel my first job, my first two days on "Game of Thrones," was "spear carrier with a bit of history potentially," "spear carrier looking after the king or the king's son." And going from that to one of the major characters and delving into his history and who he's clashing with, it's just been such a privilege with this. I've been going on this arc, this character development. He's a different character from when he first started, and I don't think I'll ever get a job like this again.
You've got some great lines about eating chickens earlier on in the show. Do fans ever offer you chickens?
I still sometimes ask for a chicken [that] way. I ask for a chicken in a restaurant sometimes, I say, "I'll take two chickens," and they just start laughing and before I know it I've got a couple chickens on my plate. But I've gone into chicken restaurants before, fast food restaurants, and I have been given a free meal or I've just done it for the laugh.
You'd be surprised how many people actually tell me to tell them to "fuck off."
Yeah, yeah. "Excuse me, Mr. McCann, could you tell me to fuck off?" And I tell them to fuck off. Then they go away, and I'm happy and they're happy.
Where do you want to see The Hound going in Season 8?
Killed in the first episode next year, so I can go up north before the big storm [Laugh].
Right to the end, which means I have to go south. Listen, I'll just do what I'm told. I'm a good dog.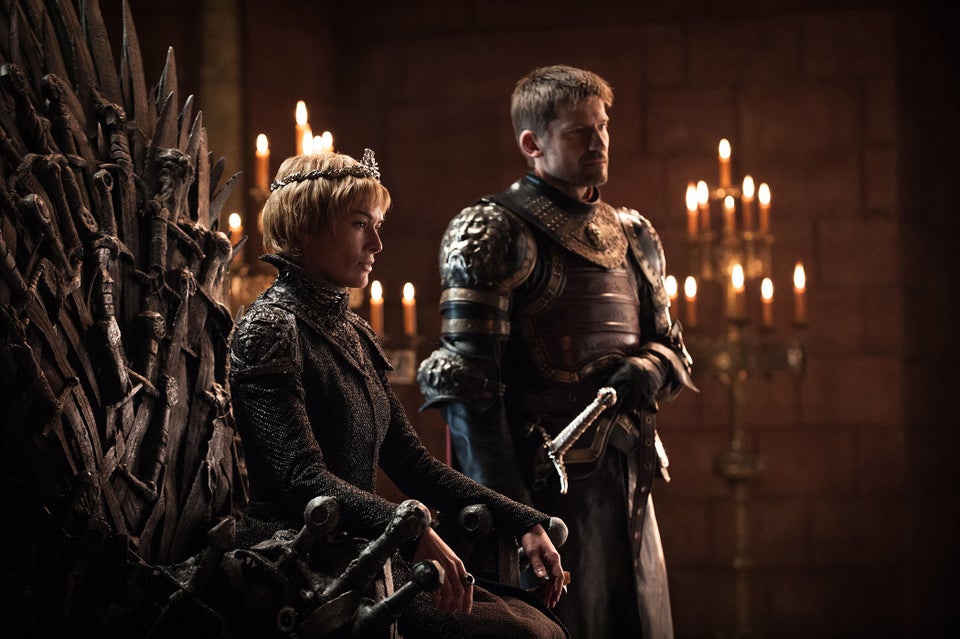 'Game of Thrones' Season 7 Images