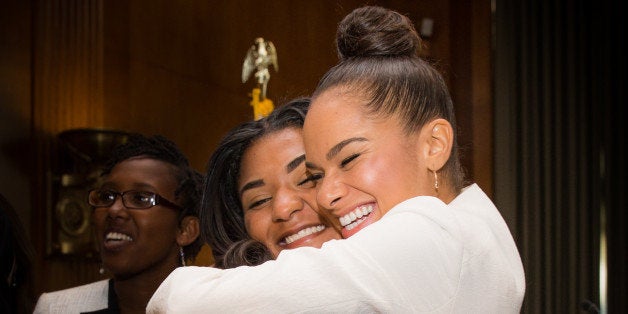 I'm one of six kids from a single-parent home. When I was 13, we lived in a motel, and my brothers and sisters and I slept on blankets on the floor. It was the most difficult time in my childhood.

Nobody expected me to become a ballerina, much less a soloist for the American Ballet Theater -- the first African-American in two decades. But I did. And now I'm living the dream of so many girls around the world. My life feels like something out of a fairy tale.

How did I get from there to here? I was introduced to ballet for the very first time at a Boys & Girls Club in San Pedro, California -- on a basketball court of all places. For my mother, it was one of the only places she knew my siblings and I would be safe after school, where we could enjoy extracurricular activities and tutoring. The Boys & Girls Clubs of America (BGCA) provides an enriching space for four million youth annually at 4,100 facilities across the country.

My afterschool activity propelled me to success. Now, I'm honored, as the organization's National Youth of the Year Ambassador, to have the chance to serve as a spokesperson for the organization and mentor young girls with guidance otherwise lacking.

Sadly, one out of every five kids leaves school with no place to go. These youth are at greater risk of dropping out of school and falling into a pattern of drug use and violence. Out-of-school time on hundreds of afternoons throughout the school year is critical, and during the three-month summer break too. Each summer, youth from low-income communities experience a dramatic learning loss and begin their next school year at a significant disadvantage.
The pivotal hours between school and home represent a powerful opportunity for us to influence the future of our youth for the good. Harnessing this time through meaningful programs and activities, such as those found at BGCA, helps develop well-rounded and resilient future leaders. This organization provides strong role models and tools for personal growth and support, and have the ability to unlock a child's potential.

Maryah Sullivan is an example. Like me, Maryah comes from a single-parent home. As the oldest sibling, she had to take on the role of caregiver for her younger siblings while her mother worked to support the family. When she needed a place to be a kid, she turned to her local BGCA, where she spent the next 11 years.

Today, Maryah has emerged from adversity as a driven, accomplished young woman I greatly admire. She graduated from high school with a 4.4 grade point average, serving as captain of both the track and field and weightlifting teams. She volunteers regularly with the Ronald McDonald House and at a local nursing home. She recently became the first person in her family to go to college.

I met Maryah at our National Youth of the Year celebration this fall - unsurprisingly, she went on to win the title and its accompanying scholarship - and she's living proof of the potential of today's youth. Indeed, for the first time in this national program's 64-year history, all six finalists were women. BGCA is helping to build girls' confidence and expose them to a wide range of leadership and career opportunities.

Maryah is just one of countless kids across the country who need a place to go after school that's safe and healthy. A place where they can discover their talents and dreams, and start on the path to fulfilling them. Maybe some of them will even dance in the ballet.
REAL LIFE. REAL NEWS. REAL VOICES.
Help us tell more of the stories that matter from voices that too often remain unheard.