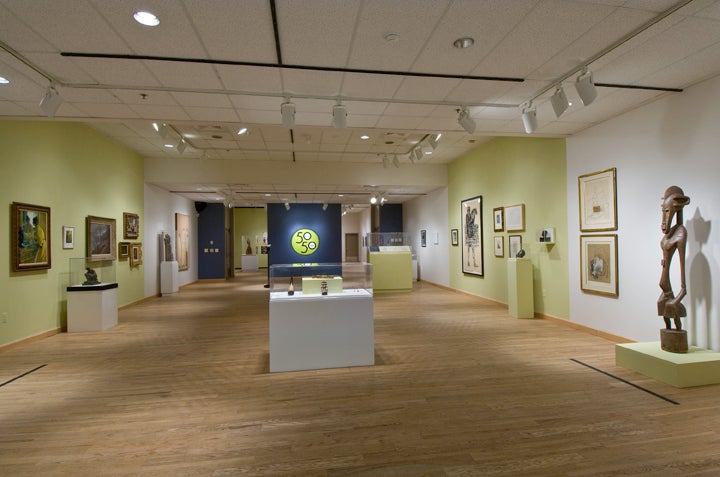 During his tenure as a professor of art and art history, the artist and writer Burt Chernow (1933-1997) amassed over 4,000 objects of art for the Housatonic Museum of Art. This collection, which has been growing ever since, features works from the 14th – 21st centuries, including works by such art world luminaries as Ansel Adams, Alexander Archipenko, Milton Avery, Lee Bontecou, Mary Cassatt, Marc Chagall, Georgio de Chirico, Alberto Giacometti, Alex Katz, Gustav Klimt, Roy Lichtenstein, Marisol, Reginald Marsh, Henri Matisse, Joan Miró, Isamu Noguchi, Alfonso Ossorio, Pablo Picasso, August Rodin, Andy Warhol, Jenny Holzer, Cindy Sherman, Marisol, Yoko Ono, Liliana Porter, Jane Peterson, Carlotta Corpron, as well as art and artifacts from Ghana, Nigeria, Guinea, Zaire, India, Mexico and China.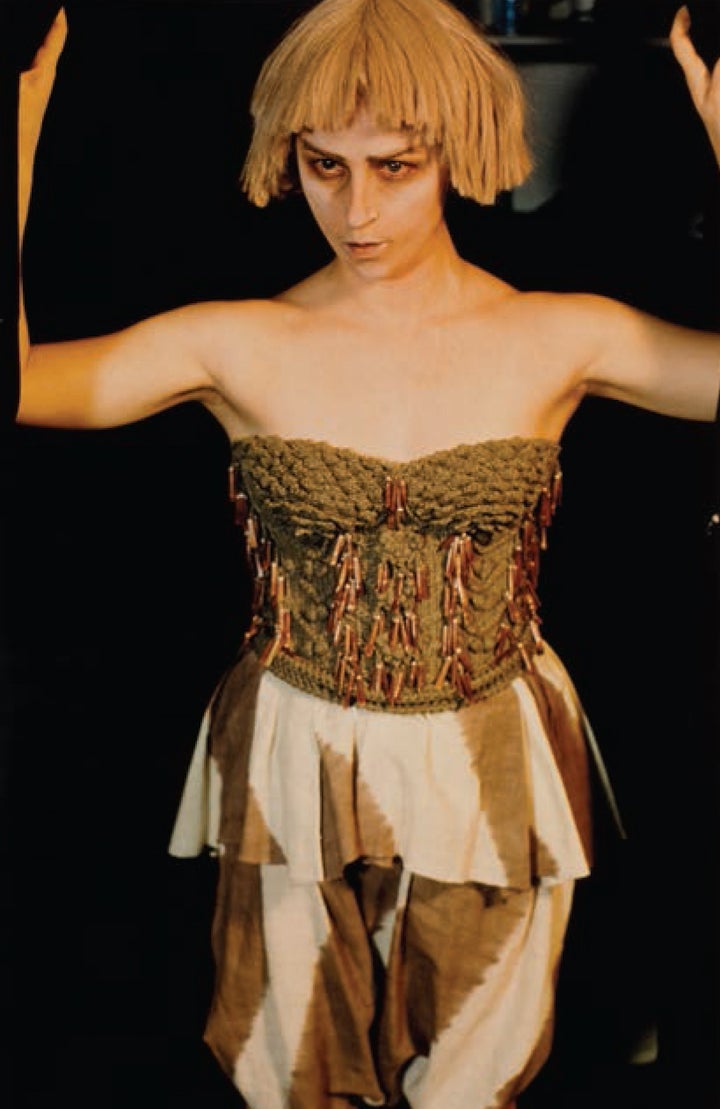 This relatively unknown gem of a collection is celebrating its 50th year of inception with four significant exhibitions. To discuss the range of art displayed, and the process of presenting this work, I recently had the opportunity to ask the current Director of the Housatonic Museum of Art, Robbin Zella, about the trials and successes of directing a regional museum for the past 20 years.
DDL: If I'm not mistaken, you've had two shows so far in 2015 and 2016 that celebrate the collection, and the 50th anniversary of the museum. Tell me about the first of the two, the 50 Objects/50 Years exhibition.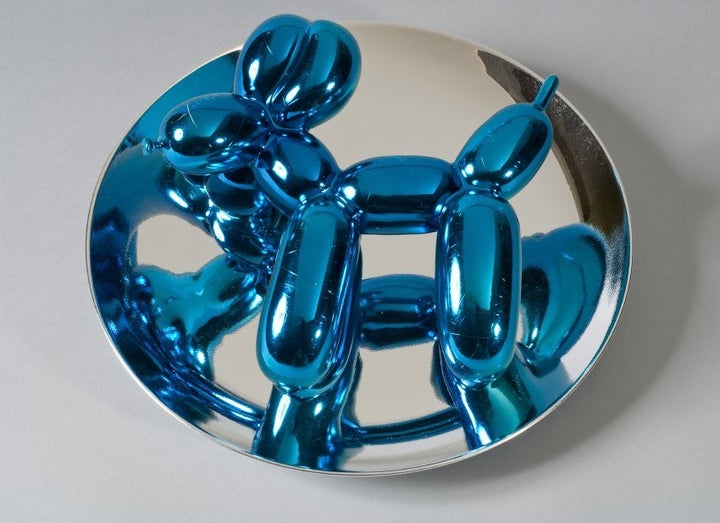 RZ: Here's the hilarious thing—I did 50 Objects/50 Years, 2 years ago for the 2015-2016 initial anniversary. It then came to light that the 12 campuses were established at different times between 1966 through 1967. The next anniversary exhibition was Body and Soul curated by Ben Ortiz, who is also an Alumnus of the college as well as one its first curators. At the conclusion of the exhibit, Ben and Victor Torchia donated all the works to the collection. Meanwhile, research continued to pinpoint the exact year that HCC was founded –1967—and so we are now celebrating 50 years with a reinstallation of the permanent collection which will include vignettes from the first two shows as well as works never before displayed. An example of this includes an installation of works collected by Herman Klarsfeld and created by Native Americans of the Southwest to include Navajo blankets, Hopi Katsina dolls, jewelry and basketry as well as art by contemporary Native American artists and works inspired by Native American culture created by contemporary artists. Each of these are displayed separately but within a single space.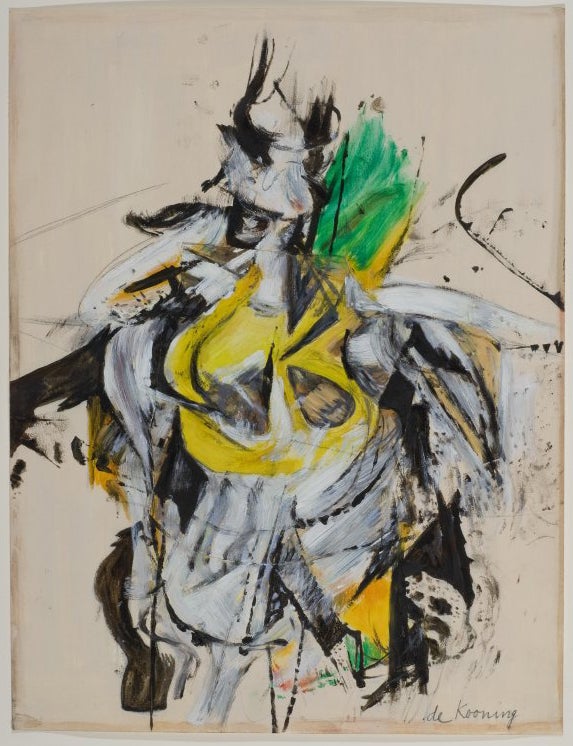 DDL: I think that's great, to have the celebration last for three years as it is a rare and special thing to have such a vital, fine art venue with the incredible collection you have right there in downtown Bridgeport, Connecticut. I also know how hard you work and the quality of it all and the whole package is very impressive.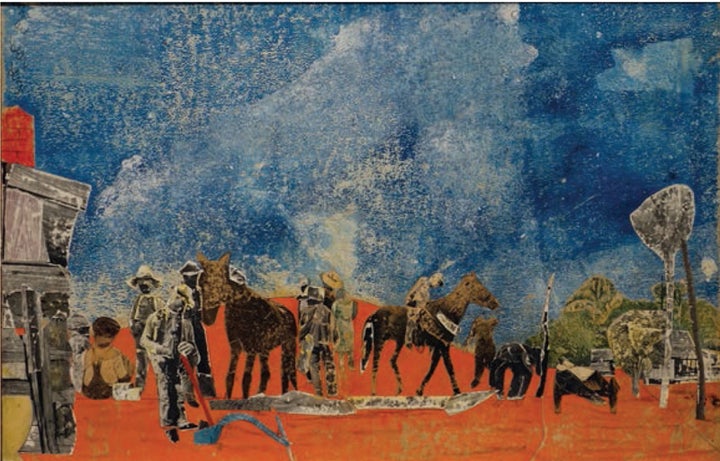 In your 50 Objects/50 Years exhibition, for those who missed it, you had works by Francois Auguste René Rodin, Romare Howard Bearden, Willem De Kooning, Henri Cartier-Bresson, Pablo Picasso, Isamu Noguchi, Andy Warhol, Cindy Sherman, Christo, Jeff Koons, Pre-Columbian, Antiquities from Asia, as well as ancient Greek and Roman treasures – I could go on and on – and it all started when Burt Chernow founded the collection in 1967. In Body and Soul, the works gifted to the museum by Ben Ortiz, you exhibited some pretty incredible prints, paintings photographs and sculpture. Were there any particular highlights for you?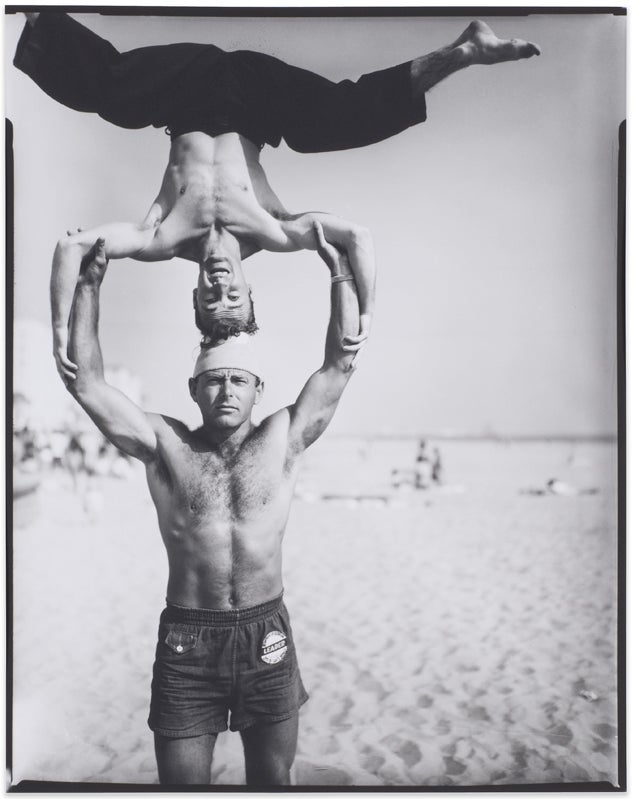 RZ: Photography is, I would say, the weakest part of the collection and, as you know, we have no acquisition fund so filling in those important gaps is not easy. When Ben approached me with the idea for an exhibition here, which was meant to celebrate the life of his brother, John Eloy Ortiz, who tragically, was killed, we both agreed that his collection of photographs would be a great asset to the collection as well as an important teaching tool for our students. Ben's gift includes examples of tin types, daguerreotypes, ambrotype, as well as photographs by Mathew Brady and Larry Silver. We have recently received a fabulous gift of photographs as part of The Museum Project organized by photographer Robert Von Sternberg which includes three photographs from thirteen photographers including Todd Walker, Robert Fichter, Michael Stone, Nancy Webber, Suda House and Kenda North, to name a few.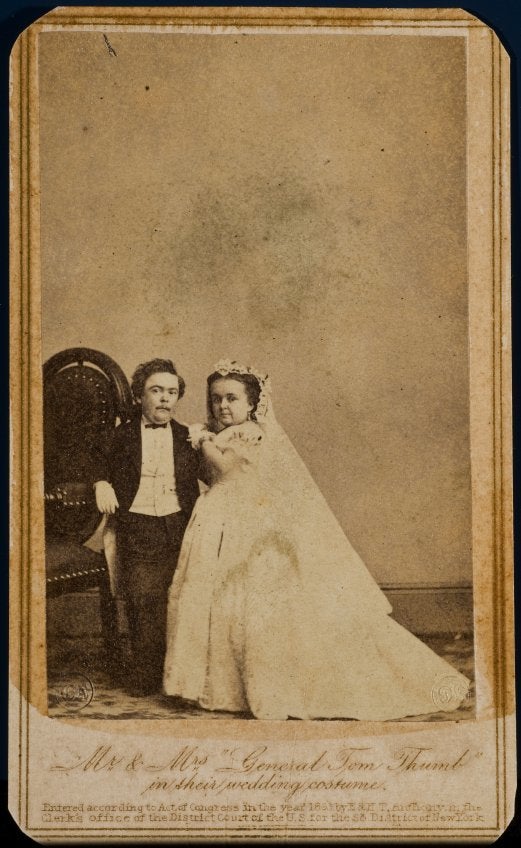 DDL: It looks like you've acquired some pretty incredible examples of photography, a gift that has a special significance as it is in memory of his beloved brother, John Eloy Ortiz.
Can you tell me a little about what you have coming up for the fall at the Housatonic Museum of Art?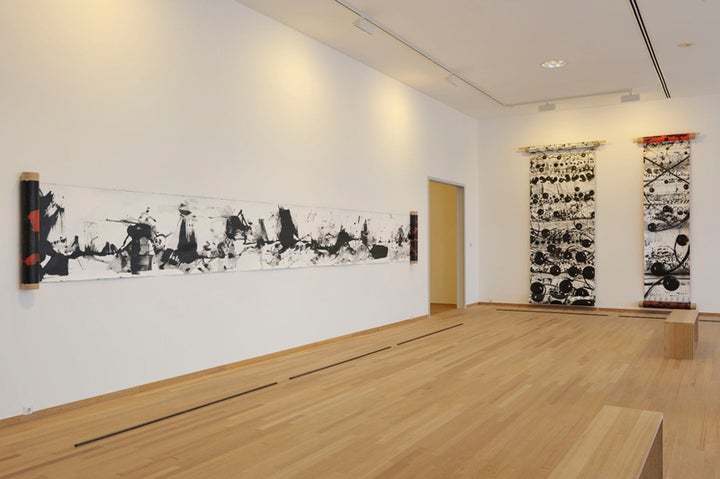 RZ: We are presenting a solo exhibition titled Scrolls by East Hampton artist Joe Zucker! I have been a fan of this artist for decades and we have two of his Pirate paintings that were donated by Dr. Donald Dworken, gallerist Holly Solomon's brother. Joe was represented by Holly and Holly Solomon and Dr. Dworken were born and raised in Bridgeport—so it's a nice "full-circle." The exhibit features unique, double-sided paintings exploring the legends and lore of pirates. Images of cannon balls, sailing frigates, oceans, islands and the iconic Jolly Roger flag with skull and crossbones share the spotlight only with the materials themselves. Scrolls of varying sizes, evoke impressions of commerce raiders, seaborne warriors, and adventurers in search of booty.
Joe Zucker intertwines history, subject matter and the physical materials of his work to create an inventive iconography that aptly captures the swashbuckling energy of these infamous buccaneers.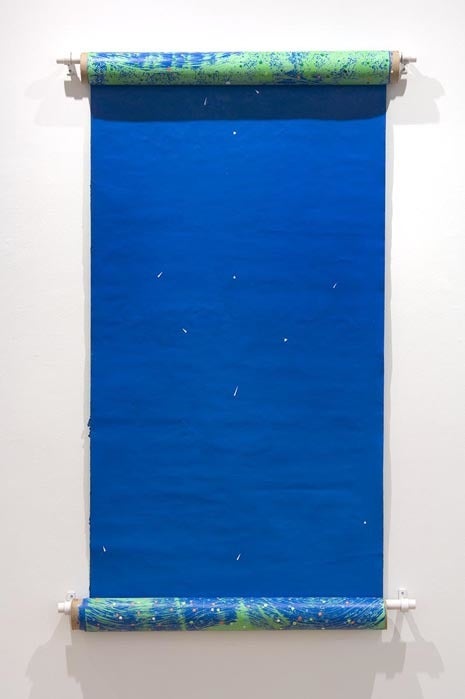 He is one of the most innovative contemporary artists working today. Since the beginning of his career in the mid-sixties, he has struck a balance between material, process and meaning, consistently reinventing painting by bringing new approaches to painting. From cotton balls dipped in Rhoplex, to shallow wooden boxes filled with enamel paint, to installations of woven strips across floors and walls, Zucker continues to push the boundaries to see what new territory painting can claim.
His Scrolls series reflects his involvement with the sea as well as his interest in the legends of pirates like Captain William Kidd and Blackbeard, who terrorized the high seas and sought refuge off the shores of Long Island and Connecticut. For over thirty years, Zucker has returned again and again to the imagery of frigates in full sail, cannon balls, yard arms and the leering grin of the Jolly Roger, creating new iterations of these familiar signs and symbols. With a nod to the Torah, Zucker adopts this format, using it both vertically and horizontally, and in a variety of sizes to great effect, with rolling swells of blues and whites, shifting horizon lines and waves of cannon balls surging in all directions. Other scrolls, painted with the traditional colors associated with pirates: red for blood and black for death, are alive with energy, exhibit a life-force all their own.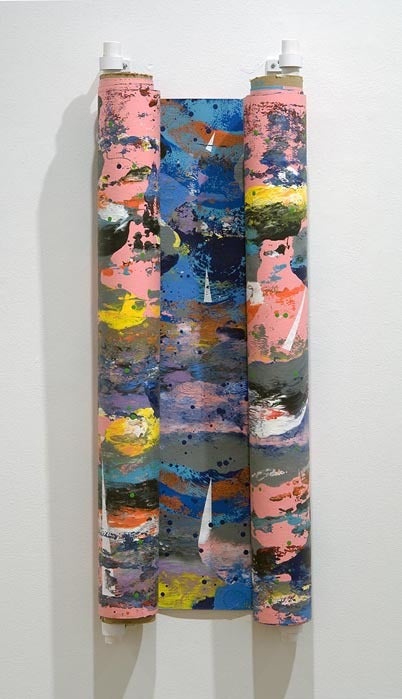 DDL: The Zucker show looks and sounds amazing. I suspect it will be a very popular exhibition with the students and the people of Bridgeport. To have the art of someone whose work has such compelling narratives and a great array of creative and inventive approaches to making and presenting art is what a progressive and informative regional institution is all about. I know it is difficult to compete with New York City to the south and Boston to the north for attention, and the Housatonic Museum of Art always has the kinds of shows that have the quality and content that you will not find anywhere else.
You and your institution have a special place in the community, while there is that ever-present challenge to stage exhibitions that fill so many different needs. What would you say is your greatest pleasure and your most difficult challenge?
RZ: Well, that is so kind of you to say Dominick. The Housatonic Museum of Art is a great resource for our students, the community and the region. We have held exhibitions of Sol LeWitt, Ansel Adams, Jenny Holzer, Chuck Close, Steve McCurry and Rembrandt and I have curated numerous group and thematic shows to give a platform for Connecticut and regional artists to show their work. We bring speakers to enhance or illuminate the ideas or issues addressed by an artist's work. For example, the late Arthur Galston, botanist and founder of the bioethics department at Yale, gave a talk about the effects of Agent Orange which was the subject of photographer Philip Griffiths Jones' exhibit; artist and designer Paula Sher, who is a partner at Pentagram where she designed the logo and graphics for the High Line, The Met, MoMA, The Public Theater and Microsoft 8 spoke about her work and career to our students but, of course, these events are also open to public. I also make it part of our mission to invite guest curators to the HMA and we have had Barbara O'Brien, Director of the Kemper, Bill Arning, Director of the Contemporary Arts Museums Houston and Judy Kim, Curator at the Brooklyn Museum, to name a few. It's important to have different interests and concerns and new perspectives brought into the mix.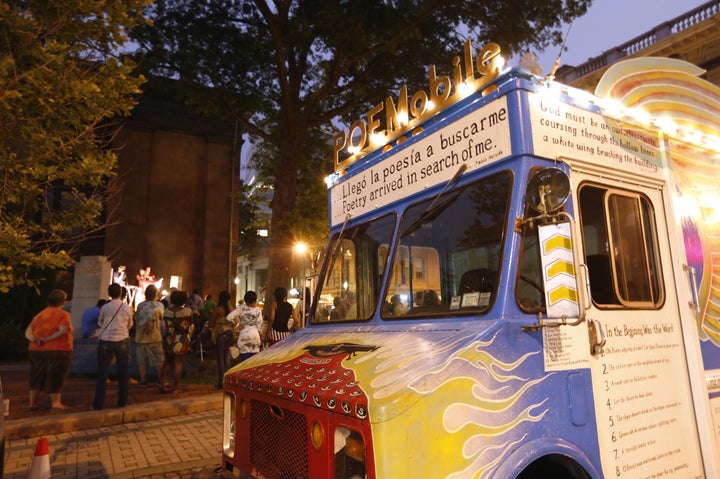 We've also worked with Downtown Special Services' ArtsFest, partnering for several years with New York's POEMobile and City Lore to create a public poetry project for downtown Bridgeport featuring poets that live or work in New York, Bridgeport and throughout New England. And, of course, our ongoing educational outreach program with Bridgeport's public and parochial schools, the Peer Docent Program, began in 2000. The in-school program has been nationally recognized and focuses on art, history and architecture. For the last three years we have partnered with the Obama Administration's Turnaround Arts working with the award-winning architect, Thom Mayne. Students have had an opportunity to work with him directly and we offer instruction and field trips to learn about iconic structures such as the Empire State or the Glass House as well as learning about the important architecture found in downtown Bridgeport. In between all this, we manage a 6,000 object collection where we interpret, display and conserve the works in our collection. We have just restored a George Mathieu painting that had suffered from being improperly stored for many years (before my tenure.) We also have received funding from the Institute of Libraries and Museums to upgrade our storage facility with the most recent improvements having been completed in February 2016. A new addition to the campus was just completed and a dedication ceremony will take place in September and requires that all our public areas be programmed, that is to say, single works, mini-solos or thematic installations will be mounted throughout the new wing. So, to answer your question, I suppose I have twin challenges: keeping all the plates spinning and funding all these great programs that no one wants to lose.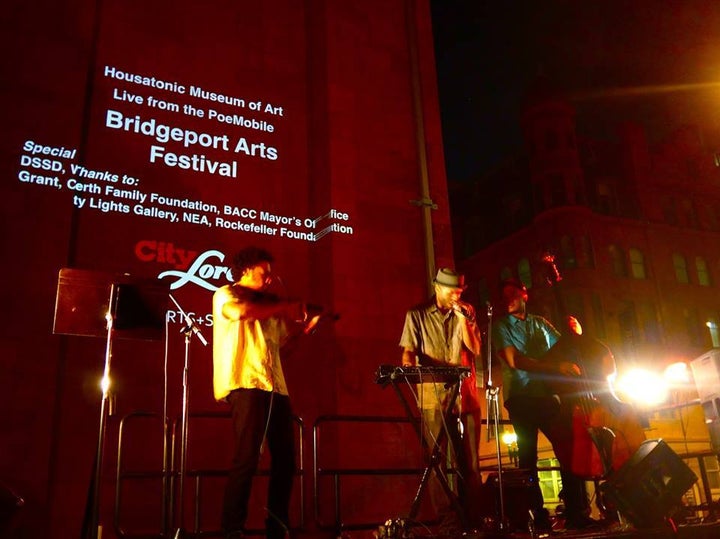 Popular in the Community