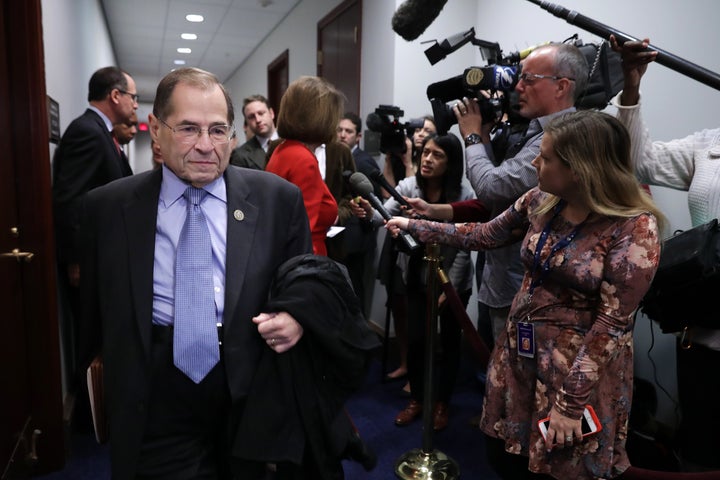 The new Congress is going to start focusing on domestic hate crimes, and it wants the Trump administration to come to the table, or at the very least, stop derailing its progress.
In a scathing letter sent to administration officials on Tuesday, ranking House Judiciary Committee member Rep. Jerrold Nadler (D-N.Y.) slams President Donald Trump over his administration's lack of response to the rise in hate crimes in the U.S., saying it has specifically overlooked those motivated by race, ethnicity and anti-Semitism.
In the letter ― addressed to acting Attorney General Matthew Whitaker, FBI Director Chris Wray, and Homeland Security Sec. Kirstjen Nielsen ― Nadler claims that the administration has failed to thwart a rise in hate crimes and, in some cases, has empowered white nationalist violence.
"The warning signs have been with us for some time. In May 2017, a joint FBI-DHS intelligence bulletin warned of the growing threat of violence posed by white supremacists, Neo-Nazis, right-wing extremists, and other white nationalist groups," he wrote. "However, there appears to be a politically driven effort to diminish programs that empower communities to counter the influence of extremist ideology."
Nadler -- who will chair the committee next year -- called out Trump personally, noting that the president has called himself a "nationalist," that he claimed there were "very fine people on both sides" during the deadly neo-Nazi violence in Charlottesville, Virginia, last year, and that his administration "cancelled grants for organizations that help de-radicalize white supremacists."
The House Judiciary Committee, he says, will focus more on the "causes of racial and religious violence," and among other demands, it will call for details on how this administration has twisted its own "countering violent extremism" program to disproportionately target Muslims.
"We have reason to believe that even these troubling numbers fail to capture the extent of the problem, as hate crimes remain vastly underreported by federal, state, and local law enforcement agencies across the United States," Nadler said in his letter.
Read the full letter below: 
REAL LIFE. REAL NEWS. REAL VOICES.
Help us tell more of the stories that matter from voices that too often remain unheard.