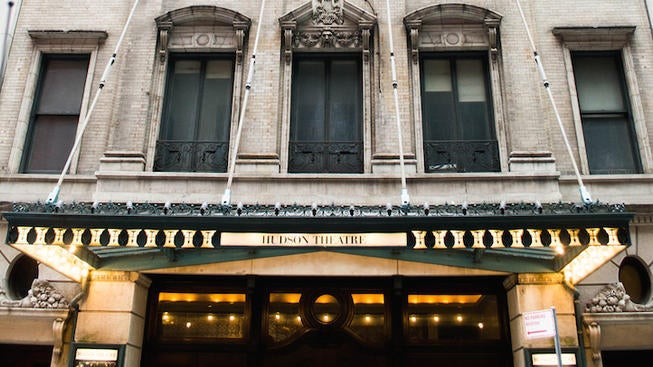 The last time I saw the Hudson Theatre on West 44th Street it was about to disappear into the maw of a massive new hotel then being built in the early 1990s by a murderous real estate developer whose name has no illuminating relevance to this story. His ingesting of the Hudson did not bode well for its future. The guy's greatest notoriety as an entrepreneur had come, not for the skyscraping mediocrities he'd erected but, rather, for the buildings that he had illegally torn down to make way for them; specifically three very old structures that had once been the Hudson's immediate neighbors along 44th Street before being evicerated literally in the dead of night.
I had an emotional stake in the Hudson Theatre. Having just spent the better part of ten years researching and writing the life story of Andy Razaf, the greatest and the most neglected African-American lyricist of the 20th Century, for a book that I ultimately published under the title "Black and Blue," I had centered my book's opening chapter on the Hudson Theatre, where Razaf's biggest Broadway hit, Hot Chocolates, had opened. Hot Chocolates was a landmark of Black Broadway achievement. Created with Razaf's most prolific collaborator, the incomparable pianist and songwriter Thomas "Fats" Waller, it had yielded the songs "Ain't Misbehavin'" and, yes, "Black and Blue," while also featuring, in his Broadway debut, none other than Louis Armstrong, who had stopped Hudson Theatre audiences in their tracks during intermissions playing and singing "Ain't Misbehavin'" from the orchestra pit.
I used to stand outside the darkened and decaying Hudson Theatre imagining the subverted glamour of Hot Chocolates' notorious midnight performances in 1929.
"There was something gorgeously indiscriminate about the exuberant assembly of celebrities that crowded into Broadway's Hudson Theatre around midnight," I wound up writing. "It was hardly the group's collective quality that was so impressive... Rather, it was the presence of such a smart crowd at the Hudson Theatre that was so incongruous. Unfashionably situated east of Times Square, on the uptown side of West 44th Street, the aging, however physically distinguished, Hudson Theatre was not one of Broadway's more desirable show business destinations in 1929... The production that drew Broadway's entertainment elite to these unaccustomed precincts, after hours, was a raucous, all-black Harlem-based musical revue called "Connie's Hot Chocolates." "Hot Chocolates" had so thrilled Broadway audiences since its speculative June transfer downtown from the celebrated Harlem nightspot Connie's Inn to the easily booked Hudson that the revue's producers had added this second, midnight performance almost solely for the benefit of the Great White Way's working show folk, allowing headliners and chorines alike the opportunity to see firsthand what all the fuss was about. The occasion quickly escalated into the hottest ticket in town."
"Black and Blue" was published just as the hotel was opening in 1992. That the rapacious real estate developer had not demolished the Hudson Theatre was a small miracle. That he had turned it into a conference center inside his illicitly constructed hostelry was a shame and a loss.
Imagine my delighted surprise when I read a year or so ago that the Hudson Theatre was being liberated from its retirement and returned to active service. With the real estate developer long gone, his corporate successors, Millennium & Copthorne Hotels PLC, had leased the Hudson to Britain's Ambassador Theater Group, which was renovating it for roughly $10 million.
In February of this year, the Hudson Theatre reopened, showcasing a limited run revival of Stephen Sondheim and James Lapine's Sunday in the Park with George that I did not see there (it ran first at City Center's Encores! series). Last month, however, I finally did return to the Hudson for a new production of George Orwell's 1984, which I wrote about here. Not wishing to distract from the show at hand, I remained mute in my 1984 piece on the subject of the Hudson Theatre, but I did very much want to set down a few words of welcome and praise for its resurrection.
It is eye opening. The New York Times ran a striking picture piece back in February that showcased the Hudson's history, from its construction in 1903 by producer Harry B. Harris, who went down on the Titanic, leaving the theater to his wife Renée, who thereby became one of Broadway's first female theater owners; through its purchase in 1950 by NBC, which repurposed the Hudson as a television studio for the Steve Allen and Jack Paar Tonight shows, among many others throughout the ensuing decades.
Today's refurbished Hudson is both sublimely intimate and spectacularly grand. The place was originally done up in a color scheme of golds and bronze, an exquisitely airy combination that has now been seductively restored, with gold seat cushions that are a fresh-faced respite from Broadway's boilerplate scarlet red. The new seats are also far wider than Broadway's constricted current standard and you can really feel it (23 inches versus some as tight as 17).
A stunning dome of original Tiffany glass has been exposed and reclaimed overhead. It towers like the crown over a kingdom. Bulbous, florid columns that flank the stage add to this regal sense.
In researching Black and Blue, I uncovered at the Lincoln Center library a series of vintage interior photographs of the Hudson that I scoured incessantly (right down to the instruments visible in the orchestra pit) for details and clues. To see these black and white photos come to life in 2017 in vibrant shades of green, turquoise, butternut, gold, bronze and pink made me want to shout out loud. Rarely in this city today do we get to relive fantasies of the long-gone city that was. Somehow the Hudson Theatre has been handed back to us for just that rarified purpose. It is worth the price of admission. Gaze down front and imagine a very young, unknown Louis Armstrong, rising from his chair in the pit and, with ecstatic joy, lifting his horn to his lips.
Calling all HuffPost superfans!
Sign up for membership to become a founding member and help shape HuffPost's next chapter
This post was published on the now-closed HuffPost Contributor platform. Contributors control their own work and posted freely to our site. If you need to flag this entry as abusive,
send us an email
.