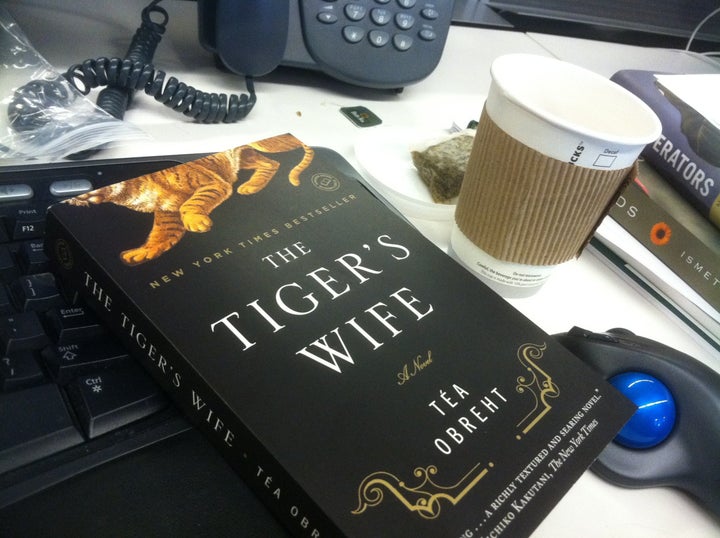 This year, we're going to be reading together ten remarkable books, from a wide variety of genres and styles. We're going to be discussing the books' narratives, as well as sharing how and where we're reading, and how the story interacts with our everyday lives, memories and ideas.

Basically, it's going to be great.

Today marks the start of our first title, The Tiger's Wife by Téa Obreht. It featured in 19 "Best Books Of 2011" lists, including our own, and was nominated for a National Book Award - making Ms Obreht the youngest ever NBA nominee.
If you don't have a copy, it's not too late! Click here to buy one from our partner for this month, St. Mark's Bookshop in New York, or click here to search for your nearest independent bookstore on Indiebound. Digital copies are also available.
If you do have a copy, start reading it today. We're going to be reading and discussing about 100 pages a week, from today until February 3rd - of course, you can read at whatever pace makes most sense to you.
We want to hear from you as you read. Leave thoughts and comments right on the Book Club page, where you'll find our discussions and further links about each book.
Also please do tweet your thoughts as you read with the hashtag #hpbookclub, and/or share your reflections on our Facebook page. We'll be sending weekly assignments we'd love for you to take part in, and here's our first:
If you'd like to blog your personal reflections on the story as you read, email us at hpbookclub@huffingtonpost.com and tell us why. A few selected readers will get their own login to post their thoughts as they read. We'll feature the best contributions on our page.
Any questions, drop us a line. Now get reading.
Andrew, Zoë, Maddie and Annemarie
Related
Popular in the Community