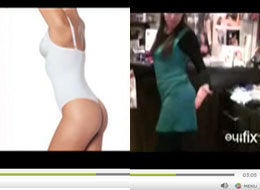 A very famous bridal designer insists her clients only wear these. Slipping into one their control panties or bodysuits will make you go down a size. But what makes them so special is that they're seamless. And, of course, they won that International Lingerie Award.
Wolford's Synergy 20 Push-Up Tights
The arbiters of all things sexy and femme have found a way to make the control top look ravishing. Totally worth the price, they slim, lift, and cover in all the right places-- and last longer than one night out. Nearly impossible to find.
To find a Wolford Boutique near you, go to wolford.com.
To the point, a must-have item. You'll live in these pant, so get two pairs.
Coming up next week: Dermatologist Drugstore Picks for Winter Skin