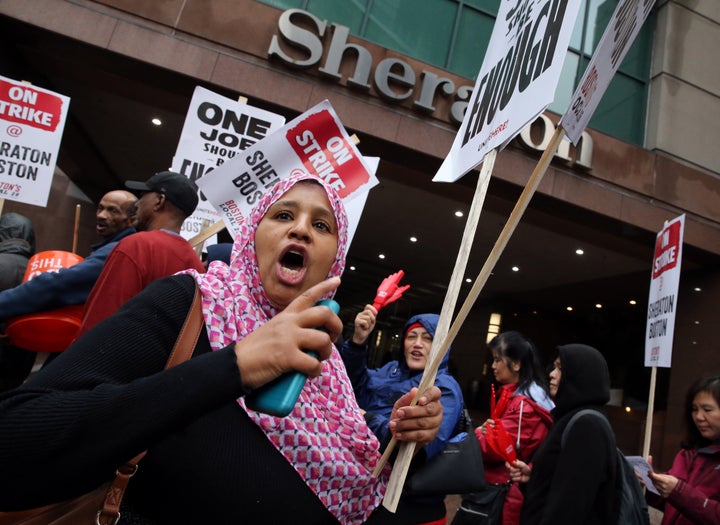 The weekslong strike that hit Marriott hotels in seven cities is starting to show signs of resolution after 2,700 workers in Hawaii signed off on a new contract with their hotels' owner Tuesday.
The agreement brings the total number of workers left on strike to 2,500, all of them at properties in San Francisco, down from a peak of 7,700, according to the union, Unite Here.
The union said the Hawaii agreement includes pay raises and a reduction in the workload for housekeepers, as well as higher pension and health care contributions from the company, Kyo-ya. The five Hawaii properties are owned by Kyo-ya and operated by Marriott. Workers there first went on strike Oct. 8.
"People learned how to win on the [picket] lines – how to stand up for themselves, how to stand up for respect and dignity," Janal Kaina, a hostess at the Royal Hawaiian, said in a statement through the union.
Unite Here affiliates have been bargaining separate agreements with Marriott hotels in different cities after their previous agreements ended earlier this year. The expiration of so many contracts at roughly the same time gave the union the opportunity to coordinate a large-scale strike that included workers in Detroit, Boston, San Diego, San Jose and Oakland.
Other factors have helped give the union additional leverage in negotiations, like the tight job market that's forcing employers to compete more for experienced workers, and the strong recent performance of Marriott. The company recently reported that its net income for the second quarter was up 25 percent over the previous year.
Marriott surpassed Hilton as the world's largest hotelier after it acquired Starwood Hotels in 2016. The Marriott, Sheraton and Westin brand names all fall under Marriott now.
Although they work under different contracts, all the workers are bargaining with Marriott or its partners over more or less the same concerns, with pay topping the list. The new agreement in Hawaii, along with another deal struck two weeks ago to end the work stoppage in Boston, suggests the strike may wind down in San Francisco soon as well.
The union said negotiations will resume in San Francisco this weekend, with the main outstanding issues being pay raises and health care coverage. The workers include guest room attendants, servers, bartenders and other service employees.
As HuffPost reported before the strikes began, Marriott workers in different cities were rallying around a common theme as their contracts expired: that one job should be enough to support a family.
"There are too many of our folks who are working full time, busting their butts, who frankly can't survive without doing two or three jobs," D. Taylor, the president of Unite Here, told HuffPost in September. "We think the largest, most powerful hotel company could set a standard for the entire hospitality industry. And that's not where we're at now."
Popular in the Community