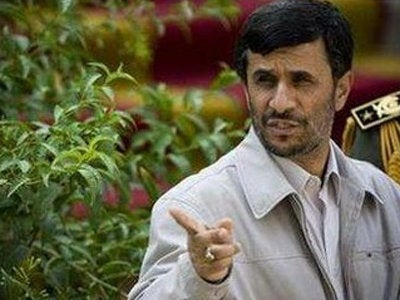 When President Mahmoud Ahmadinejad addressed the United Nations today, he did not mention conditions in prisons, escalating executions or how he manages his increasingly repressive domestic regime.
In the UN's stately green marble setting, he was not questioned about the skyrocketing child executions in Iran, the persecution of women and human rights defenders, the death threats against the country's Nobel laureate, or the torture and imprisonment of government critics.
This July, Iran executed 29 people in a single day following unfair trials. The process was so opaque that the identities of 19 of the executed men remain unknown. In 2005, when Ahmadinejad took office, Iran executed 86 people. Last year this number almost quadrupled to 317 people executed. Indeed, Iran executes more people than any other country but China (although its population is 18 times smaller).
Though Iran is a state party to both the International Covenant on Civil and Political Rights and the Convention on the Rights of the Child, Iran also leads the world in executing juvenile offenders, children under the age of 18. Since 2005, only five countries have executed juvenile offenders. As Human Rights Watch has documented in a new report, of 32 such executions that have taken place, 80 percent have been by Iran, earning it the medal of shame by a far margin. So far, Iran is the only country on record for executing juveniles in 2008. Six have been executed and some 130 other juveniles are currently on death row.
The persecution and prosecution of women's rights activists has also been a priority under President Ahmadinejad. Women's rights activists have been fighting to remove gender discrimination from Iranian laws. Their campaign has diffused throughout the country as they have focused their energy on peaceful civil action, education, and lobbying state mechanisms--all activities fully within the law.
Several high-ranking Shi'a religious scholars have supported their goals, stating that there are no religious mandates for legal gender discrimination. However, the government has regularly detained, harassed, and prosecuted peaceful women's rights activists. The courts have sentenced them to lengthy prison terms as well as the barbaric punishment of flogging.
President Ahmadinejad's administration has also viciously targeted human rights defenders. Last month, the state official news agency, Islamic Republic News Agency, launched a series of attacks and defamations against Shirin Ebadi, the 2003 Nobel Peace Laureate. These articles rehashed allegations by a shadowy group that has sent regular death threats to Ebadi over the years. As a result, her safety and security are in serious danger.
Another well-known human rights defender, Emad Baghi, is currently imprisoned for articles he wrote against the application of death penalty a decade ago. With his health in a critical state, intelligence agents continue to harshly interrogate him in prison -- ironically, about his advocacy for prisoners' rights. Mohammad Sadiq Kaboudvand, the founder of the Human Rights Organization of Kurdistan, is serving an 11- year sentence; his crime: human rights advocacy.
These are only a few of the many grave human rights issues that have reached a crisis level under President Ahmadinejad. The persecution and prosecution of dissidents, journalists, students, labor activists, religious and ethnic minorities are also rampant.
The UN Secretary General is currently preparing a report on the situation of human rights in Iran as required by a resolution passed by the General Assembly in December 2007.
Since President Ahmadinejad refuses to cooperate with UN bodies and international human rights groups, and ruthlessly suppresses civil society and independent journalism at home, his presence in the United Nations' corridors of power is an all-too-rare opportunity to hold him to international human rights principles and to let voices from Iran's escalating human rights crisis be heard.

REAL LIFE. REAL NEWS. REAL VOICES.
Help us tell more of the stories that matter from voices that too often remain unheard.