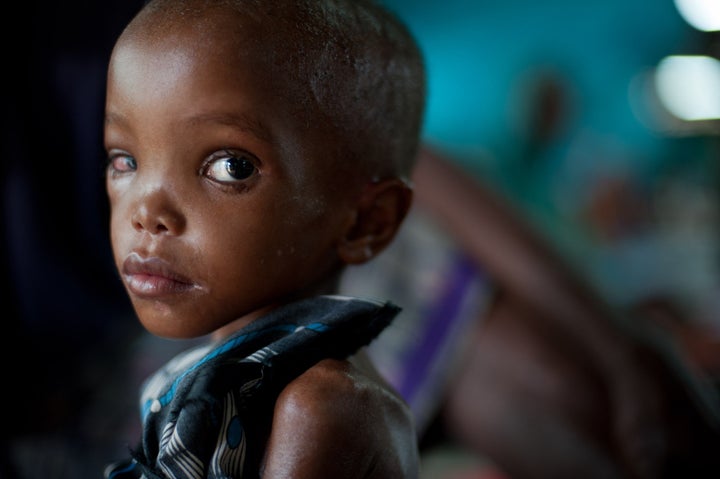 There could not be a worse time to pull back from long-standing American commitments to the health of people around the world, which is exactly what the U.S. Congress is threatening with proposals for extensive cuts to the federal government's budget for global health programs.
As Doctors Without Borders/Médecins Sans Frontières (MSF), we have implemented a host of major medical innovations -- as have other organizations -- that have the potential to significantly reduce the death toll from HIV/AIDS, malaria, malnutrition, and other insidious killers. With sustained and increased funding, these innovations could be brought to the scale needed to roll back these global health crises.
Disregarding these advances, both the House and the Senate are pushing significant cuts to the 2012 Obama request for global health funding. The Senate is proposing a 9 percent cut, and the House as much as 18 percent. This debate is about much more than economy; it is about the vulnerable, about people sick, even dying, right now in the poorest corners of the earth.
According to American Foundation for AIDS Research (AMFAR), for every 5 percent reduction in U.S. funding of global health programs, 182,000 people with HIV/AIDS and 2.1 million malaria patients will be left untreated; and millions of children will go without immunization against resurgent diseases like measles that can leave children with pneumonia, blindness, or death. Put another way: A 5 percent cut in US funding for global health is akin to shutting the doors of every MSF hospital and clinic in over 70 countries for an entire year.
The decisions in Washington will not determine the fate of the medical care my MSF colleagues deliver around the world. As an organization, in order to maintain our political neutrality and operational independence, we do not accept funds from the U.S. government. But the millions of patients and families who rely on US-funded health programs are about to face a stark future if the proposed cuts are enacted.
It is particularly brutal to do this now, at a moment when medical science and field research has shown that as a society we have the potential to achieve huge advances in the quality and scope of our actions in global health.
These are the advances that prompted Secretary of State Hillary Clinton to call for an "AIDS-free generation." The latest studies show that HIV treatment not only can restore people to healthy and productive lives, but also prevents new infections and decreases mortality across entire affected communities. The reality remains, though, that there are 15 million people infected with HIV in need of antiretroviral (ARV) treatment now, and only 6 million currently receive it. UNAIDS predicts that 7 million lives could be saved and 12 million new infections prevented by 2020 if treatment is expanded now.
Despite this evidence, countries hit hardest by the AIDS epidemic that rely on funds from the President's Emergency Plan for AIDS Relief and the Global Fund to AIDS, TB, and Malaria will be forced to take the drastic step of not putting new patients on treatment if the cuts are adopted, let alone achieve the ambitions outlined by Secretary Clinton.

For malaria, more effective treatments and rapid diagnostic tests that give results within minutes have made it possible to cure millions more people suffering from this killer parasitic disease. With these effective, high-tech yet simple-to-use tools, MSF has trained villagers to diagnose, treat, and refer patients themselves, overcoming the severely limited numbers of medical personnel, a major constraint in most poor countries.
In the Koulikoro region of Mali, where malaria is the top killer of children under five, MSF's 66 health workers span out to villages miles from the nearest health center. By testing and treating malaria they have cut child mortality in the area in half. This approach is scalable even in the most difficult-to-reach places; in Myanmar's Rakhine state, village workers trained by MSF used these rapid tests to screen 400, 900 people for malaria and administered treatment to more than 122,380 last year alone.
An estimated 200,000 deaths from severe pediatric malaria could be prevented if developing countries had the estimated $31 million required to switch from quinine to the more effective and easier to administer artesunate. Until these innovative advances in diagnosis and treatment are funded and expanded, malaria will continue to claim totals of more than 800,000 lives per year.
Malnutrition affects an estimated 195 million children around the world right now. With the development of protein-dense, micronutrient enriched, ready-to-use foods, the prevention and treatment of childhood malnutrition has been simplified and improved so that 80 to 90 percent of affected children can be cared for by their mothers at home with outcomes surpassing those achieved through hospitalization. These innovations have made it possible for MSF alone to expand from treating less than 10,000 malnourished patients just a decade ago to over 300,000 children last year alone.
In 2010, the government of Niger in collaboration with MSF and several local aid organizations distributed ready-to-use supplementary foods to more than 150,000 children under 2 years of age who were at risk of malnutrition, decreasing mortality rates by 50 percent among the children who received the highly nutritious supplements. We believe that expanding practices like these now could save millions of children.
The ability to make major impacts on health in our global society, are easier, better, and more possible than ever. Rather than slashing global health funding, which represents less than 1 percent of the federal budget, Congress and the Obama administration should be ensuring funding of successful international health initiatives and exploring new ways of generating predictable revenue for vital lifesaving programs.These vulnerable patients should be removed from the political nature of annual Beltway budget fights.
The US government has long played a leading role in the fight against many of the major global health threats, and medical and operational innovations hold the promise of saving a great many more patients with sustained and increased financial support. Turning back now could cost millions of lives.
Calling all HuffPost superfans!
Sign up for membership to become a founding member and help shape HuffPost's next chapter