Abdi Mohamoud is a proud San Diegan. An ethnic Somali, Abdi arrived in San Diego with his family as a refugee from the Ogaden region of Ethiopia in 1982. As a first-generation American, his life achievements are truly remarkable. After graduating from Crawford High School, he studied Business Administration & Finance at San Diego State University where he obtained a Bachelor of Science degree. He subsequently earned a Master's degree in Management from the University of Redland's School of Business, a Certificate in Advanced Executive Management from Stanford University's Graduate School of Business, and an Executive Leadership Certificate from Harvard University's Kennedy School. In 2007, he completed a graduate certificate program at the United States Institute for Peace with a focus on preventing violent conflicts.
In all regards, Abdi exemplifies the best of America. He is a respected leader and advocate in San Diego's Somali community, a community that includes more than 10,000 men, women and children whose lives as Americans began after arriving through the arduous refugee entry process, a process that followed displacement by factional war, indiscriminate violence, crushing poverty and sheer desparation. Abdi and his fellow Somali San Diegans are the collective face of this country at its finest, newly arrived, hard-working, humble Americans whose spirit is unbeaten by experiences most of us really cannot imagine.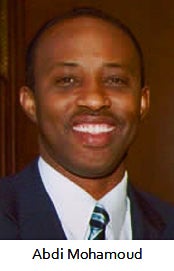 In 1995, Abdi founded the Horn of Africa Community in North America, a nonprofit organization serving San Diego's East African community, including Somalis and an additional 20,000 men, women and children from Ethiopia, Eritrea and Djibouti. Horn of Africa provides comprehensive refugee resettlement case management and support with integration into mainstream American society. Newly arrived refugees receive extremely limited assistance from the Office of Refugee Resettlement for 90 days following their arrival in the country. Thereafter, they're on their own. Horn of Africa steps in where public support stops short.
The organization provides financial literacy and entrepreneur training, which have led to the establishment of hundreds of new San Diego businesses, including more than a hundred women-owned businesses that offer opportunities to their owners undreamt of in the country of their birth. Other programs provide health education, home visitation and senior caregiver training, helping thousands of families to achieve self-sufficiency and begin contributing culturally and financially to their new society.
I have been Abdi's friend and colleague for three years and I have seen his leadership make a difference for East African refugees, in particular, and for my home town in general. His organization's work in one of San Diego's poorest neighborhoods is helping to transform the area through economic revitalization and the emergence of an under-recognized population as a vibrant part of the region's diverse tableau of cultures, languages and traditions. There is no finer San Diegan than Abdi Mohamoud and no better community organization than Horn of Africa.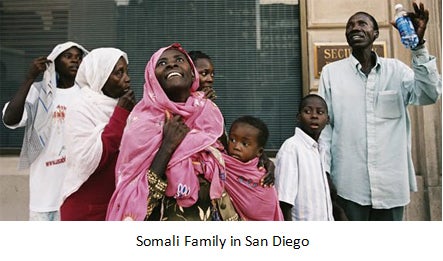 I asked Abdi on Tuesday, February 7, how the community was dealing with the disputed travel ban and how the general climate of intolerance emanating from the White House was affecting the people he serves. I expected a response about the importance of messaging and advocacy. I was unprepared for Abdi's first-hand account of how the administration's policy and reckless rhetoric have affected members of his own family. I was equally alarmed to hear of a spike in hate incidents here in the city I love.
"My wife's sister was sponsored by her daughter who has lived here for many years. They were scheduled to fly out last Monday after going through three years of background checks. When President Trump signed the order Friday their flight was cancelled. They let go of their housing and even gave all of their clothes away. After the court order [granting a stay], they were rebooked. They boarded a plane two hours ago from Addis Ababa."
That's the good news. But there was more:
"My brother's widow and her three children have been in a refugee camp since 2007. The State Department interviewed her and she underwent the entire three-year process. She was supposed to arrive in the U.S. on February 9th but her relocation was cancelled as a result of Trump's order. She has been re-booked for February 14 but we are on edge awaiting the 9th Circuit Court decision."
Abdi's family is just one of hundreds left in limbo by a policy based not in evidence of actual threat or response to any real danger, but rather, in a policy of scapegoating and appeals to fear, irrationality and bigotry. One can rationalize but one cannot excuse ignoring the inhumane, baseless exclusion of eager, peaceful, hardworking, innocent people from this country for the sake of political advantage. The U.S. track record in addressing global refugee issues is spotty at best and its current isolationist stance in the face of wide-ranging tragedy is a new low point.
"What people really don't realize is that the US takes in maybe one-half-percent of the refugees around the world. People have this impression that everybody simply comes in anytime they want… Refugees don't get to choose [to come to] America. America chooses which families they resettle."
According to the UN High Commission on Refugees, there are more people displaced in the world today than at any time in history, surpassing even the levels following the end of the Second World War. At the end of 2015, the total number of refugees worldwide reached 65.3 million, almost one percent of the entire global population. The numbers speak to the enormity of something badly awry in the world today, but they mask the most hear-rending truth of the story, which is the effect of this country's pending policy on real lives, real families, real human beings clambering for an opportunity to live free and give back to a society that claims to welcome those who are willing to be part of a free society.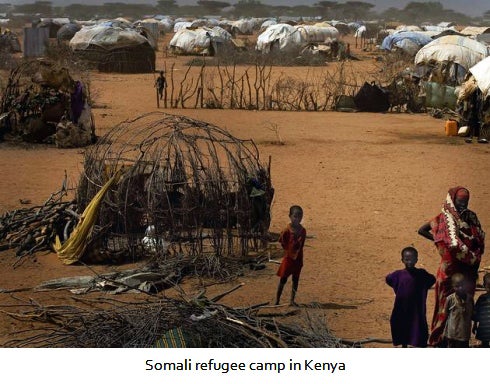 Like most Americans, Abdi prides himself on self-reliance. He won't ask for much. He probably wouldn't tell you that Horn of Africa provides direct service to more than 4,000 individuals each year or that it does so with a total budget of barely $350,000. He wouldn't tell you that Horn of Africa has one grant from the City of San Diego and another from the California First 5 Commission and is otherwise completely reliant on private grants and donations. He wouldn't tell you that in addition to the long hours he spends running an organization with eight full-time employees he travels regularly to Washington to promote awareness and advocate on behalf of refugees and other populations in need.
Abdi wouldn't tell you these things, but I will. I will also ask for your help, even if Abdi would not. It is important that we know about what's going on, but knowing is not enough. If ever there was a time to take a stand for what's right, this is the time, a time unparalleled in the past seven decades of the American experience.
You most likely cannot persuade the current occupant of the White House to abandon division and pandering as tactics and you probably cannot reach the huddled families in refugee camps in Africa and elsewhere to bring them hope or relief. But you can contribute to an organization that is doing everything possible on those families' behalf and representing what is best in America, even as much of America turns its back on the problem. No gift is too small.
You can learn more by visiting Horn of Africa's website: www.hornafrica.org. To route your donation, contact their office at (619) 583-0532 or mail a check to:
Horn of Africa: 5296 University Avenue, Suite F, San Diego, CA 92105
Horn of Africa's Tax ID # is 33-0696380. Your tax-deductible donation will change lives and will help a proud community of overlooked Americans continue to welcome their brothers and sisters, investing in their future and in the diversity and tolerance that are the source of America's strength.
Calling all HuffPost superfans!
Sign up for membership to become a founding member and help shape HuffPost's next chapter
This post was published on the now-closed HuffPost Contributor platform. Contributors control their own work and posted freely to our site. If you need to flag this entry as abusive,
send us an email
.