There are over 80,000 chemicals out there in the market, most of which aren't tested for their safety. These chemicals are in your beauty and household products, electronics and home building materials. Many of these chemicals are deemed as carcinogens or endocrine disrupters, which can lead to adverse health affects. Your brand loyalty is a result of superb marketing campaigns that lure you in by fancy graphics and catchy slogans. Unfortunately, the main focus of these companies are their bottom line, not your health and well-being. There isn't someone sitting there with a speaker horn advocating on your behalf to stop the inclusion of these harmful chemicals in your products.
It's time to educate yourselves on the products that you are using, as it may negatively affect you and your families health. With the increase in chemicals came the rise of adult/childhood cancers, autism, and pregnancy complications -- perhaps a possible connection? I had a chance to preview The Human Experiment documentary, and if you are blinded by what's going on, now you shall see. Please support this powerful and inspiring new documentary that goes behind the scenes in the fight to protect us from these toxic products before they cause irrevocable harm to your health.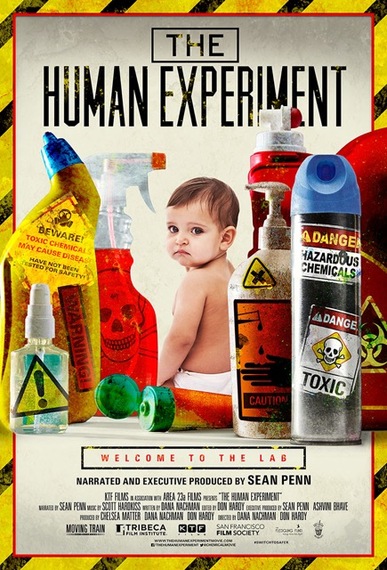 What if the greatest chemical disaster of our time didn't involve oil spills or nuclear meltdowns? Instead, it was much lower levels of exposure, inflicted over several generations and affecting every person on the planet. The result: Rising rates of everything from cancer to infertility. This is the shocking reality explored in The Human Experiment, a gripping look at the personal costs associated with the chemicals in our most common household products ...

... The film follows a band of unlikely activists who are fighting back. Ranging from Howard, a conservative businessman, to Maria, a Latina house cleaner, they are staking their lives on this battle to protect our health. And their opposition is goliath. The powerful and well-funded chemical industry is heavily invested in maintaining the status quo, pulling unseen strings to create an aura of skepticism and confusion ...

... It's an emotionally and politically charged showdown and the stakes couldn't be higher -- for these activists on the front lines and for every one of us.
The Human Experiment is directed and produced by Emmy Award-winning journalists and filmmakers Dana Nachman and Don Hardy. Academy Award®-winning actor and filmmaker Sean Penn is executive producer and narrator of the film.
The Human Experiment is to hit theaters and video on demand platforms on April 17, 2015. Full theatrical release begins April 17 in these and other markets: New York, Los Angeles, Washington, D.C. (Filmmaker in-person opening weekend!)
Remember, as the consumer you hold the power. What you don't like they must change, because it will affect their bottom line.
Let your voice be heard! Challenge your favorite brands to remove toxic chemicals from the products you love, and replace them with better alternatives.
Be sure to join the conversation on social media and use the hashtag #switchtosafer.
Vanessa Cunningham is a nutrition & wellness expert of Unhealthy No More, Inc., best selling author, writer and speaker. Vanessa helps busy professionals live a healthier lifestyle by reducing stress, incorporating more whole foods, reducing food cravings, and naturally increasing their energy levels. These changes allow her clients to thrive at work and in their personal lives, while keeping their waistlines in check. Vanessa has also been featured on CNN iReport, U.S. News Travel, Black Enterprise, Essence, MommyNoire, Everything Girls Love and MindBodyGreen. Head on over to her website to get your FREE gift "10 Ways to Live a Happy and Healthy Life."