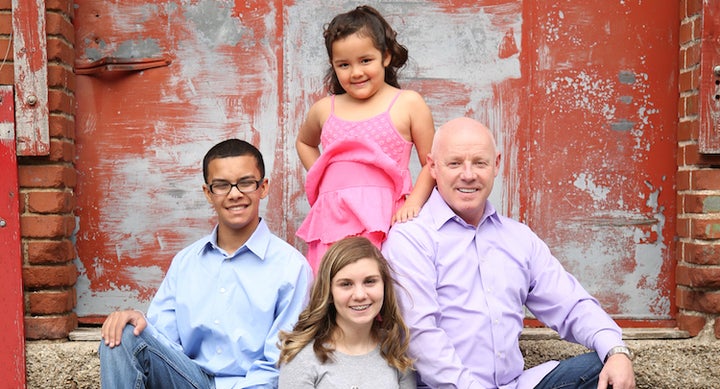 After decades of fostering at-risk children in Missouri, Allen Bangs adopted two kids — a brother and sister. In the next three years, he adopted four more. Experience the incredible journey of one out father's struggle to create a family — and keep it together.
Allen Bangs talks with pride about how much his middle son, 16-year-old Zackery, has developed since Bangs adopted him eight years ago. The young man makes good grades, competes on his school's swim team and works part-time at his father's hotel in Fayetteville, Arkansas. He's years away from the quiet, withdrawn boy that came into Allen's foster home in Springfield, Missouri, nearly a decade ago.
Still, Allen pushes to undo the damage, the abuse that put Zackery in the foster system in the first place.
"Years and years ago," he says, "Zackery's biological mother sent him a train set. He's never opened it — to deal with that connection — but he hangs onto it. He has that memory. It's something."
That unopened train set is not only a reminder of a painful past for Allen's son, but also the lessons Allen has learned as a foster and adoptive father.
"I thought when I took these kids in that you could love them to death and that was going to cure everything in their background," he says. "But it's about everything else that comes with it — all the baggage. And it doesn't go away."
If anyone knows that, it's Allen. The 52-year-old single gay father has six adopted children from his years as a foster father in Missouri. He started with Zackery and his biological sister, Toshia, in 2007, and over three years his family snowballed until he had six children under his care — as young as 4 months to as old as 14 years.
"It wasn't easy. It wasn't my plan. My plan initially was just to have two," Allen says. "After I had Zackery and Toshia, social services would just call me if a need came up. And there was always a need. There are so many kids in foster care and not enough homes."
Siblings Kadijah and Kaden came into care next as young teens. Kadijah, 13, was pregnant and gave birth to Maleah while Allen was fostering her. Within weeks, state services had determined to take Maleah away from her mother and into the system.
"I never planned on having an infant, but after spending four weeks with Maleah, I just couldn't let her go into the system," Allen says.
He adopted Maleah, then Kaden, then Kadijah.
About this time, 13-year-old Christopher came into foster care. "It was just supposed to be for a weekend," Allen says. "But he was so broken, I knew the moment he came into my house that he would not leave."
Allen had been a foster parent since he was in his 20s in Arkansas. But even with his experience caring for children in the system, loving and raising his six children in Springfield proved to be the biggest challenge of his life. Most of the children came to him with histories of physical and sexual abuse, as well as drug use.
"It was an emotional roller coaster. It has been since day one when I had all six of the kids in the house," he says. "There was so much drama in Springfield with the three older kids (Kadijah, Kaden and Christopher). Something was always going on, the police were always over at the house. You had periods of time where they would try to be part of the family, and then something would happen and they would do just the opposite."
Allen loves all his children, but he confesses that foster children at a certain age naturally come with a certain risk. "Any child in the system over the age of 10 is considered a high-risk child," he says. "The three kids I got when they were 13 or 14, you can't just go back and undo everything they've been through. So basically all you can do is try and show them that there's a different life out there and that they can have a different life. But you also have to realize that you can't go back and undo all the damage that has been done."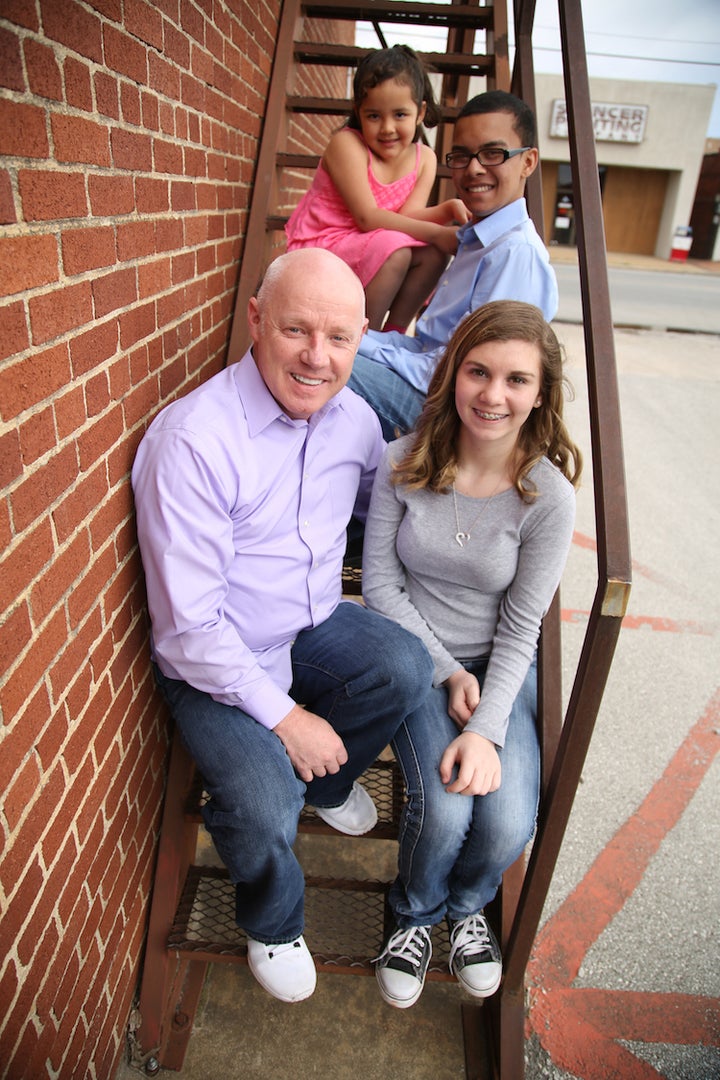 His three oldest children all moved out of the house when they turned 18. "We're trying to rebuild a relationship, but the trust is all gone," he says.
When his oldest children left, Allen made the tough call. In 2012, he gathered up his three youngest — Zackery, Toshia and Maleah — and left Springfield, Missouri. He returned to northwest Arkansas.
"I wanted to restart our life and give us some normalcy," he says. "I love my kids, but I realized I wasn't going to sacrifice my three youngest kids for my three older kids."
Back in Arkansas, the kids have found a new normal, and Allen has returned to his roots. He remembers how he felt coming out to his family as a young man and pushing to convince them that he, too, could one day raise a family.
"When you come out as being gay to your family, you automatically assume that all your dreams and all your wants aren't going to happen," he says. "I became a foster dad to prove to myself and to my family that I could have a 'normal' life. I didn't need a wife to have children. This was about making my dreams come true."
Allen was open to all of his kids about his sexual identity when he adopted them in Missouri. "We've never made it a huge issue," he says. "Being gay can be as little or as big as you want it to be. Honestly, I could be green for all my kids care. It's about the love and the attention that they feel. They need it from someone."
The father has dated men, even introducing a few to the kids. But he remains a single father.
"There is no more me," he says. "The kids' needs come first. I've never been a bar fly, I've never felt like I need to go out and be with other gay people. That's just not me. I'm sure I need to be more like that. I'm 52, and I don't want to be alone for the rest of my life. But to be honest, I don't know when I'd find time to cultivate a relationship. And honestly, most of the gay men I've met don't understand the commitment to kids — especially these kids."
As his youngest children get older, he has started to make some changes. He left a career as a registered nurse to work in hospitality as a hotel operations manager, so he could have the flexibility to be there for his kids if something happened at school or home. He recently took on a home-health patient with Alzheimer's disease, to get back into the medical field.
"We have a relaxed life," Allen says. "We have a very quiet life."
In this quiet life, his children have been able to flourish, particularly Zackery, who considers his time with Allen the truest part of his life.
"I love my family," Zackery says. "Even if we are not normal to other people, we've reached a point where we're normal to each other. This is the part of my life where I was able to function and mature and develop in a healthy way. Even though there were family problems with my other siblings, it never really compared to what had happened before."
Zackery sees Allen as the only father that he has ever known. "By signing the adoption papers, something finally felt real. I had a father. I had someone who not only had to take care of me, but wanted to take care of me. It felt good, strange — a little late. But it was still there."
The 16-year-old admits that going through the foster system was one of the hardest experiences he's ever had in his life. "After going through three different homes, it seems like it's not going to end, ever," he says. "But it does. And you realize your real family is the people who will care for you.
Allen looks back at his journey and wishes he could have done more for all his children — studied their cases harder, moved out of Springfield earlier. He still hopes that all his children can escape their pasts one day, and he encourages other prospective gay fathers to understand the responsibility that comes with bringing these children into their homes.
"You have to look inside yourself and see if you really have the ability to be selfless," he says. "These kids come to you, and they are damaged. They have endured unspeakable things, and they just really want to be loved. They want boundaries, they want some normalcy in their lives. You have to search deep within."
He pauses. "Are we perfect? No, not by any stretch of the imagination. But we are a family."
Calling all HuffPost superfans!
Sign up for membership to become a founding member and help shape HuffPost's next chapter