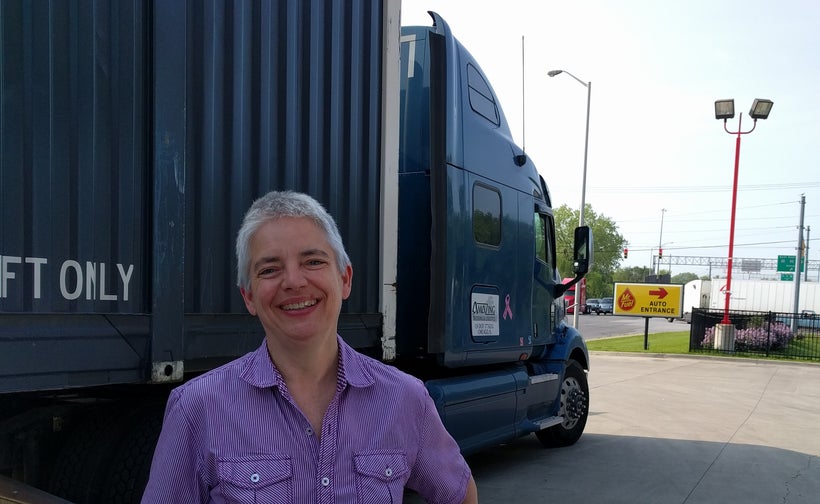 Co-authored by Anne Balay, visiting assistant professor at Haverford College, author of "Steel Closets: Voices of Gay, Lesbian, and Transgender Steelworkers," and a former long-haul trucker.
As information about the Christmas Market terrorist attack in Berlin last month emerges, emphasis is on technological fixes, such as automatic breaking and barricades. Though it's important to remain aware that trucks can be weaponized, we believe that the harm caused to truckers by treating trucks as dangerous threats outweighs the benefit of employing new technologies to limit them. Without trucks and their drivers, nothing would be on store shelves. We depend on truckers' work to supply us with virtually every thing we have.
Truckers need to do their jobs safely, and with some measure of control and autonomy, and technologies often make that harder. After all, the first victim in the Berlin attack was Lukasz Urban, a Polish trucker who was just doing his job – waiting to deliver a load of steel -- when his truck was hijacked. Mr. Urban fought off his assailant and now thought-to-be terrorist, but his fists were no match to the suspected terrorist's knife and gun. Mr. Urban lost his life that day trying to protect his rig, and perhaps trying to protect human beings shopping at the market. In our minds, and others, Mr. Urban is a hero.
Truckers know that their heroism – their sacrifice – gets little attention, and so they help their own. The trucking community, both in the EU and in the US is rallying to raise money for Urban's family. This is not the first time that truckers have turned to crowdsourced funding for families of truckers whom have lost their lives on the job. Earlier this month, a Chicago truck driver Mike Lavelle started a GoFundMe page for a Baltimore truck driver whom Lavelle had never met. Truckers support other truckers because they understand the risks of the job, and the costs to truckers and their families when something goes wrong.
Few people outside of the trucking industry are aware of the dangers of trucking. And even fewer realize how often truckers help others out on the road. Truckers are often the first on the scene of highway accidents.
And this is not without cost. They risk death, and loss of income, because they care. We've written about ramifications of the "good Samaritans" such as drivers with PTSD symptoms, which result from repeated exposure to often gruesome and fatal wrecks. Truckers risk death because they are people – a part of the human community. Technology does not and will not do that – it takes a human to take risks for another human's safety.
Like other workers, truckers are victims not only of terrorists, but also of technology. How many truckers have lost jobs as technology advances, and how many more will when autonomous trucks get approval and become commonplace? New research shows that almost all job growth is in contract, temporary, or part time work.
Urban didn't save lives – in fact, the first life that was lost was his own. But he tried.
Technology didn't save this hero. Technology can improve quality of life, and increase safety, but it can also cost jobs, life, and human connection. In the wake of tragedy, if we focus on technological fixes without acknowledging what's human, we are part of the problem. Truckers are human beings, which is their greatest asset, and no automatic braking systems can replace that. In the face of terrorism and unprecedented global change, the vulnerability and generosity of humans remain our only hope.
REAL LIFE. REAL NEWS. REAL VOICES.
Help us tell more of the stories that matter from voices that too often remain unheard.
This post was published on the now-closed HuffPost Contributor platform. Contributors control their own work and posted freely to our site. If you need to flag this entry as abusive,
send us an email
.