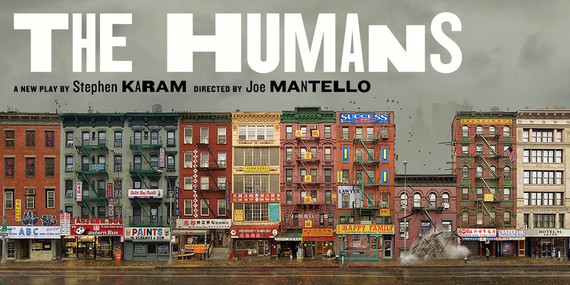 I was really looking forward to seeing The Humans on Broadway. I was looking forward to seeing young Stephen Karam's widely-touted new play. I was looking forward to seeing my friend Reed Birney again light up a stage, especially on Broadway. As I say, I was looking forward.
What I wound up actually seeing is worth talking about. I'm not at all sure what it means, but it was something, I can tell you.
The Humans is playing at a historic little theater called the Helen Hayes that used to be called the Little Theatre and is, in fact, the littlest house on Broadway, which matters in this story.
The Little Theatre was renamed the Helen Hayes in 1983 after a previous Helen Hayes Theatre over on 46th Street was demolished to make way for the Marriott Marquis hotel, despite furious, fruitless protests to save it. For the record, today's Helen Hayes Theatre was lately duked over and acquired by Second Stage Theatre company.
None of this has anything to do with what happened to me there last week.
The Helen Hayes sits right next door to Sardi's, where I repaired for a drink at the upstairs bar just before attending The Humans. This is worth keeping in mind.
The Playbill I was handed on my way into the Helen Hayes had an insert, the kind normally found proclaiming last minute cast changes. This one read: "THE HUMANS THE PLAY WILL BE PERFORMED WITHOUT AN INTERMISSION. IF YOU LEAVE YOUR SEAT FOR ANY REASON DURING THE PERFORMANCE, YOU WILL NOT BE PERMITTED TO RETURN."
I saw it. I read it. It had no application to me; I can't recall ever leaving my seat while the curtain was up in a theater -- Broadway or otherwise. I am, however, older now than I've ever been before.
The Humans came at me like a shot in the dark. It is, simultaneously, an extraordinary treat of theatrical innovation and an excruciating exploration of the weight and dimensions of unexpressed anguish. It is exquisitely mundane, deceptively funny and inexpressibly tender.
At least it was for me, until I realized that I had to go to the bathroom.
I let that initial realization pass.
The subjects of The Humans are the dysfunctional members of the extended Blake family -- Brigid, the failing young composer in whose ominously gloomy new Chinatown apartment the action takes place; her stoically serene boyfriend, Richard; her sister Aimee, a lovelorn, laid-off, lesbian lawyer with colitis; her parents, Deirdre and Erik, whose sinking marriage threatens to submerge everyone around them; and the family's ailing, dementia-decending grandmother, "Momo," whose apocalyptic mutterings underscore the action, such as it is, at a Blake family Thanksgiving gathering.
I must mention all of the actors right now. They were each stellar: Sarah Steele, Arian Moayed, Cassie Beck, Jayne Houdyshell, Reed Birney and Lauren Klein.
There is a transcendence to the family's banal conversations. Pain, and an indomitable, however contorted, love for one another leach from these exchanges, which barely seem scripted and hardly can be called "dialogue." The poignancy achieved without ostentatious drama is a real feat of magic that the playwright pulls off. I, for one, found it terribly moving.
But now I really had to go to the bathroom.
I was starting to feel my own pain. I can't say I was panicked, I just knew I would never make it to the curtain. I was seated on an aisle and my exit path was obvious. I turned to my companion and quietly said, "I have to go to the bathroom." And I was gone.
I felt eyes on me all around this very little theater as I strode up that aisle; eyes watching me more in fascination than horror. Wow - look - he's leaving...
The ushers' glances as I exited into the lobby were more pointed. Their gazes followed me down the steps to the rest room.
My return, of course, was blocked almost instantaneously. "You can't go back in," an onrushing usher whispered with an undertone of apology. A headset was slipped into my hand and a video screen was pointed out to me, positioned behind the bar.
For some minutes I stood there -- simply trying to figure out how to get the headset plugged into my ears.
Eventually, I dropped down on the stairs and kicked back.
How did I feel? Busted. I mean, I'm a purist, virulently opposed to food and drink in theaters, cell phones -- it goes without saying -- and just about any other audience induced distraction. I understand threatening a lock-out in an intermission-less play. You want to avoid a stampede.
And yet, why deprive a ticketholder re-admittance in an emergency? No-one is leaving just to be rude. It all seemed a little punitive.
I know that at least one other current Broadway production, A View from the Bridge, practices this policy of no return. There may be more. My only previous experience has been at the Metropolitan Opera, but operas are long, and readmission always comes, eventually.
The lead producers of The Humans are the media titans Scott Rudin and Barry Diller. I found myself thinking about human frailty -- the open-hearted embrace of human frailty expressed by The Humans, and the ironbound impatience with it that my exiled, chastised circumstances embodied.
On the video screen above me, the onstage figures moved in a blur. I watched, mesmerized. Each performance in this exceptional ensemble cut to the bone and right through the digital murk; particularly my pal Reed's inhabiting of the utterly despairing dad, Erik, with whom I especially empathized. I felt like a third tier in the two-tiered action of the play's upstairs/downstairs apartment set; left out and alone, like each of the play's desperate characters; sharing the same space but separated by unbridgeable distances. I watched the stage go dark and saw Reed walking into a faraway light. Take me with you, I thought. I want to go back too.
Calling all HuffPost superfans!
Sign up for membership to become a founding member and help shape HuffPost's next chapter