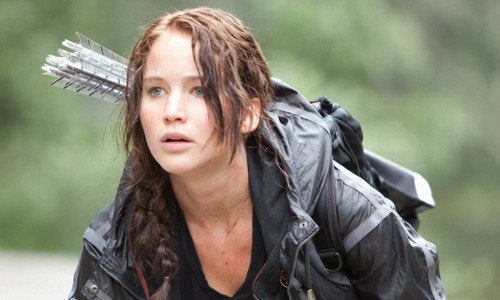 Another aperitif to satiate "The Hunger Games" fans has been served.
Lionsgate Films, in continuing with its slow service of details and revelations, has unveiled two new photo stills from their upcoming big screen adaptation of Suzanne Collins' hit book series. The new pair of stills offer the closest looks yet at Jennifer Lawrence, who plays main heroine Katniss, and Josh Hutcherson, who takes on the role of her ally and one of her love interests, Peeta Mellark.
Set for a March, 2012 release date, the latest photo release is actually well timed. The most recent two young adult-focused literary sensations, "Harry Potter" and "The Twilight Saga," are ready, in many ways, to cede ground for the next big thing; "Potter" has already seen its final film hit theaters in record-breaking fashion, while the two halves of the "Twilight" finale, "Breaking Dawn" Parts 1 and 2 are set for release in November and next summer, respectively.
At Sunday night's "Teen Choice Awards," Potter's second to last film took home top honors, with the third "Twilight" installment coming in a close second in surfboard accumulation. By next summer, "Potter" will be on its last legs in terms of "Teen Choice Awards," and "Twilight" will be close to that point, as well; given their years of dominance, and the "Hunger Games" release date, it's feasible that their reigns could end in 2012, giving way to Lawrence and co.
The films look to track on the more impressive grounds of "Harry Potter" than the critically maligned path of "Twilight." Gary Ross is directing the star-studded pic, and Steven Soderbergh, two time Oscar-winner, is directing the second unit, a major, unexpected coup.
Here are all the photos released from "The Hunger Games" thus far; credit the first four to Lionsgate Pictures.
PHOTO GALLERY
'The Hunger Games' Photos: Jennifer Lawrence, Josh Hutcherson, Liam Hemsworth
REAL LIFE. REAL NEWS. REAL VOICES.
Help us tell more of the stories that matter from voices that too often remain unheard.