Joy and fun are great goals to aim for.
As you place your energy into developing joyful experiences, less space is available for problems and worries. As Murphy's law goes "If you have 30 minutes for a 10 minute job (or problem) it takes you 30 minutes to fulfill the task (or struggle with the problem)." On the other hand, if you fill 20 minutes of the half hour with a purposely fun task any 10 minute problem that comes along will get just it's 10 minutes and no longer. So plan a party!! (Or at least some entertainment with yummy nourishment) and get cooking!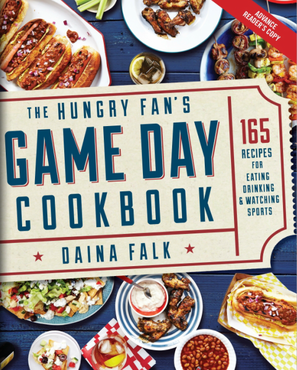 Finding like minds brought me to a book of party tips for sports' fans. Daina Falk focuses on the joy and fun of game day eating parties with "The Hungry Fan's Game Day Cookbook". Growing up in sports with a big sports agent dad, David Falk, Daina Falk focuses on the food festivities around watching the game. Whether it's a small festive solo activity or a party with friends, the recipes in her book are simple and fun to enjoy.
Falk introduces her book with a personal story and one of my favorite quotes, "I say eat healthy 6 days a week - but on game day, enjoy yourself!" Like minds! I have said, "Some foods are for the body and some are for the soul." With both healthy and decadent choices Falk seems to cover all the goodness of food.
The Hungry Fans Game Day Cookbook is divided up into starters, light meals, sandwiches, main dishes (including BBQ) and deserts. If tasting this little summary wets your appetite, I suggest you go get the whole enchilada. This cookbook is a hundred real treats to have!
Beginning with the most commonly thought of food for watching a game, Falk talks about finger foods, "Starters are the perfect food to set out during an intense game; they are what I like to nervously munch on as the minutes wind down and I hope my team ends up on top." Falk includes a great number of both familiar and unique finger foods. Recipes from different regions including stuffed jalapenos, and quesadillas, Cincinnati skyline chili dip, Wisconsin cheese puffs, buffalo wings, Cajun shrimp and Teriyaki drumsticks are just a few of the decadent and healthy treats that got my mouth watering joyfully. The recipes of starters just went on and on. I felt the fun of the party just reading them.
Next, the "Soups, Salads and Flatbreads" section commences with Falk's quick and simple explanation that these dishes are more than finger foods, "I like my salads to be meals unto themselves." The first "Baked Potato Soup" caught my attention then the following soups, salads and flatbreads excited my appetite. Not only are these dishes rich in flavor, many of them are packed with healthy ingredients, i.e the nutrient rich meatless alternative, "Seemingly Fancy (but not really) Lentil Salad." Meat-lovers and vegetarians are offered a rich array of scrumptious healthy light meals in this section. Michael Jordan's (MJ as Falk has always called him) "Meat-lovers Flatbread" is a flavorful combination of sausage, meats and cheeses sure to be a hit. The photos of the dishes makes you want to jump into the kitchen and get cooking!
Following the light salad, soup and flatbread meals is "Sandwiches and Burgers." Falk has created an exciting gourmet array of what I used to think of as boring common food. And yet, each one is easy to make. Falk's recipes vary from her version of a classic chicken Parmesan sandwich to unique chicken and peach summer sandwich. Jalapeño bacon grilled cheese, lobster rolls, corn dogs and "New York-Style Smoked Salmon Sandwiches" are a few of the other offerings. (She even has a recipe for vegan lentil burgers!)
Barbeque and other Mains is a chapter of meats, chicken, fish and vegetarian dishes from the grill, oven and frying pan. Lamb chops, Swedish meatballs, Buffalo Chicken Tacos, grilled fish and Shrimp Curry are a few of the offerings in this section before Fallk provides an array of satisfying side dishes.
It's time to stop reviewing and get cooking! First, a quick peek at the rest of the book. The desert and drink sections show us Guinness Cupcakes with Bailey Frosting, Popp'n Peach Cobbler, Peanut Butter Cracker Jack Some Mores, Watermelon Coolers and a Sazerac Cocktail. As a little bonus, Falk adds a section called Basics where she shows how to make Ketchup, Mayonnaise, humus and the like from scratch, as well as providing a chart for metric equivalents (for those of us living with non-American kitchens.)
Universally, Falk's recipes are truly inspirational not just for sports game lovers, but for all of us who wish to enjoy the festivity and flavor of good food.
REAL LIFE. REAL NEWS. REAL VOICES.
Help us tell more of the stories that matter from voices that too often remain unheard.