The number of U.S. businesses owned by black women has grown by 322% since 1997. While during this same time period, the rate of entrepreneurship in America has been in decline. Despite this increased activity, funding for businesses founded by black women entrepreneurs remains low.
Enter Black Women Talk Tech, a one day conference put together to encourage and support the next black woman-led billion dollar company. The sold out event was held at Google's New York headquarters last week and brought together 30 pre-selected black women tech company founders (over 300 women registered to attend), investors and tech veterans from around the country.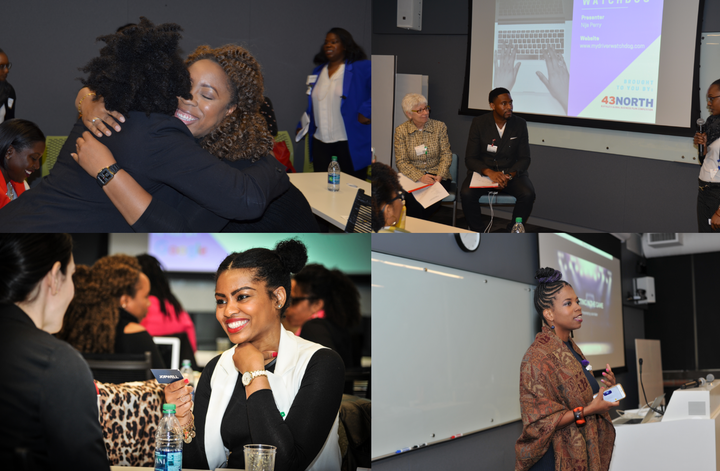 The day included panel discussions focused on growing a startup, a pitch event featuring investors, media and incubators, structured networking and personal development sessions.
Among the speakers included: Aisha Bowe, an aerospace engineer at NASA and co-founder and CEO, STEMboard, which builds software and hardware products; Jessica O. Matthews, founder & CEO of Uncharted Play, a renewable energy company specializing in motion-based power systems; Reham Fagiri, co-founder & CEO of AptDeco and Danielle Kayembe, founder of Powerbase Meditation.
In business, if you're talking to everyone you're talking to no one. It's important to focus and get clear on exactly who your target audience is. For example, you cannot use the same language to speak to millennial women and baby boomers.
We are constantly selling. The ability to sell is critical as an entrepreneur: your ideas, your products and services. Be very persistent in selling what you do. Never miss an opportunity to tell people what you want.
If you don't have a squad you'll burn out. Entrepreneurship is often an emotional rollercoaster. It's important to surround yourself with people of a similar mindset. The analogy of a basketball team was used. Who is on your team?
4. Change Your Environment
When feeling stuck and demotivated, create a change in your daily routine as a way to switch things up.
Don't get caught trying to get all your ducks in a row. Your ducks will never be in row. Progress, not perfection is the aim. Get moving and sort things out as you go.
Marielle Legair is a public relations specialist working with entrepreneurs to increase their visibility. Join the Publicity for Entrepreneurs community for PR updates.
Popular in the Community