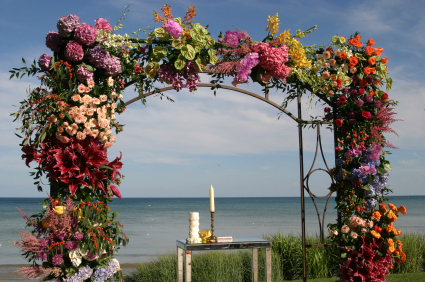 Back in1982, a young couple came to me with an unusual request. They wanted a Jewish wedding that included a public statement acknowledging what they referred to as their "heterosexual privilege." They felt it was important while under the huppah to recognize that they were invoking a right denied gay people by every state in the union.
Just a few years before, I had been married with the blessing of the State of Connecticut and two Reform rabbis. Not a word was said about gays, lesbians or injustice. I knew only one person who had celebrated her same sex union with a "wedding ceremony," but my cousin Frances Fuchs was ahead of the curve, even for California. In fact, Frances recalls that her friends, gay and straight, thought it was "a little weird." In those days, no movement in Judaism, including my own, knowingly ordained gay people, much less sanctioned their marriages.
I told the couple that I would marry them, and that they were free to say whatever they wanted about this issue. But I would stay out of it. The truth is: I had nothing to say. In my encounter with that couple, they were the religious leaders, I, the follower.
Today, I have something to say. Hence, my (secular) New Year's Resolution: to challenge others as that couple challenged me. Weddings are celebrations, not only of personal milestones, but also of communal values. I will no longer squander the opportunity to lead. Over the years, what once seemed to me an incongruous addition to the wedding ritual began to feel increasingly appropriate. At the start of 2013 it has become -- for me -- imperative.
Why imperative? Haven't we come far enough already? Indeed, in some segments of our society, we have witnessed an astounding transformation. All the non-Orthodox rabbinical seminaries now ordain men and women regardless of their sexual orientation, and many rabbis perform Jewish weddings for straight and gay couples. Even the stodgy New York Times marriage section now announces same sex weddings. A growing number of citizens live in states that recognize gay marriage. And this year, for the first time, the United States Supreme Court has agreed to hear two cases involving the constitutionality of denying gay people access to the same protections and privileges accorded straight people who commit their lives to one another.
Which brings us to why establishing gay marriage as a social norm is imperative.
First, most states still do not allow gay people to marry. Where I live, my gay rabbinic colleagues routinely perform weddings by "the power vested in them by the Commonwealth of Pennsylvania," a state that will not recognize their own marriages. Furthermore, our federal law lags behind and takes precedence over the laws in states that have gay marriage. Significantly, this spring the justices will rule on a case in which the Defense of Marriage Act (DOMA) will come under scrutiny. That Act defines marriage as between a man and a woman for purposes of federal law. Until DOMA is overturned, same sex couples marrying in one of the states in which it is legal still do not have the rights of a spouse to access federal benefits ranging from social security to treatment of their children to immigration status to inheritance taxes to health insurance. The list goes on for eight pages.
Consider the analogy to interracial marriage. In 1966, Gallup polls showed only 20 percent of the U.S. population approved of interracial marriages. There were still 17 states in which such unions were prohibited. In 1967, the Supreme Court declared those laws unconstitutional in Loving v. Virginia. The struggle for a racially just society required the legal breakthroughs of the civil rights era. It also required -- and still requires -- changing hearts and minds. As we await the Supreme Court's decision, one that may well take its place beside Loving v. Virginia as a landmark of justice, I want to move toward that landmark on the ground, one conversation at a time, one ritual at a time, until gay marriage becomes a legal right and a social norm.
My New Year's Resolution: Each time I plan a wedding with a heterosexual couple, I will initiate a conversation about marriage equality. To be specific, I will suggest that they include in their service a prayer for change. The particular prayer is not important, acknowledging the issue publically is. I will also challenge my rabbinic colleagues who do not already do so to include something similar in their own wedding planning routine. Here is my version, also posted on Ritualwell.org:
As we stand under the huppah today, we give thanks that we can marry with the blessings of our rabbi, our community, our state and our federal government.

At this moment, we turn our gratitude to concern. We pray for the day when our country recognizes and honors the marriages of our gay brothers and sisters just as it recognizes and honors our own.

We pledge to contribute to _______ (fill in organization) that is working toward that end.

May there soon be heard in our land the sound of gladness and joy as loving couples -- all loving couples -- dance and sing and celebrate.

May that time come speedily and in our days.

Amen.
Related
Popular in the Community