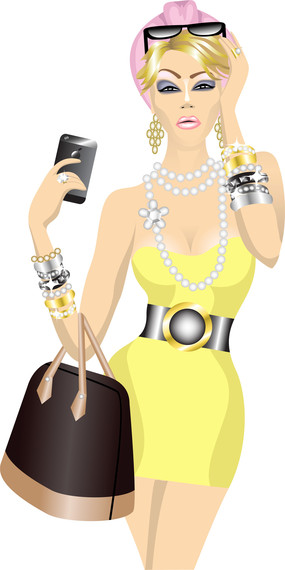 Tongues are wagging faster than a group of over-privileged kids on a playdate at a sucker factory. A recent article in The New York Times described the unbelievable lives of women who marry rich men and live in the Upper East Side in New York City. The author lets her pinky finger down long enough to write torrid tales of year-end bonuses paid to the women for excelling at their wifely duties. I missed that memo and married for love.
At least paying the little woman a bonus is better than killing them and substituting robots, per the movie "The Stepford Wives." Sometimes I think the wealthy husbands would prefer androids so they could avoid and eliminate all that messy relationship drivel. I also suspect that these women could be promoted to The First Wives Club after their bored husbands find younger, prettier, more efficient models to replace them.
The must-have purchase from these pay-to-play marriages is a Hermes Birkin bag that costs around $120,000. That's not a house; it's a purse. As does my sensible, inexpensive, black tote bag, a Hermes treasure will hold tissues, assorted combs, lip gloss, a few pens that work, and a wallet of worn credit cards. I win.
The article created quite a commotion among my online group of middle-aged friends. Comments ranged from "Pricy Prostitutes" to "I get my designer bags on sale" to "Where's New York?" After reading about how the hyper-scheduled children of these arranged marriages need counseling to learn how to play, I threw up my hands and my breakfast. I decided to turn the designer tables and offer my own counsel, gleaned after more than five decades on this amazing planet. I don't need a Wife Bonus, but I'll gladly give a regular gratuity to my husband.
Here are my suggestions for how to give a Husband Bonus.
1. Arrange weekly playdates. There is no need for counseling when you remind your lover that there's a party for two tonight at 9:00. Toys and finger puppets aren't necessary but could come in handy.
2. Show your private equity fund. Sleep naked and receive a robust return on your investment.
3. Don't wait until yearend for a bonus. If you're both older than 55, take advantage of the time you still have. There is a good chance you'll be asleep long before midnight on New Year's Eve.
4. The only board we're sitting on is at the pool. The article described the duty of rich people to sit on major boards of high-profile charities. After decades of volunteering for various organizations, serving on advisory boards, and giving my time, talent, and resources, I'm turning over those jobs to younger people. I'll take my husband and watch and support selected causes from the beachside martini bar.
5. Take this bag, please. I will never own a purse that costs more than my first house. A designer bag is just an empty container of stale air. I promise my sweetheart that I'll never pine and beg for anything bigger than a Silver Oak Cabernet. I'll offset the request with a gift certificate for a couple's massage. See how this works?
The New York Times article stoked the flames of indignation, jealousy, and insecurity among some women who only want their husbands to earn a paycheck and come home at night. I choose not to provide links to the article or to the author and her upcoming book because she's received enough free publicity. When the dust settles, the rich wives will have their cleaning women come over to tidy the mess, my friends will continue laughing at life, and I'll fix a cheeseboard with cocktails for the patio and invite my husband to join me. It's bonus time.
Calling all HuffPost superfans!
Sign up for membership to become a founding member and help shape HuffPost's next chapter