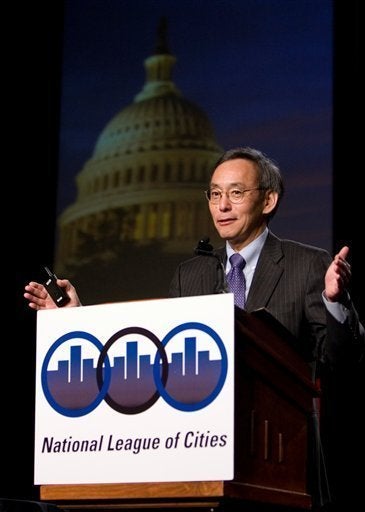 March is when we welcome the first signs of spring -- fading winter; the sound of songbirds; the once bare, leafless branches hosting buds at the end of every twig; the overhead migration of ducks; and the smell of part rainfall, earth and ozone creating a scent that certainly defines springtime and -- for many -- also Earth Day.
With Earth Day under our proverbial feet, many consider their "green-ness." With the promise of a "green" economy as a growth economy, the majority of consumers agree with the popularity of "green," as more and more venders offer these kinds of alternatives. With more information now than ever before available on how to become or go "green" on television, cable or on the Internet, many understand the recognizable benefits to individuals and society on the whole.
Studies like the ones offered by the green initiative at NBC-Universal (which, by the way, has the first-wind powered station and, during Earth Week 2009, will be donating 10,000 trees to local parks and schools throughout the U.S. in partnership with the Arbor Day Foundation; and for full disclosure, I used to write as Mr. Green for their "Ask Mr. Green" column on their GreenIsUniversal site) claim that three-quarters of those surveyed believe "'green' is good for the economy" because it reduces waste, increases sustainability, creates jobs, saves money, and leaves a healthy economy and environment for future generations.
Everyone knows that buying and selling is good for the economy. But by buying "green," consumers are purchasing stuff not just because they need it -- they're buying eco-goods because they're also considered to be good for the planet. Of late, many consumers have even boycotted companies or products because of their undesirable policies and practices -- compared to a growing number of individuals who recommend environmentally responsible products or services to friends and family.
Hoping that environmental awareness will eventually convince people to buy "green" products, manufacturers now produce products that eco-savvy shoppers supposedly want. Granola cruncher or not, to some, "green" isn't just about a carbon footprint and rain forests, it's also about social responsibility and being aware of how businesses affect the environment, our society, and our future resources.
Unfortunately, Earth Day for many has become yet another narcoleptic occasion to enact pointless environmental rituals while denouncing the greed and excesses they also find themselves ankle deep in. (President Obama is commemorating Earth Day this year with a trip to Iowa, one of the largest wind energy production states in the country. Perhaps he might also inspire us away from our greedy, over-consumptive, egotistical selves, organizing us to make a personal sacrifice for the greater good.)
Although many sing dirges to global warming, I'll guess that few really care to do anything. If they did they might start whistling another tune by starting small by making mindful alterations to their purchasing habits, minimizing travel, changing light bulbs, insulating/caulking homes, and purchasing used stuff instead of new when available. Only by starting small and personal can someone begin to grow and work up to noticeable improvements.
With the "green" industry growing -- one of few that is -- it's a marvelous opportunity for us to grow bigger and better. For this Earth Day, don't use meaningless gestures to show the world that you care, but instead, plant seeds that show how you also take care.