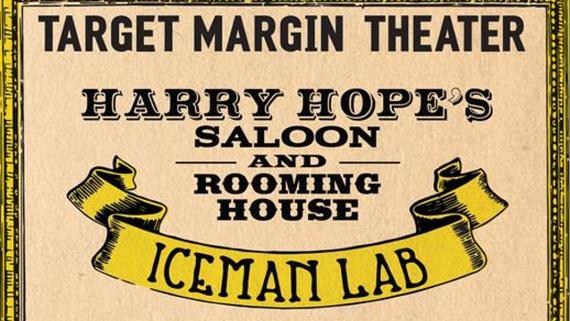 This is the second part of my series on Target Margin Theater's Iceman Lab currently playing at HERE Arts Center. To see part one, click here.
Act I, Lead Artist - Julia Sirna-Frest
Julia Sirna-Frest and the rest of her band ran onto the stage in the basement of HERE Arts Center. With glam makeup and undeniable skills, Sirna-Frest was joined by Sarah Bennett, Shane Chapman, Lisa Clair, Christopher Giarmo, and William A. Williams. Gesturing to the assembled performers, Sirna-Frest said, "Welcome to Act I of The Iceman Cometh, obviously." I wish more O'Neill plays began like this (and I like O'Neill, trust me), and though it's not totally obvious, it absolutely works. Sirna-Frest has created an Indie-glam-rock song cycle where each song represents a different character in Harry Hope's bar (except for the woman, who Sirna-Frest notes are grouped into one song, just like O'Neill would have wanted). As audience members took a shot with a character's name on it, the band launched into songs that ranged from hardcore rock to indie ballad to cheery duet and a lot of things in between. As I nodded my head along to the music, I found myself really wishing that Sirna-Frest would transform more plays in this fashion, and I began to imagine what that might sound like. Obviously, the only true way to honor the creativity of Sirna-Frest's approach and the experimental nature of the lab itself is for me to respond with a song of my own.
(Take a shot of Vodka. This character's name is my name - Bess - also the name of Harry Hope's late wife)
If good old Eugene were alive today,
If good old Eugene redid this play,
I have to say that I think he very well may,
Have been an emo rocker or a punk stray.
We will surely never know,
But I think he would like to go,
See this engaging concert-show,
Where his characters live on in notes high and low.
Though the exact words might not appear,
The Iceman is somehow very near.
The mood and the tone are perfectly clear,
Meaning the Iceman will cometh, if you cometh here.
Fourteen original songs from Chapman and Sirna-Frest,
Make this Act I, in my opinion, better than the rest
Of traditional interpretations, even the "best."
So come and put Act I to the test!
Act II, Lead Artist - Yuri Skujins
After the concert format of Act I, I was even more curious to see what Act II would look like. One day later I got to find out as I entered the same space to experience Yuris Skujins' interpretation of Iceman Act II. The space that had yesterday been occupied by a band was now transformed into a more traditional-looking bar space. Many of O'Neill's characters enter this space seemingly intact, but the layers of Iceman's action are deconstructed before our very eyes.
In the foreground, two shabbily dressed barflies seemed to exist in an almost-earnest O'Neill world. Yet the characters in Skujins' world are mash-ups of a current hipster-detachment and a period-specific bartime melancholy. The women in this play, prostitutes, are dressed like Disney princesses who have seen better days. Many of the men address the audience directly while speaking, showing us the distance they have from the other characters in the play and their own stories. If the O'Neill of Act I was a moody musician, the O'Neill of Act II is a bartender in Williamsburg with an undercut, ironic Disney tattoos, and a pocket-watch. The cartoon violence and general detachment of the characters pushes the scene into another genre, but unlike Act I, the play is still somewhat recognizable here - hence my choice to return to a more standard reviewing format. The contrast between these two performances is jarring and fascinating, and I look forward to seeing the last two Acts later this week!
As always, tickets and a full performance schedule can be found here.