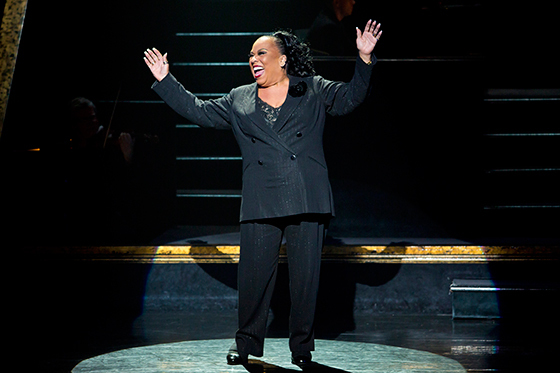 (Photo Credit Jeremy Daniel)
Chicago has become one of the most iconic musicals in modern day theater. After its initial two year run spanning over 900 performances back in the mid-1970s, the revival of Chicago that started back in 1996 has become one of America's longest running musicals. Even though it was set in 1920s, the story of Chicago has its timeless qualities in our modern age of "reality" programming where we have our own infamous celebrities. Chicago hits on that celebrity fascination that is so engrained into our pop culture.
Recently, I was able to chat with one of the leading ladies of Chicago, a fellow Detroiter Roz Ryan, who plays the role Matron "Mama" Morton and has also played more performances than any other leading actress during the show's 18-year run, about what makes this musical so iconic, Detroit, and even reminiscing about her time as Amelia Hetebrink on the TV show Amen.
How's it like to be a part of such a huge thing like Chicago to come back to Detroit to perform?
I love it! The first time I came back with Chicago in 2011 was the first time I had been in the Fisher Theater since 1979 when auditioned for Ain't Misbehavin' and ten days later I was on Broadway! It's crazy. I walked in and saw the seats and just burst into tears.
You've probably seen so many things come and go. What's been some of the most amazing things about being a part of it for so long?
It just seems like something that has to be shot with a silver bullet. Working with all these wonderful people because everywhere I go, I usually run into someone I've worked with before but there is always new people, so the energy changes and its just been a hell of a ride.
In musicals, there's always people coming and going. How does that affect the energy of the whole musical?
Most of the time, positively. It changes the whole energy when there's new people or different people, and we've been known to come out on stage with one person and somebody gets ill during the show, at intermission, they change people and you're all of sudden with someone else, so you just adapt to the energy.
With your role as "Mama" Morton, how do you connect with that role?
Well, I call her a lovable hustler. She's kind of lovable and a hustler at the same time. She's strong. She's warm. She's conniving. She manages to get what she wants and I like to think that I have just a little bit of that, maybe with a little bit more niceness. Just a tad! She's lovely. Everybody loves her because you can't help it. But they all know she's about the dollars, she's about the hustler. What can you do for me?
A musical like Chicago, what is it about it that sets it a part from other musicals?
Fran Weissler and I talked about this some years ago and it seems to still stand. It's the simplicity. It's the fact that you have a show with music and lyrics by [John] Kander and [Fred] Ebb. You have Ann Reinking's choreography and Walter Bobbie's direction and Rob Fisher's orchestrations. Then you put 15 dancers and singers on stage and now you have no bombs blowing up, no planes taking off, nothing. You have nothing between the performer and the audience but the music and the acting. That's it. You get pure. It's pure. It's sleek. It's sexy. It's fun.
Is that simplicity of Chicago the reason it's so timeless?
I believe so. I believe too that every day somebody's going to jail and everybody loves a good court case. Chicago is a good court case.
What do you think the overall message of Chicago is?
I don't know if the message is appropriate for teens under 12, but you can get away with murder (laughs). I think it's those things that are about it, the finesse of Billy Flynn, the conniving of Mama, the strength and the sneakiness of Velma and Roxie because they both have an agenda. It's just the fact that you throw enough sparkles at them, you can pull anything off, and not that it's a good message, but that's the message.
Even if there really isn't a good message and you have all of these interesting characters, what is the humanity within Chicago?
I think it's a comradery. It's the fact that everybody is fighting for themselves but you see the unity where they are all fighting together. I think that is the saving grace of it is that its fun. Its not really a happy situation but these people make the best out of the situation. It turns out to be fun and it's sexy as hell. Ooooh! It's sexy. We got some pretty girls and some pretty boys!
How do you think the story of Chicago relates to what is going on in society these days?
It does extremely. When it first came out, it was supposed to be a two-week run at Lincoln Center for some Broadway series, and it just went on. Then it parlayed into the OJ trial was happening at the time. That's why I said a good trial is always going on and people want to know what goes on during a trial if they never been invited to one, especially a murder trial. So it gives you a little incite even though its fiction but it's really based on some stuff that really did happen in Cook County back in the day.
It's been such a joy to talk to you. Amen was such a great show when I was growing up. I watched it so much! And I'm excited to see Chicago!
I'm excited to come home! As for Amen, I truly, truly miss my Germ. I used to call Sherman [Hemsley] Germ. I miss him terribly! He was a wonderful, funny, very giving.
I loved anything that he did!
Everything he did! He was just wonderful. I miss him terribly. Him and Rolly, Jester Hairston. It was my very first TV show and it was the beginning of a whole new life.
Rolly was amazing. I loved that character!
Yeah, he was special. I miss my boys!
Chicago comes to Detroit from February 9th - 14th at the Fisher Theatre. For more information, visit broadwayindetroit.com.
REAL LIFE. REAL NEWS. REAL VOICES.
Help us tell more of the stories that matter from voices that too often remain unheard.