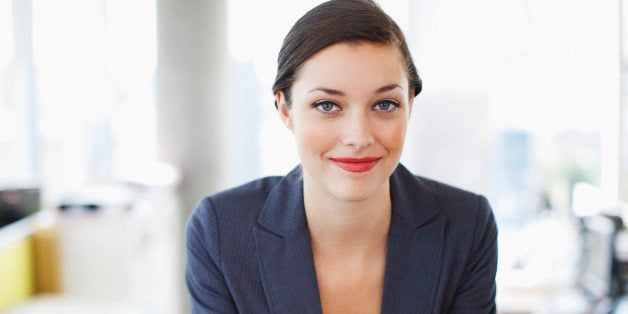 All employers trying to meet diversity goals should be worried about a recent study that showed millennials are planning to "opt-out" of careers to have families. A survey of Harvard Business School alumni found that 37 percent of millennial women and 42 percent of those already married planned to interrupt their career for family. The proportion of women who anticipate career interruptions for parenting has risen with each successive generation. Why? Because they're "looking for more of a balance" than they perceive women in my baby boomer generation had. My own experience as a trial lawyer, wife and mother, has led me to believe balance doesn't exist except on Olympic beams, kitchen scales, and in certain yoga poses.
Whether women can "have it all" is a sexist question, and women should stop torturing ourselves by asking it. The relevant inquiry for today's women (and many millennial men) is whether we can have both a rewarding professional life and a rewarding personal life. Of course we can.
The most recent high profile example was seen in obituary tributes to the pioneering journalist Marlene Sanders. Her outstanding career of firsts included being the first woman to anchor a prime-time network newscast, the first female journalist in network television to report from Vietnam and the first female vice president of a network news division. As journalist Bill Moyers said, "That women are finally recognized as first-rate professionals is due in no small part to the pathbreaking courage of Marlene Sanders." Yet along with her remarkable career, Marlene was also a mother. Her son, the journalist Jeffrey Toobin, recognized her as "a pioneering broadcaster and above all, a great Mom."
Moyers' tribute suggests that Sanders will be remembered for a career that inspired a generation. Toobin's tribute makes clear that the scales tipped in favor of motherhood. Perhaps any "balance" then, is in the eye of the beholder, and success comes when both your family and your employers feel they got what they needed from you. Sanders' own view was clear: "Never apologize for working," she once advised a young colleague who came to her for advice on managing motherhood and a professional life. "You love what you do, and loving what you do is a great gift to give your child."
I prefer to think of navigating those often competing demands of career and family as a process of work-life integration. A great lawyer is still a great lawyer when she is watching her kid's soccer playoff. And a great mom is still a great mom when she is arguing before the Supreme Court. Women who leave the workforce to have families may achieve a rewarding family life, but the one thing they certainly will not achieve is balance. Those who define work-life balance as 50/50 on a daily basis are setting themselves up for disappointment.
As my friend Ursula Burns, Chairwoman and CEO of Xerox and herself a successful mom says, think of balance as happening over a lifetime.
I always told my husband and daughter that if something was important to them, it was important to me, and I would not miss the important things. You have to sow those seeds at home early so you can bank on that capital later when you are spending long hours at the office. When your family knows they are truly important to you, they cut you a lot of slack. And women need to negotiate for themselves at home as well as in the work place. When you choose a life partner, make sure he or she is truly a partner, willing to do more than half of the work -- at least some of the time. Especially if you have children, you will have to depend on each other and share responsibilities. Even the most enlightened employer in the world cannot make up for a bad husband.
Yet because a woman's prime child-bearing years are also her prime career-building years, employers can and should contribute in major ways to helping women advance in the workplace, and avoid the false choice of career versus family. My law firm has made a global commitment to advance women by setting a target of having 30 percent of our equity partners and 30 percent of our leaders be women by the year 2020. We recognized that if women become derailed or drop out entirely at mid-career to have children, our firm and our profession would not achieve gender parity, and we would lose some of our best talent. So we established a flexible work schedule program to help women and men who may need extra time to spend with their children, or deal with family illness or elderly parents. It allows our attorneys to advance while working a more flexible schedule that may include reduced hours, working outside of normal business hours and working outside of the office, so long as they maintain the highest levels of work quality and client service our firm requires of all of our lawyers.
Perhaps those who conclude that they need to leave the workforce to have families should consider finding an employer that understands these issues. Even the most enlightened husband in the world cannot make up for a bad employer.
The desire to achieve career success without sacrificing fulfilling relationships is not gender specific. Men also aspire to live integrated lives, to achieve success in their careers and enjoy fulfilling relationships with family and friends. How each of us does that is as personal and unique as a fingerprint.
My message to millennials is this: if you seek both a rewarding career and a fulfilling personal life, you will have to make choices, but choosing between career and family is not one of them. Don't believe it has to be all or nothing. Stop beating yourself up with the elusive quest for "balance." How others manage their lives matters less than how you decide to negotiate your own challenges in finding ways to integrate your personal and professional life. Pursue meaningful work, whether at the office, at home or as a volunteer in the community. Surround yourself with people who share your values. And -- to paraphrase a pioneering journalist and great mom -- never ever apologize for doing what you love to do.
Linda Addison is U.S. Managing Partner of Norton Rose Fulbright and the mother of writer and filmmaker Alexandra Addison.
Support HuffPost
The Stakes Have Never Been Higher
Related
Popular in the Community