This week marks a major milestone in the history of two storied American ballet companies on opposite coasts: American Ballet Theatre turns 75, and Oakland Ballet turns 50.
Bowing to their respective pasts, their gala celebrations spotlight two different golden eras in the history of ballet: the Diaghilev era in the case of Oakland, and the American pioneers of the mid 20th century in ABT's.
Oakland Ballet founder Ronn Guidi was passionate about reconstructing these modernist works, and this weekend the company will gift us with excerpts from five iconic ballets by Mikhail Fokine (Petrouchka and Scheherazade), Léonide Massine (La Boutique Fantasque) and Bronislava Nijinska (Le Train Bleu and Les Biches), as well as Vaslav Nijinsky's groundbreaking, erotic L'Après-midi d'un Faune in its entirety. The décor for Ann Hutchinson Guest's 1995 restoration of Faune has been resurrected for this season's gala. For one brief shining evening, in the glorious precincts of the Art Deco Paramount Theatre, home to many of the company's past seasons, audiences will be transported not just to Oakland Ballet's early days but back to the heyday of the legendary Ballets Russes in the 1910's and 20's.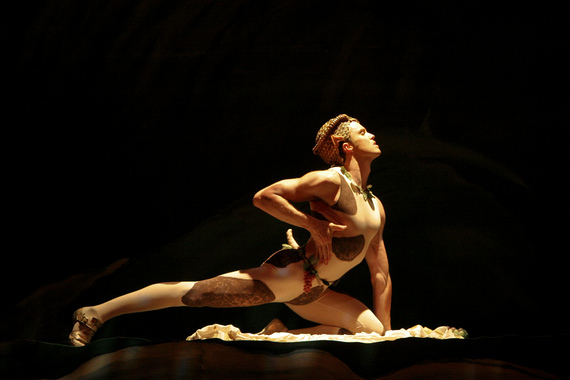 Ethan White in Vaslav Nijinsky's L'Après-midi d'un Faune, restaging by Ronn Guidi. Photo: Marty Sohl(2007)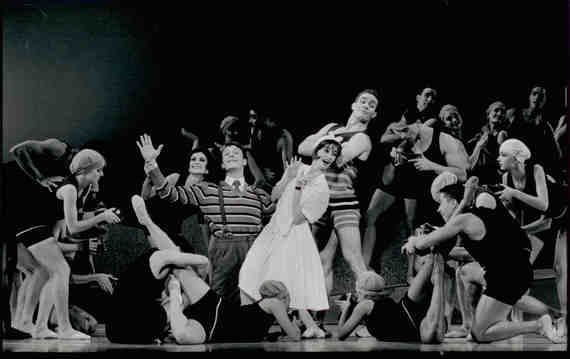 Oakland Ballet Company dancers in Bronislava Nijinska's Le Train Bleu, restaging by Irena Nijinska. Photo: Emilio Mercado(1996 )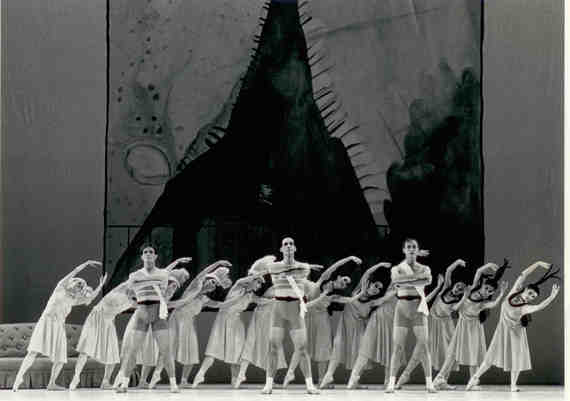 (l to r) The Three Athletes: Joral Schmalle, Ron Thiele, and Don Schwennesen with Oakland Ballet Company dancers in Bronislava Nijinska's Les Biches, restaging by Irena Nijinska.Photo: John Markowski(1990)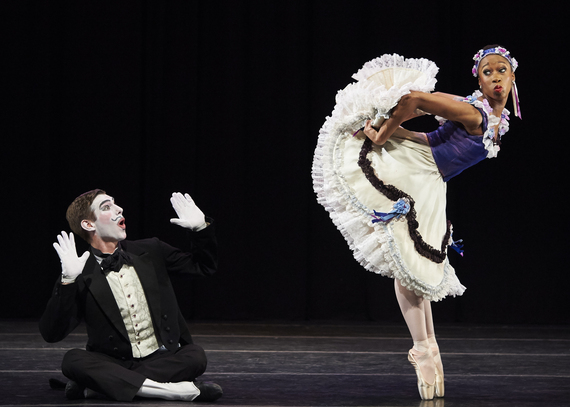 Tyler Rhoads and Daphne Lee in rehearsal for Léonide Massine's La Boutique Fantasque. Photo: David DeSilva
Guidi's curatorial tastes were not confined to the Diaghilev era, however. Under his direction, through the 1990's, Oakland Ballet also revived modern American classics and commissioned new work. Eugene Loring contributed several ballets including The Tender Land, for which Guidi invited composer Aaron Copland to conduct his score.
Graham Lustig - at the helm of the company since 2010 - has chosen to represent this period in the gala program by excerpts from Loring's Billy the Kid, Alonzo King's Love Dogs, and Ronn Guidi's The Secret Garden, and by the full-length Green by Carlos Carvajal.
Lustig thinks big. Not simply content with honoring tradition, he says "we must step away from it, too," and has roped five choreographers, all of whom have longstanding connections to the company, to make new dances for the gala. In addition to Lustig's world première to music by minimalist Max Richter, Val Caniparoli, Betsy Erickson, Michael Lowe, Robert Moses and Amy Seiwert - a formidable brigade of Left Coast dancemakers - are each crafting a toast to the 50th anniversary of this historic company.
And while tight finances preclude the furnishing of live orchestra for the evening, renowned pianist Roy Bogas will play live for Moses' new piece, set to Satie, and for the revival of King's Love Dogs, set to Poulenc.
Dying to see how Lustig was going to execute these heroic maneuvers with a lean, mean fighting machine of only 14 dancers, Ballet to the People tiptoed into Oakland Ballet's busy studios at the Malonga Casquelourd Center for the Arts to spy on Erickson and Caniparoli at work on their new pieces.
A duet for Emily Kerr and Taurean Green, set to the shimmering, soaring strings of Marjan Mozetich's "Postcards from the Sky," marks Erickson's return to choreography after a long absence. Oakland-born, Erickson was ballet mistress for Oakland Ballet in the 1980's, after her own illustrious performing career, and the pieces she created on the company back then were much admired. Her new, story-less duet situates Kerr and Green as equals, with similar qualities of strength in their movement.
As the silvery blonde Erickson demonstrated a sweeping movement of the arms with a slight twist of the shoulders, Kerr imitated her delicate but authoritative épaulement, and Ballet to the People was struck by the identical beauty of their serene, aristocratic profiles.
Erickson has Kerr and Green chew up space and together, they look like a god and goddess gamboling on Mount Olympus. They're an intriguing pair: the fragile-looking Kerr, whose steely core emerges unexpectedly, and the imposing Green whose body lines slash thrillingly through space.
Across the hall, the animated, silver-haired Caniparoli took three couples through a lighthearted, caffeinated romp that had them slouching and stomping and ricocheting off each other and off the floor, a dash of hip hop here, a nod to French court dances there.
But first they had to work out a thorny new lift.
Caniparoli demonstrated it with Sharon Wehner, threading one arm through her arms that were tautly cocked behind her like the wings of a rooster. With his other hand providing leverage against a critical spot on her mid-spine, he timed his push to match her jump. She sailed through the air, snapping her legs into a split at the peak for even more oomph. It took a bit of practice before Sean Omandam, Matthew Roberts and Tyler Rhoads could achieve the same effortless propulsion with their partners. Daphne Lee and Alysia Chang rounded out the spirited sextet.
Once they had the entire sequence down with counts, it was time to run it with music. This knock-your-socks-off arrangement of Leopold Mozart's "Toy Symphony" has been re-orchestrated for the 21st century, in a recording by violinist Gidon Kremer and the Kremerata Baltica, with the tinny buzz of a cellphone and the high-pitched drone of a computer-generated voice chirping "hello" in place of the more familiar toy trumpet, cuckoo and drum.
It was all the dancers could do to keep from cracking up as Caniparoli tossed witty movement jokes at them, but they had to work hard to syncopate the movement the way he instructed.
Grins broke out, however, once costume-fitting time rolled around. Of the bold, bright designs, Ballet to the People scribbled in her notes: "Alice in Wonderland meets Cabaret."
Just as Oakland has weathered grave economic and socio-political storms, the viability of its ballet company has been threatened several times in recent decades. Lustig is a pragmatist when it comes to fiscal management. The magic that is making this gala come together is not magic at all: it's the generous collaboration of dozens of former Oakland Ballet alumni - coming in to coach the present crop of dancers in the revivals, lending a hand with designs - and the goodwill of many organizations including the Paramount Theater, the Oakland mayor's office, the unions. Lustig's dreams of restoring the company to its former luster, augmenting his imaginative - and profitable - Nutcracker with a full spring and fall season, will require significant public and private commitment from a city that seems perennially strapped and preoccupied with other issues.
Those with deep pockets who are looking to make an impact with their philanthropy may not see ballet as sufficiently cutting-edge, hip or relevant.
But Lustig's impeccable programming taste and vision may change their minds.
The day after the gala performance at the Paramount, the company will take the party to Laney College, where it will perform its newest works alongside an array of local dance companies. These include the imaginative AXIS Dance, which unites dancers with and without physical disabilities, Walnut Creek's spunky Diablo Ballet, The Milissa Payne Project, street dance crew Turffeinz, and Tessera Tribal Belly Dance.
Of the updated score that Val Caniparoli uses in his latest work, Gidon Kremer called it an attempt "to set Mozart in the frame of our time."
With this gala, Graham Lustig does exactly that for classical ballet.
Calling all HuffPost superfans!
Sign up for membership to become a founding member and help shape HuffPost's next chapter