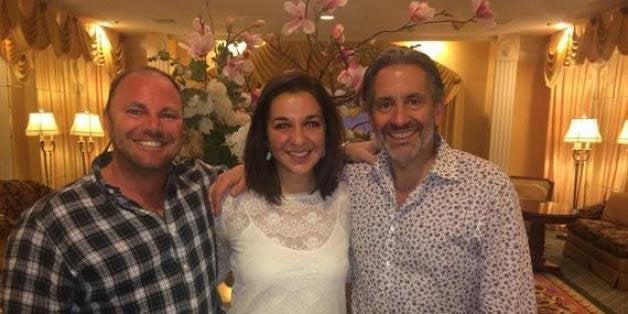 As we turned the corner onto Route 80 East, a symbolic right turn out of Happy Valley, Pennsylvania towards New York City, I became overwhelmed with images from my daughter's graduation weekend from Penn State.
"Well, we'll never be back here," I said to my partner of 16 years.
"Not unless our grandchildren decide to go here," he replied. After being together 16 years and now living in an empty nest, it's OK to reference grandchildren once in awhile (even thought that's a long way away).
What a weekend! Graduation weekend is a celebration of a journey accomplished, a future unbridled and for us, an unconventional family filled with love. These images filled my emotions as we drove up and around the beautiful landscape of Pennsylvania, making our way back home to New York.
My daughter is a planner. She planned every minute of her entire four years at Penn State, squeezing in every experience possible including a semester away in Australia. She's now planning the next two years in graduate school at the University of San Diego, where she will major in Marriage and Family Therapy. The girl knows what she wants.
As we progressed through the weekend with a drink at the first bar we'd ever been to together on College Avenue, to the Mexican place that serves great frozen margaritas on the outdoor terrace, to brunch with the Roommates of 403 and then to a buffet dinner with her mom, we celebrated my daughter's many accomplishments through the four years, snapping pictures on our smartphones to immortalize each moment of the weekend.
I think that's what struck me most about the graduation experience, more than anything else, is how so many of the graduates were just continually snapping pictures. Click, click, click. Sure, they were living moment to moment in celebration, but they were also moving picture to picture in an attempt to capture it all.
I have to remember that this is the generation that coined the phrase, "It there's no picture then it didn't happen." It's the Image Generation, and they are graduating in droves.
As a dad who has volumes of pictures from every stage of my two kids' lives, I can relate.
So of course I jumped at the selfie in the kitchen, and the photo opp in front of Old Main and the solo under the cherry blossom tree. So of course, I smiled along as we took pictures of my daughter on the graduation floor from up in the bleachers while she took pictures of us from the graduation floor sitting up in the bleachers. So of course I held the banner that her mom made so that she could snap a pic. Of course I said yes.
This is the Image Generation after all, where we click, post and share every experience in order to immortalize the moment and showcase it. I'm all about it, one click at a time, share after share. Without these images, we'd have nothing to reflect back on these magical moments to spark our memories. Trust me I know, I live for #TBT when I can post old pictures I've now scanned of the kids growing up.
So it's only natural to be clicking away a big weekend like a graduation from college. Her friends barely took their faces from their phones, and I don't blame them. They'll want those images for their last week together on campus and for the years that go by in their lives. They'll want those images to sustain them through the hard times, and to give them laughs at reunions when they all get together again.
And as a dad who couldn't be prouder, I also couldn't be happier. Happy to be in at least a few of those pictures. I've already got one framed on my desk.
Happy Graduation to all the graduates this year! Best of luck in your future endeavors. Keep a photo by your side at all times to remember this magical time in your life.
Related