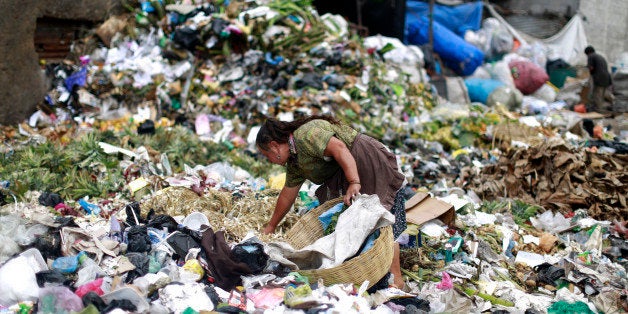 When I was a child, I could never imagine a day when the world would be challenged by something called food waste. Not even for a moment did it cross my mind that such concept could exist.
I was born in a Siberian gulag -- a place where every single crumb of bread counted. And even if you came across a rare occasion when you would not be able to finish your plate on your own -- something I don't even remember happening -- there would be others waiting in line and happy to help. Food waste was not only unthinkable, it was immoral. And I still think the same today.
It is hard to imagine that in the EU alone, around 88 million tonnes of food are wasted annually. This is indeed unethical, untenable, and indefensible. We are exhausting precious and limited natural resources. And while we continue doing so, demands are growing. By 2050 it is estimated that 10 billion people will call planet Earth home. What will they eat? Will everyone have access to a sufficient supply of safe, nutritious food?
This is indeed one of the most critical challenges facing the world over the coming decades. Despite dwindling resources, the erosion of soil, and the impact of climate change amongst other problems, we must be in a position to feed 10 billion people. This makes strengthening food sustainability, food security, and the nutrition potential of our food systems a matter of urgency.
At the same time, the picture is mixed: while 800 million people suffer from hunger, another 2.1 billion are either obese or overweight. Soon we will be living in a world where the health of every second person is in danger based solely on their daily nutrition. It worries me not only as a medical doctor but as a person to see many beloved people around me living under increased risk.
Sustainable diets should be our goal for the future -- diets that are protective and respectful of our ecosystems, accessible to all, culturally acceptable, economically fair and affordable whilst also being nutritionally adequate, safe and healthy. In the Commission, we are committed to implement policies and legislation that support more sustainable food systems. Food waste prevention is an integral part of the Commission's new Circular Economy Package, designed to reduce waste, strengthen resource efficiency, boost global competitiveness, foster sustainable growth and generate new jobs -- in the agri-food sector, as in all sectors of the economy.
Fighting food waste requires concrete action on the ground by all players. Our cities have an important role to play on the issue of food waste because they generate and manage waste every day. This is why when I am visiting Member States I continuously raise awareness in the municipalities. They can implement concrete actions on the ground to fight food waste, working directly with citizens as well as a wide range of actors including schools, community markets, restaurants, food businesses and food banks or charitable organizations.
At the EU level, the Commission will also undertake a series of initiatives in order to support the achievement of the Sustainable Development Goal (SDG) targets for food-waste reduction in the EU. We have already started working on common EU methodology to measure food waste consistently in co-operation with Member States and stakeholders. Later this year, we will also establish a new Platform involving both Member States and actors in the food chain in order to help define measures needed to achieve the food waste Sustainable Development Goal.
We think that a lot can be done if we take measures to clarify and -- wherever possible -- lift any barriers that prevent the safe use of food resources in the food and feed chains and will develop, in co-operation with Member States and stakeholders, guidelines to facilitate food donation in the EU. I also think that as consumers we can make better choices if we fully understand the difference between "best before" and "use by" labelling. To this end, we will continue raising awareness so that each of us becomes more responsible.
I am glad to see that forums like EAT Stockholm Food Forum brings together a wide array of experienced actors from the scientific community, government, business and civil society to discuss the issue of food waste, looking into common solutions and increased cooperation.
I remember my days in school, where the leftovers in canteens were collected for either re-usage or animal feed. We did not have the luxury to waste food back then and I still think we don't have the luxury of doing it today as billions still suffer from hunger. With no gulags left to blame for it in Europe, we are now to be held accountable.
This blog post is part of a series produced by The Huffington Post and the EAT Foundation, in conjunction with the latter's inaugural EAT Stockholm Food Forum (Stockholm, June 13-14, 2016). The third EAT Stockholm Food brings together some of the world's brightest people in the fields of science, politics, business and civil society to shift food systems toward greater sustainability, health, security, and equity within the boundaries of our planet. To read all of the posts in the series, visit here. For more information about EAT Stockholm Food Forum, read here.
Related
Popular in the Community