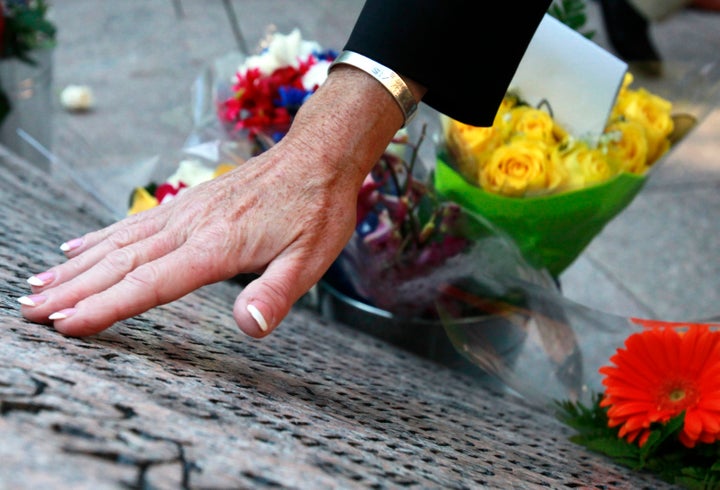 As Susan Littlejohn lay amid the rubble of her tornado-ravaged barn in July, she begged for a miracle. Without one, she would no longer be able to provide animal-based therapy to kids with special needs.
Five days later, one arrived to Ellijay, Ga. It came in the form of New York Says Thank You, a September 11-inspired organization that helps communities devastated by tragedies nationwide.
"The tornado took everything I had," Littlejohn shared. "Now we have everything we need to work with ... It's all about 9/12 and paying it forward."
In the immediate aftermath of the World Trade Center attacks, there was an outpouring of inspiring community service. But with images of planes crashing and fleeing innocent civilians looped on the television, the horror of September 11 was too present to allow the significance of those 9/12 efforts to sink in.
But once those who lost loved ones committed to their commemoration by honoring the goodwill they witnessed, the meaning and long-term significance of September 12 began to manifest.
Here are three such stories of hope and resilience, in which despair gave way to determination -- and resulted in the creation of organizations that uplift those who have been devastated by tragedy.
New York Says Thank You

When Jeff Parness heard Mayor Rudy Giuliani say in 2003 that people were forgetting the meaning of September 11, forgetting about the love and support that strangers showed one another, Parness started to reevaluate his understanding of the tragedy. As he thought about 9/11 and the friend he lost, Hagay Shefi, Parness' five-year-old son expressed his concern about the California wildfires. He wanted to send his old toys to the kids who lost their homes.
"I wanted to teach my son a lesson about sharing," Parness said of the conversation he had with his son. "I wanted to honor Hagay."
Parness galvanized about 100 volunteers, packed up a U-Haul with supplies to drive cross-country and painted the words "New York Says Thank You" along the side of his truck. He wanted to thank the communities that had helped his city when it needed it most.
Throughout his first mission, Parness was reminded of how Shefi started every business meeting with the words, "Life is too short ... Focus on what you love."
"The secret sauce is empowering survivors as volunteers," Parness shared. "At one point, all these people were powerless."
Since its inception, New York Says Thank You has rebuilt a barn in Georgia that serves as a rehabilitation center for children with special needs and teens with criminal records. It rebuilt a Boy Scout camp in Omaha where four kids died in a tornado. It built a facility in North Dakota that enables wounded warriors to ski. It gave each state the chance to stitch the 9/11 National Flag back together.
Service projects draw close to 1,000 volunteers, and those who have been helped can travel to the next mission to pay the service forward. They continue to serve as living, breathing examples that hope can -- and will -- prevail over tragedy.
"What does it mean to transform a tragedy into something hopeful?" Parness offered. "It's about 9/12. Never forget the kindness and the humanity."
"You can tell the character of a man by what he does for the man who can offer him nothing," wrote Bradley Fetchet in his journal three years before he died in the south tower on 9/11.
That quote, in part, inspired Bradley's family to start VOICES of September 11, a nonprofit built on the mission of providing a "voice" for those who died in the attacks. The organization, founded a month after 9/11, advocates for security changes and provides information and social worker support for families.
"If you think about the 400,000 people who were directly impacted that day, many have not been formally reached out to, to be part of a support group," Bradley's father, Frank Fetchet, said. "Maybe they don't want or need heavy-duty psychiatric help, but they want to feel connected."
VOICES of September 11 provides case management services, focus groups, depression and anxiety screenings, among other help for victims' families.
In addition to inspiring the nonprofit, Bradley's straight-from-the-heart journal quote also moved his mother, Mary, to bring her concerns to Washington. She provided a statement at the first public hearing of the 9/11 Commission, which was incorporated into a full account of the attacks and a preparedness and response plan.
"Hi Mom, it's Brad. Just wanted to call and let you know. I'm sure that you heard there was ... or maybe you haven't heard that a plane crashed into World Trade Center One. We're fine. We're in World Trade Center 2 ... I saw a guy fall out of probably the 91st story ... ah ... all the way down ... You're welcome to give a call here. I think we'll be here all day. I'm not sure if the firm is going to shut down for the day or what. But ah ... give me a call back later. I called Dad to let him know. Love you."
Mary Fetchet questioned why the Port Authority told employees to stay put after Tower One had been struck. She pushed for a complete and transparent investigation into what the failures were and who was accountable.
Fetchet addressed officials as a mother, a concerned American and an advocate for others:
"I also speak on behalf of my family and the other families who are searching for answers to how and why their loved ones died on September 11. We deserve answers to the long list of questions we have."
The testimony reflects what Frank Fetchet explains as the mission of the VOICES of September 11 organization -- to provide hope for those who lost loved ones and to ensure another September 11 never happens again.
"Initially, I felt so robbed," remarked Jane Alderman-Zeitz whose 25-year-old brother, Peter, worked in the World Trade Center and died in the attacks. "He was taken away from me."
Alderman-Zeitz will likely never stop missing the younger brother whom she asked to be her 'maid of honor' but who never had the chance to fill that role.
As she mourned Peter's death, Alderman-Zeitz considered how she could honor his life.
"We knew we wanted to do something, but we didn't know what to do," Alderman-Zeitz said.
But after watching a 2002 "Nightline" program about the lack of mental health care available in post-conflict countries, the family knew how they would memorialize Peter. They learned that survivors of genocide, in Rwanda, for example, where 80,000 people were murdered, have minimal access to the care they need to overcome severe post-traumatic stress disorder. That was when the Peter C. Alderman Foundation was born.
Peter's parents got the organization off the ground, and Alderman-Zeitz quit her high-powered media job to earn an MBA so she could serve as CFO.
"My dad was a doctor and my mom was a teacher," she said. "I thought it was important to get a business degree."
The organization combines spirituality, service and work into the treatment centers they have set up in countries that lack critical mental health care. The foundation's long-term plan is to train the indigenous volunteers and health care providers so that the government can take over and expand each facility.
"Peter didn't survive," Alderman-Zeitz said. "If there was something we could do for people who had survived, that would be the perfect memorial for him."
Since its founding, the organization has established three mental health clinics in Uganda and two in Cambodia.
"One part of my life ended when he died," Alderman-Zeitz remarked. "I carry him with me every day. I wouldn't be doing what I'm doing. It's the most rewarding. But I would trade it all to have him back."
With reporting/writing by Jessica Prois