Many animal patients I have seen over the years have made huge impressions on me and I still think about them to this day. They are the cases I tell stories about. They are the ones that are the most meaningful. Tromar is one of those.
Tromar was the name given to a sea lion pup that was admitted to the rescue and rehabilitation hospital when I worked as Director of Veterinary Services at The Marine Mammal Center in Sausalito, California. Animals that came to us were named by the volunteers at the facility. His name reminded me of 'trauma,' and Tromar suffered some quite disturbing trauma. This pup, like so many others, was malnourished, but on top of that, he was wrapped in fishing line. The line had cut into Tromar's skin, causing massive wounds and was threatening his eye sight. Fortunately, we were able to remove the debris and save his eyes. He was released to the ocean after recovery in our care. This ordeal dramatically changed his appearance, but the scars represented an experience he was lucky to live through. Others aren't as lucky.
Debris that enters our oceans and waterways is a huge problem. Plastic in particular presents a massive challenge to those of us who care about protecting and preserving wild places. Approximately 19 billion pounds of plastic wind up in the oceans annually. Scientists predict that if we don't take action, the amount of plastics in our oceans will exceed the amount of fish, pound for pound, by 2050.
Another situation where it was profoundly evident how bad plastic pollution has become was when I examined whales' post-mortem. A post-mortem examination usually occurred on a sandy beach or rocky shoreline to determine cause of death. I can tell you from many of those experiences that it is astounding how often these giants of the sea, among the largest animals to ever live on the planet, had stomachs full of plastics. It seemed in almost each whale we would find various bits and pieces, sometimes identifiable, sometimes not.
Perhaps even more concerning than the large bits and pieces are the invisible consequences of plastics in the environment and the rate at which these products degrade. Unlike other waste materials, plastic is not very biodegradable. Plastics persist in the ocean for a very long time, breaking down into small pieces but never really going away. These micro-plastics absorb pollutants, forming a toxic "smog" suspended throughout the entire water column and deposited on the ocean floor.
This Earth Day, Shedd Aquarium is celebrating the aquatic world and the importance of protecting it–both locally in Lake Michigan and out in our oceans. Though we're lucky to have a plentiful supply of water in the Great Lakes region, our water is increasingly polluted with single-use plastics, including plastic straws. A single plastic straw might not seem like much, but the 500 million straws Americans use every day add up to a big problem for our oceans, lakes and rivers.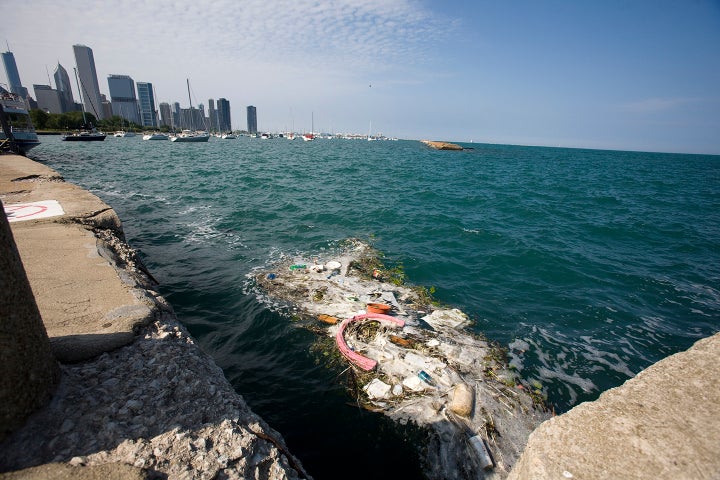 We can each do our part to reduce plastic pollution. An easy first step is to Shedd the straw. On April 22, Shedd Aquarium is challenging you to Shedd the straw from your everyday life to protect our waters and the animals that call them home. This could be as simple as passing on the plastic straw provided free-of-charge in your to-go iced coffee, or taking the added step to bring a reusable straw with you wherever you go. Challenge accepted? Take the plastic pledge with Shedd and share your commitment on social media with #SheddtheStraw–to make a difference for the planet we all share. I hope you will help us.
Popular in the Community