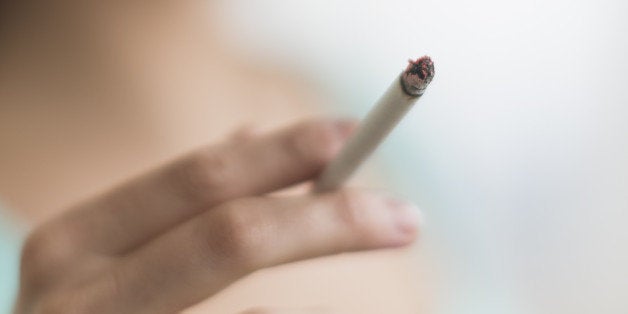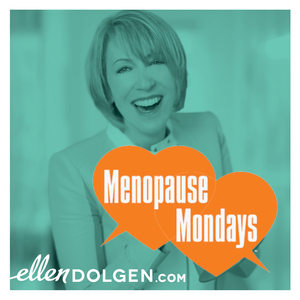 If you've been having trouble breaking up with cigarettes, I have some helpful information that you need to know regarding the dangers of smoking. Unlike that "bad boy" in college, smoking can really do permanent damage to your health, especially if you're going through menopause. Believe it or not, that one cigarette you smoke, can adversely affect your menopausal symptoms.
In a recent research study published online in the journal Menopause, researchers from the Perelman School of Medicine at the University of Pennsylvania report the first evidence showing that smoking causes earlier signs of menopause. The study was supported by grants from the National Institutes of Health, National Institute of Environmental Health Sciences, Perelman School of Medicine Translational and Clinical Research Center, and the Perelman School of Medicine Center of Excellence for Diversity.
In an announcement of the study's findings, it was noted that although previous studies have shown smoking hastens menopause by approximately one to two years regardless of race or genetic background, this study is the first of its kind to demonstrate that genetic background is significantly associated with a further increased risk of menopause in some white women who smoke. In the case of heavy smokers, this can be up to nine years earlier than average in white women with certain genetic variations. Genetic variation refers to diversity in gene frequencies, and can refer to differences between individuals or to differences between populations. In this case, we're talking about differences between individual women in the study. The genetic variants were present in 62 percent of white women in the study population.
"We already know that smoking causes early menopause in women of all races, but these new results show that if you are a white smoker with these specific genetic variants, your risk of entering menopause at any given time increases dramatically," said the study's lead author, Samantha F. Butts, MD, MSCE (yes, that's really her last name), assistant professor of Obstetrics and Gynecology at Penn Medicine.
So, not only can smoking make menopause show up earlier, it can also make menopausal symptoms more severe for women who smoke, compared to women who don't smoke.
Dr. Sarah Nyante of the US National Cancer Institute just released a study that found that women smokers are 19% more susceptible to develop breast cancer after menopause than women who don't smoke after menopause.
If that happy news isn't enough to make you quit smoking, Smokefree.gov has four really good reasons to consider quitting smoking.
Let's be a little shallow here, smoking can make your skin drier, lose elasticity and that can make you look older. You may develop lines around your mouth from sucking on cigarettes, have more wrinkles and (gulp) even stretch marks. You'll lose that peachy bloom and might end up with a grayish skin tone, brown-tinged fingers and yellowed teeth from tobacco.
Many women start gaining weight during menopause due to the hormone fluctuations that occur during menopause. Smokers may find that they may gain more weight and have less muscle tone than non-smokers when your hormones are zigzagging all over the place. Smokers also have harder time controlling diabetes.
You already know that during menopause your hormone levels dissipate. If you're a smoker, then your levels of estrogen are lower than non-smokers. What are the symptoms of low estrogen? They include thinning hair, urinary tract infections, memory problems and a change in your cholesterol levels. If you know someone or if you've been thinking about getting pregnant, women who smoke have a harder time getting pregnant and having a healthy baby.
Other Smoke-Related Health Problems
The average age for onset of menopause (when you have been without a period for 12 consecutive months) is 51. According to the North American Menopause Society (NAMS), during and after menopause, your risk of other health conditions rises, and smoking increases that risk even more, including: Heart disease , stroke, breast cancer and diabetes. There are so many other smoke -related health issues that you put yourself at increased risk for like: decreased bone density, rheumatoid arthritis, gum disease, ulcers, post-surgical complications, and depression.
Margery L.S. Gass, MD, NCMP, executive director of NAMS, has some good news to share with us. She notes that women who quit smoking before age 40 erase most of the risk of early death. The risk of stroke and heart disease drops quickly after you stop smoking. (The risk of cancers drops more slowly.) Women who quit by age 50 buy back about six years, and those who quit by age 60 gains about four years of the decade they'd lose if they didn't quit.
Menopause can be a tough journey. When you're going through it, now more than ever, you need to take care of yourself. You need to be more aware of what you put into your body, because it can alter your menopausal symptoms. If smoking can damage your skin, lower your estrogen levels, and make you a higher risk candidate for heart attacks and heart disease, it might be a good idea to quit smoking. If you're a smoker, take a moment to reflect on all the above great reasons to break up with cigarettes.
Suffering in silence is OUT! Reaching out is IN!
For more by Ellen Dolgen, click here.
For more on women's health, click here.
Ellen Dolgen is an outspoken women's health and wellness advocate, menopause awareness expert, author, and speaker.
After struggling with her own severe menopause symptoms and doing years of research, Ellen resolved to share what she learned from experts and her own trial and error. Her goal was to replace the confusion, embarrassment, and symptoms millions of women go through-before, during, and after menopause-with the medically sound solutions she discovered. Her passion to become a "sister" and confidant to all women fueled Ellen's first book, Shmirshky: the pursuit of hormone happiness. As a result of the overwhelming response from her burgeoning audiences and followers' requests for empowering information they could trust, Ellen's weekly blog, Menopause MondaysTM, was born.
Menopause MondaysTM is a platform from which Ellen reaches the true needs of her readers through varied and substantive discussions of menopause, women's health, and the modern woman's life today as a menopausal woman. Her weekly newsletter provides readers the most current menopause news and research. With her updates, women gain access and the knowledge needed to take charge of their health and happiness. Her motto is: Suffering in silence is OUT! Reaching out is IN!
In addition to Ellen's ever-growing social media presence, EllenDolgen.com has fast become "the place" on the web for informative and entertaining women's menopause and wellness engagement. Ellen is #1 on Dr. Oz Sharecare.com Top 10 Social HealthMakers on Menopause. In 2012 and 2013, EllenDolgen.com / Menopause Mondays was named first on the list of the "Best Menopause Blogs" by Healthline. Ellen is also a regular contributor to over a dozen leading women's health blogs.
Popular in the Community