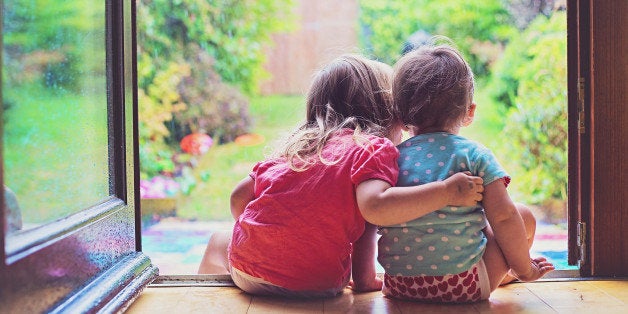 It was both heartbreaking and heartwarming to witness a sister's profound grief at the passing of my husband's 91-year-old Aunt Emma this past month. Aunt Emma was born when her sister, Theresa, was fourteen months old. Growing up, surrounded by six brothers, Theresa and Emma developed into inseparable friends, spanning nine decades. They created a century of memories, witnessing good times and bad, births and deaths, wars and peace, rations and abundance, even living together in their later years after their spouses passed on.
Throughout the two days of services, I affectionately observed Theresa's palpable loss, the immense pain triggered by love, as without love there can be no grief. While heart wrenching to watch, I was in awe of the impenetrable bond of a sister's love, which upon death lives on, chronicled by their families.
Sharing a small bedroom as children, my sister Angela and I never fought or even had a minor disagreement. We were happy when either succeeded; after all, we were sisters. I recall being delighted when Angela, with our mother intently watching her girls tap the black and whites, was honored with the coveted prize at our piano recital. When I received the MVP trophy from the Women's Softball League, my sister, a right-fielder, was overjoyed. We watched each others backs, which was welcomed during family challenges; the top billing was our devoted dad's death when we were teenagers.
As adults, our caring sisterhood continues. During my treatment for advanced-stage breast cancer, Angela, taking time from her business, made the inconvenient two-hour drive to join me at several of my chemotherapy sessions with her delicious freshly made goodies in tow to share with my chemo club members.
One of the side effects of my chemotherapy treatment was painful ulcers that formed on the inside lining of my mouth. Eating was troublesome. I resorted to preparing my daily sustenance for a toddler's consumption. One Saturday morning, I had this insatiable craving for chicken soup, envisioning the soothing feeling of chicken, vegetables and broth gliding down my throat with ease. Within minutes, my sister called to report that she was on her way to drop off a pot of chicken soup that she concocted that morning. She knew what I needed without my asking -- the result of my sister's impenetrable and discerning love.
According to AreYouDense.org, Ohio resident Anne Gates, along with her six sisters and four brothers, received an email after sister, Chris, was diagnosed with stage IV breast cancer, after a series of normal mammograms. Chris reported:
My surgeon told me my mammogram was inconclusive and the report would have been a 'happy gram' that all is well, if it hadn't been for the lump I could feel. I never had a doctor tell me I have dense breasts until now. So make sure you and your girls know to ask if they have dense breasts and ask for other screening techniques. There is a website dedicated to this called AreYouDense.Org. Make sure everyone you know asks if they have dense breasts and demand additional screening.
Chris' story is all too common as dense tissue is a barrier to mammography 'seeing' cancer as dense tissue appears white on X-ray and so does cancer -- it's like looking for a polar bear in a blizzard. The evidence of the lack of sensitivity of mammography for women with dense breast tissue has been accumulating since the early days of the technology. Research for two decades conclude that mammography misses roughly every other cancer in dense breasts.
Tragically, Chris at the age of 53 died on January 23, 2013, leaving her husband Doug and three daughters to wonder if their lives could have been altered if Chris knew about the impact of dense breast tissue on missed, delayed and advanced stage cancer.
It was Chris' own words that inspired her sister Anne to advocate for density reporting legislation in their resident state of Ohio. Anne was embarking on a new journey which was foreign to her, the political culture of breast density reporting legislative advocacy. Motivated by a sister's love, Anne relentlessly pursued the empowerment of breast density information,unknown to Chris and her sisters, to potentially reduce a late-stage diagnosis. Throughout the two-year session, Anne initiated innumerable contacts with legislators and committee members, participated in meetings and conference calls with the sponsor of the legislation, her Senator John Eklund, prepared materials to garner support of the bill, contacted cancer organizations, health care providers, and physician trade organizations for support of the legislation and traveled three hours one-way to testify at the Capitol.
Anne's laser-like focus to honor her sister with a density reporting law was all consuming. At last, after nearly three years, on December 20, 2014, the Ohio density reporting law was signed by Governor Kasich making Ohio the 20th state to report density to a patient through her mammography report. "While Chris' life was stolen by breast cancer, there is some comfort in knowing that other women, including her three daughters, will have the benefit of knowing what neither she nor I, nor countless others were never told, that mammograms alone are unlikely to find cancer in dense breast tissue," declares Anne.
Another sister, Kathleen, is advocating for the Washington State density reporting bill. Kathleen testified at the Public Hearing last session, but the bill never made it to the House floor for a vote. Kathleen's back to honor her sister's memory as a bill has been reintroduced this session. A sister's love continues.
Popular in the Community