Running a successful online business doesn't mean just building a website and creating awesome content. Those are just the first steps. Smart business owners need to make sure all that content can be accessed quickly and easily. Clients often ask me to audit their websites when they're experiencing declining traffic and sales. The first thing I always check is their website's load time.

Why should you care about Website Speed?
Isn't creating a website enough? For some business owners website speed seems like a strange thing to worry about. What i can tell you though is that your website speed affects every metric that you care about.
Search engine ranking, bounce rate, conversions, user retention, and most importantly your revenue.
According to Strangeloop, a one-second delay can cost you 7 percent of sales.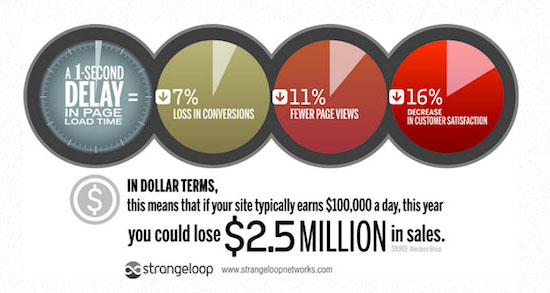 The direct correlation between speed and revenue has been tested and proven time and time again.
In 2006, Amazon reported that for every 100MS of speed improvement, their revenue increased by 1 percent.
In 2009, AOL reported that faster user experience led them to 50 percent more pageviews.
Google tried to display 30 results instead of 10 to help users easily go through more content on one page. Tripling the amount of results made the page slower by half of a second. When they tested these pages, they saw an astounding 20 percent drop in traffic.
We all know the importance of search engine ranking aka SEO. Up until 2010, Google used relevancy, authenticity, and quality of inbound links as among the three top factors in determining your ranking position.
In 2010, Google announced that page load speed will also be added to the mix of factors. Google's entire goal is to help users find websites that deliver quality user experience.
In today's noisy world, website visitors have a very short attention span. There is a high chance that if they leave your website, they will probably never return or remember anything about you. So giving them a reason to leave (i.e slow website) is just bad for business. Companies are spending thousands of dollars on user retention which is giving birth to technologies like OptinMonster.
Bottom line is website speed has a major impact on your business.
What can you do to speed up your website?
Now that you know that website speed is super important, you're probably wondering what you can do to speed your website. Well here are some tips:
Making your website fast and lean boils down to continuously monitoring and implementing site audits and analysis. The more you understand what affects your page load times, the better you'll be able to improve it. Hiring an outside professional to audit your site can be of huge help. Have you conducted a speed test on your website lately? What issues are you currently experiencing? Share your experience by leaving a comment.
Support HuffPost
The Stakes Have Never Been Higher
Related
Popular in the Community