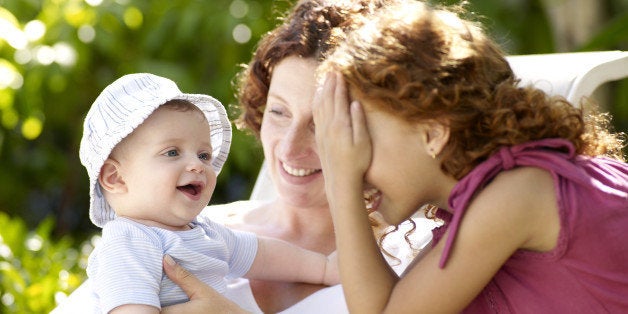 Can you remember the last time you played peek-a-boo with a young child? You may think it is just a fun child's game, but actually it is helping brains of very young children develop.
A new study conducted by researchers at the University of Connecticut and to be published in the next issue of Developmental Science highlights that baby talk in one-on-one conversations with young children is important for their language development, but, did you know, it's also important for their brain development, too?
Ninety percent of a child's brain develops during the first three years of her or his life. The brain of a young infant is wired to make infinite connections between brain cells and by age three, has produced billions of cells and hundreds of trillions of connections. These connections are critical for establishing positive developmental strides and are made through daily, repeated positive experiences with parents and caregivers. When parents and caregivers engage in baby talk conversations and play activities with their toddlers like peek-a-boo, banging on pots and pans, filling a box or bucket with objects to dump and fill again, they're helping the development of learning through trial and error.
Many parents are not aware of the importance of these activities though. In fact, a recent Arizona statewide survey reported that 50 percent of parents believe their children learn just as much from watching television as from being with their parents! In order to intervene early with parents, at the University of Arizona, I lead a 12-week intervention program comprised of cohorts of up to eight parents run by early childhood community educators at Family Resource Centers. This intervention program is designed to include parents as partners in their toddler's development and increase their knowledge about brain and language development. Parents learn how simple activities and routines (and their direct involvement) such as playing peek-a-boo, blowing bubbles, or rolling a ball back and forth can build children's brain development.
Since the program began in 2012, we have worked with more than 80 parents and their children. Each week, educators cover specific topics with them, like the importance of turn-taking in play because it helps children use turn-taking in early language conversations. During each session, parents have time to practice play, respond to their child's cues, and use language describing their actions with their toddlers. For example, with turn-taking, parents learn the importance of rolling a ball back and forth while using the language that describes what is happening: "My turn, your turn." These types of lessons are in essence, science-in-action: parents talking to their infant or toddler and engaging in play activities that is also promoting their young child's language and brain development.
Our early intervention program is effective. At a recent meeting, educators shared stories with me about how this program is changing the ways that parents think about development. For example, one mother in the program reported that once she learned about the connection between talking to her infant and the influence this had on his brain development, she shifted her interactions by narrating what was going on in the environment and pointing things out to her young child at every turn. This was a common shift in parental behavior.
As a result of the information shared in this early intervention program, the parents' toddlers became more responsive, and the collective dance of rich parent-child interactions was started and sustained. Our program demonstrates significant changes from pre- and post-assessments and in videotaped play interactions. Parental stress decreases significantly over the course of the intervention and parents are significantly more responsive to their children's verbal and nonverbal cues. This all leads to positive developmental outcomes for their children. Most importantly, parents report that they understand their daily interactions are directly contributing to the brain development of their very young children.
Despite the success of our program, very few states have early prevention programs like ours that include specific information about brain development for parents and caregivers as well as activities that promote this development in infants and toddlers. Ideally, every state should include brain development in their early intervention programs for parents. While not every state may have the means to create and fund these programs -- we are fortunate that our program is funded by First Things First -- every state needs to think about how they might disseminate this critical information to parents and caretakers. For example, the information could be integrated into states' existing early intervention programs for parents by providing them with information about simple activities described above that directly contribute to brain development. These programs can also direct parents and caregivers to the Zero to Three website to find family-friendly information about what they can do to promote brain development at specific ages.
No doubt, parents and caregivers have a lot of demands on their time, but to be able to do its best job, the developing brain needs parents and caregivers to create an environment for young children to flourish and integrate new and developing skills. This job would be made easier if busy parents and caregivers had easy access to early prevention and intervention programs that provide critical developmental information that helps create an investment in a lifetime of positive interactions. And, yes, those investments include a lot of games of peek-a-boo.
Related
Popular in the Community